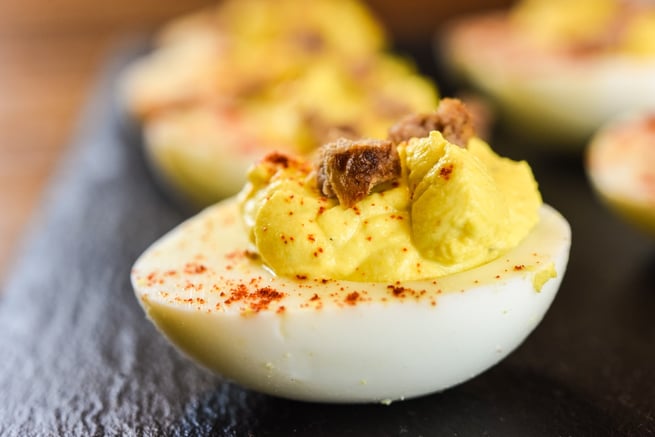 Your superbly-cooked pasture-raised turkey is going to need to be in good company at Thanksgiving dinner. Check out these Thanksgiving side dishes recipes for the perfect accompaniment to a pasture-raised turkey.
What side dishes go with a pasture-raised turkey?

1. Sausage Stuffing

(Ina Garten)




Classic take on baked stuffing, perfect with our Grassfed Beef Sausage (Zesty Italian), Pastured Chicken Sausage (Cajun), or one of our other grassfed beef, pastured pork, and pastured poultry sausages.

2. Brussels Sprouts with Country Ham

(Southern Kitchen)




This salty, buttery side dish will turn any brussels sprouts skeptics into fans asking for a second helping.

3. Icebox Dinner Rolls (Southern Living)

Warm and delicious, just don't forget the Banner Butter or White Oak Pastures Roselle Jelly!

4. Candied Sweet Potatoes with Pecan Bacon Syrup (Garden & Gun)

Mix up your sweet potato casseroles with these crispy, delicious sweets covered in a a decadent pecan syrup - try it with our 100% Iberico Bacon or Pastured Pork Bacon.

5. Honey-Glazed Spiced Carrots (Southern Living)

Sweet, spicy - try with our White Oak Pastures Wildflower Honey for a deep fall flavor.

6. Cajun Deviled Eggs (White Oak Pastures)

Deviled eggs are a southern favorite. We've created a unique twist using pasture-raised eggs, pasture-raised pork sausage, and a local hot sauce we stock in our General Store.
---
Whatever side dishes end up gracing your Thanksgiving table, with a pasture-raised turkey, you can't go wrong!
For the perfect Thanksgiving, just remember: keep your guests and glasses full, and make sure you have time for a nap afterwards.
Want to know how to prepare a pasture-raised turkey?
Check out our 2019 guide to cooking the perfect pasture-raised turkey - complete with a written recipe and White Oak Pastures' step-by-step video tutorial on "How to Cook a Pasture Raised Turkey".
Or, looking for a show-stopping turkey this year? Have you heard of… a bacon-wrapped turkey? (We've got the perfect Pastured Pork Bacon to go with it).
If you're feeling like you need to eat light after a filling Thanksgiving dinner, check out our recipe for a healthy stewing hen broth.
Have a favorite side dish of your own?
Share this blog post with your favorite Thnaksgiving side dish recipe, just make sure to use the hashtag #whiteoakpastures so we see it!