We'll just go ahead and say it: we believe White Oak Pastures' Pasture-Raised Stewing Hens make the best stews, soups, and broths. Our ladies get plenty of activity, spending their days laying eggs, scratching the soil to forage for grub, and roosting in our pastures. Compared to hens on conventional farms, our unconfined, pasture-raised hens can produce higher levels of Vitamins A, E, and Omega Fatty Acids.
After a healthy, long life, our hens develop a lot of connective tissue from all their activity. Connective tissue is incredibly rich in vitamins, minerals, and flavor but not well-suited for fast preparations (like grilling), because it takes a long time to break down and become soft.
The key to unlocking the magic of stewing hens? Slow cooking.
A long cook time over low heat breaks down the connective tissue in stewing hens and extracts nutrition and flavor. Cooking a stewing or 'spent' hen submerged in liquid, spices, and herbs releases the kind of rich flavor that Great-Grandma legends are made of.
(Not sure you have the time to make the broth yourself? We offer Pastured Poultry Bone Broth and Grassfed Beef Bone Broth, made in our on-farm kitchen, available now on our online store.)
Alli's Stewing Hens
By

White Oak Pastures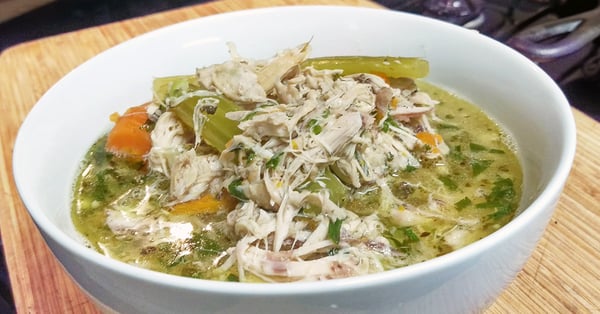 Stewing hens have an abundance of rich flavor which can be extracted by cooking the hens over low heat, submerged in liquids, spices, and herbs. They are not suited for fast preparations such as grilling because as the stewing hens' muscles get older, they develop connective tissue. A long, slow, cook time with low heat and plenty of liquids is needed to break this tissue down; which, in turn, flavors the broth. With our pasture-raised hens and this recipe, you'll be the talk of the town…..in a good way!
Ingredients
garlic
celery
onions
carrots
parsley
3 bay leaves
Himalayan salt
black peppercorns
4 Tbsp. apple cider vinegar
Place stewing hen and vegetables of choice in a pot and cover with water. Add all spices, herbs, and apple cider vinegar. Cook on low heat and slowly bring to a simmer. Simmer a minimum of 4 hours or up to the preferred 24 hours. Remove chicken carcass and place in a bowl to cool. Remove meat from the bone to make stews, soups, tacos, chicken salad and casseroles.
Prep time:
Cook time:
Total time:
Yield: 4 quarts (16 servings)
---
Need some visuals? Check out our "Cooking a Stewing Hen" tutorial on Youtube!
---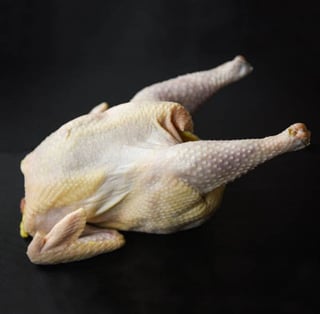 7 Pasture-Raised Stewing Hens
$62.93
This package contains 7 whole stewing hens, which have spent the last 2+ years laying eggs, so they are flavorful, with strong bones. Our stewing hens weigh 2 pounds each. Because of their diet and exercise, our birds are lean animals. You shouldn't expect an abundance of meat on these birds, as they are best used making a nutritious stock or broth!

And if you love our stewing hens, check out some of our other broth, stew, and bone-related items:
Remember when we were all doing this? LOL. We were so into Bird Box (and Sandra Bullock), even before they were cool!
Follow us on Instagram.