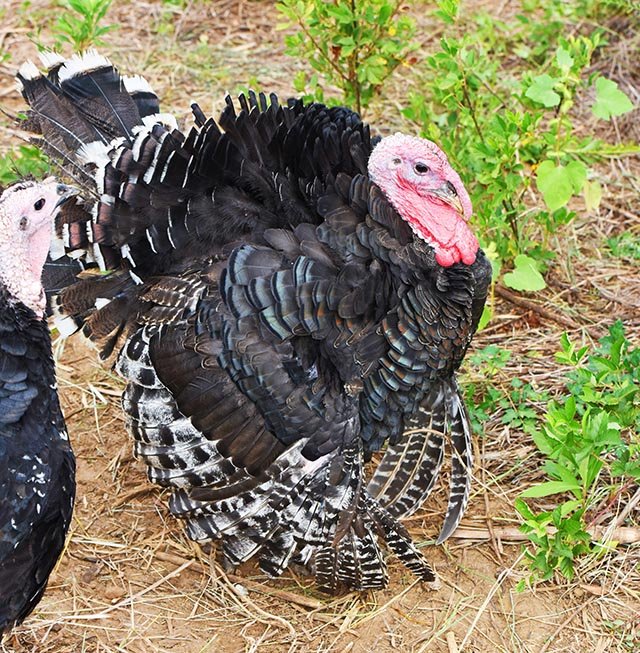 As Thanksgiving approaches, we are excited to share our hard work with our customers for the holidays. Our Certified Non-GMO, Certified Humane, GAP Step 5+ turkeys are never treated with steroids or antibiotics. Our birds are able to express their natural instincts as we raise them on pasture and they, in turn, contribute to land regeneration and rural revival. We take care of our animals and they take care of us. Read on to learn more about the life of a White Oak Pastures turkey.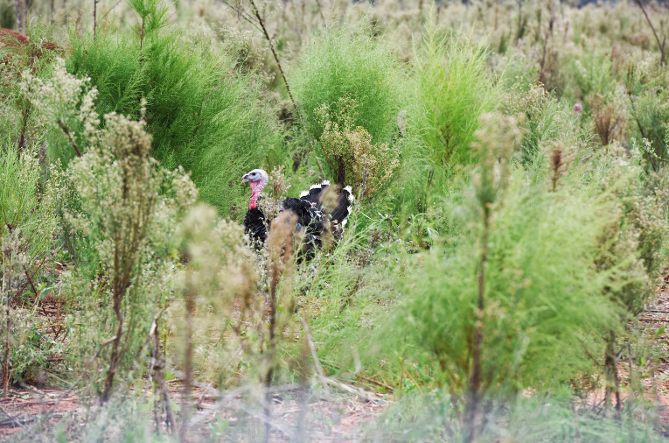 As anyone who has visited our pastures during turkey season should vividly recall, the turkeys will chase vehicles and come up to strangers to investigate with inquisitive pecks. These colorful, curious birds are very active and a powerful addition to our Serengeti multispecies grazing model. Turkeys have strong feet which help disturb the pasture surface. This is invaluable in aerating, incorporating litter and manure, and increasing soil organic matter. Our farm and the livelihood of our 140 employees depend on the health of our pastures and the subsequent health of the animals. Therefore, our turkeys' contribution to soil health is crucial as we strive to create a business model regenerating healthy land, raising healthy animals and building a healthy community.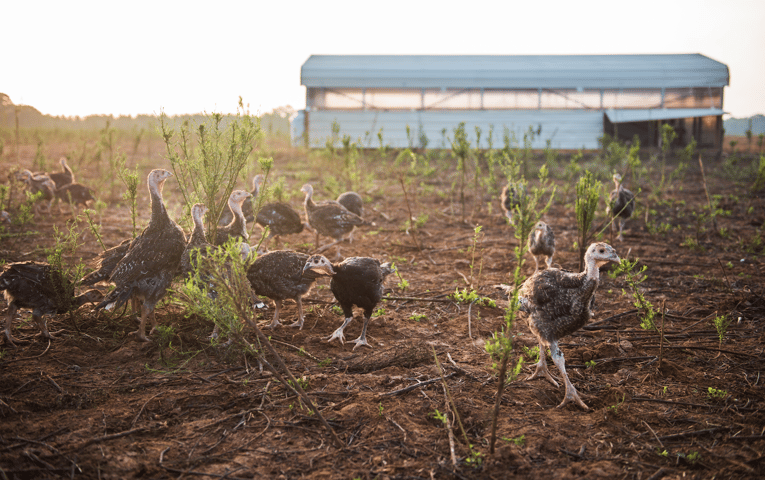 Our holiday birds are a mixture of Broad Breasted Bronze and Black breeds and our monthly birds are the Broad Breasted White breed. We are one of only a few GAP5+ poultry producers in America, which is the highest level of Global Animal Partnership certification.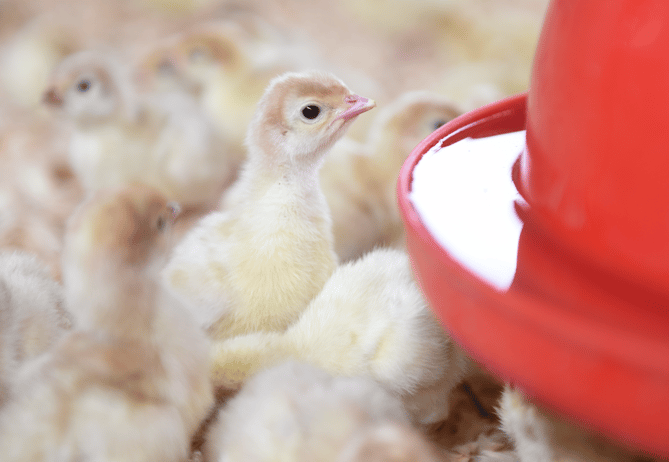 Each month of the year we receive about 650 one-day-old White turkey poults and immediately release them into our brooders. Furthermore, over the course of July and August, we receive three flocks of 2000 Black and Auburn turkeys, which will be sold for the holiday season. Brooders are meant to mimic the conditions under a mother hen. Poults cannot regulate their own body temperature for the first several weeks of life, so it is important that we keep the brooders warm. We heat our brooders with propane heaters.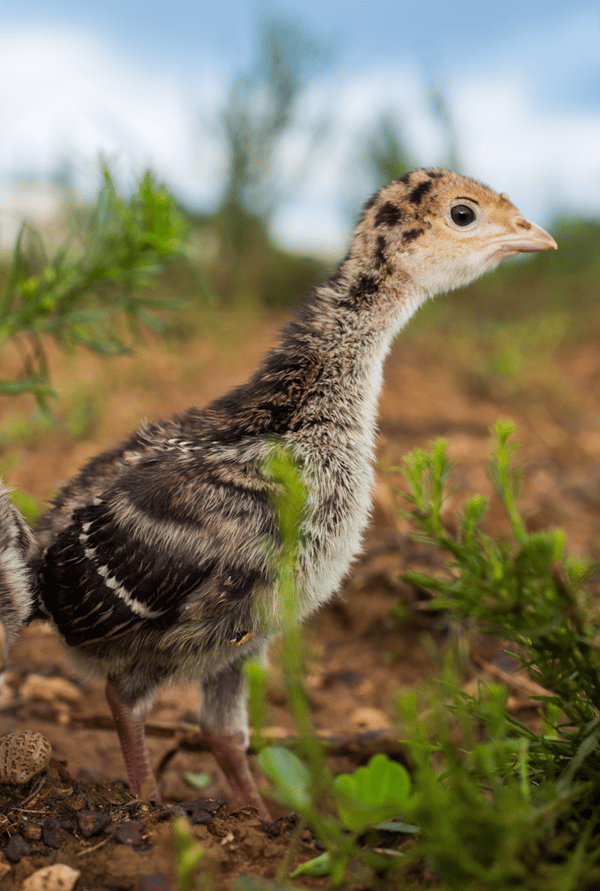 When the chicks first arrive the temperature is between 90°F-100°F. This temperature decreases with every successive week. For the flock's health, we keep it draft-free and clean. Prior to the poults' arrival, we spray the brooders with our biofertilizer mix which reduces the opportunity for harmful pathogens to populate the brooder. Our poults have two full-time employees caring for their needs: James Barbary and Trevor Cates. "We feed the poults [a high protein blend] starter feed, grit and kelp. We put down clean pine shavings, and make sure their automatic waterers are working", Trevor explains. "In the brooders, we turn the temperature down as the birds get older. If the weather has a cold spell, we keep track and adjust the brooder temperatures accordingly," adds James Barbary, our senior turkey crew member.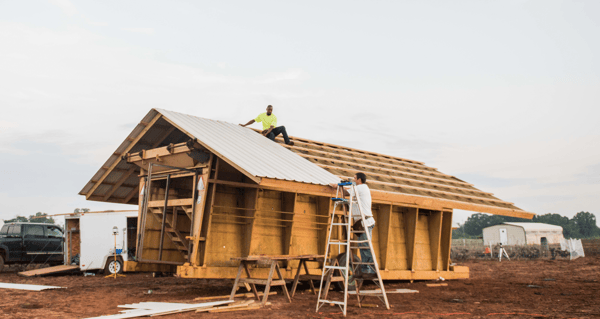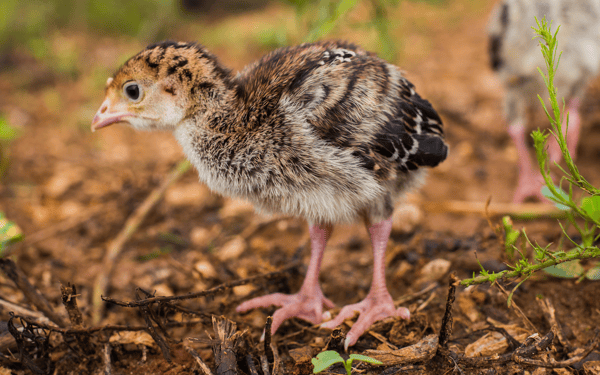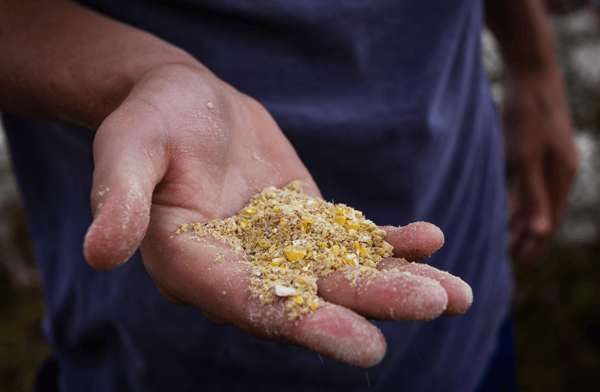 "You can see at two weeks old, their wings coming out. When they get to a size that we feel they are self-sufficient, we release them from the brooder onto pasture. This year we are keeping [the holiday turkeys] inside electronet fencing," says James. This management practice helps reduce predator pressure and allows us to control their grazing, preventing them from returning to land they have previously impacted.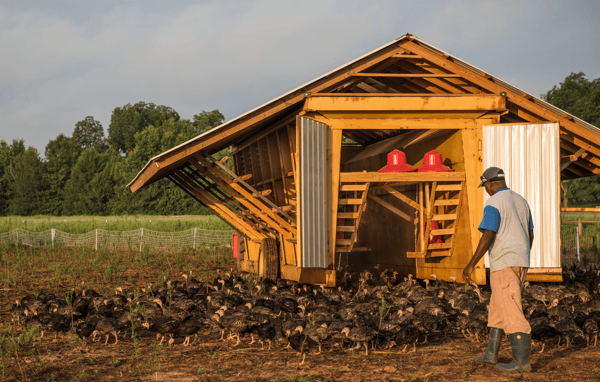 When the turkeys are turned onto pasture, we provide them with roosting shelters. Our holiday birds' roosting shelters are retro-fitted old cotton modules. An otherwise relic device from the local cotton industry, these sturdy structures have been converted by our carpentry crew into turkey-friendly roosting shelters. These roosting shelters are built to withstand hundreds of pounds of roosting turkeys at night, far sturdier than chicken roosting shelters.
We keep our turkeys in flocks of the same age and breed, and currently have 7 flocks various pastures. We move our birds every three days to fresh pasture. "We will keep a livestock guardian dog out there until the turkeys are big enough that the eagles won't bother them anymore," says Trevor.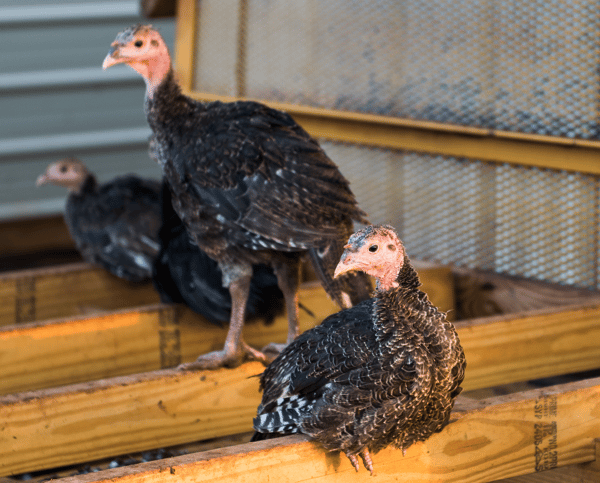 We give the turkeys access to grit their entire lives. We increase the size of the grit pebbles as the birds grow. Grit helps the birds digest their food. Particularly because our turkeys are pasture-raised, access to grit is crucial to help them digest the diverse diet they forage. Turkeys are very effective grazers, able to convert up to 40% of their diet from pasture forage into body mass. Apple cider vinegar is added to their water to promote healthy gut flora, improve feed conversion, and aid in tolerating the high temperatures we experience in southwest Georgia.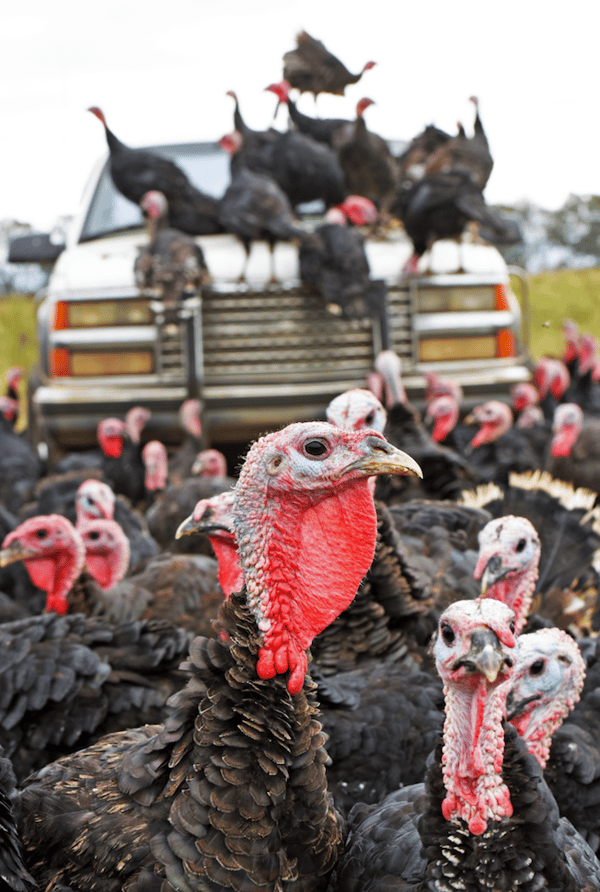 'THE ULTIMATE' THANKSGIVING TURKEY
Serving your friends and family a meal you are proud of makes the holiday occasion so much more special. Last year we asked our friends to share their White Oak Pastures Thanksgiving Turkey photos. You can see how delicious some of them turned out in the slideshow below.
New for 2019, our incredibly juicy whole bone-in Brined Turkey Breast weights 7-10 lbs and comes ready for the oven. Also new this year, we are proud to offer a fully-cooked and ready-to-eat Smoked Turkey Breast. Both make a convenient and wholesome feast everyone will love.