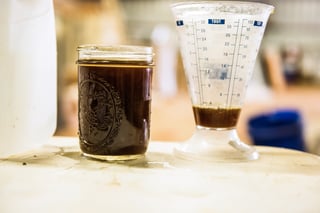 White Oak Pastures is full of passionate and innovative employees. A project started by our recent intern, Karen Cano, has continued on past her graduation from our internship program. Her independent experiment focused on developing a biofertilizer program on the farm. We have continued this project and are excited for long term incorporation of biofertilizer on the farm.
Below: Karen trains members of our poultry crew on creating different biofertilizer concentrations depending on the application they intend to use it for.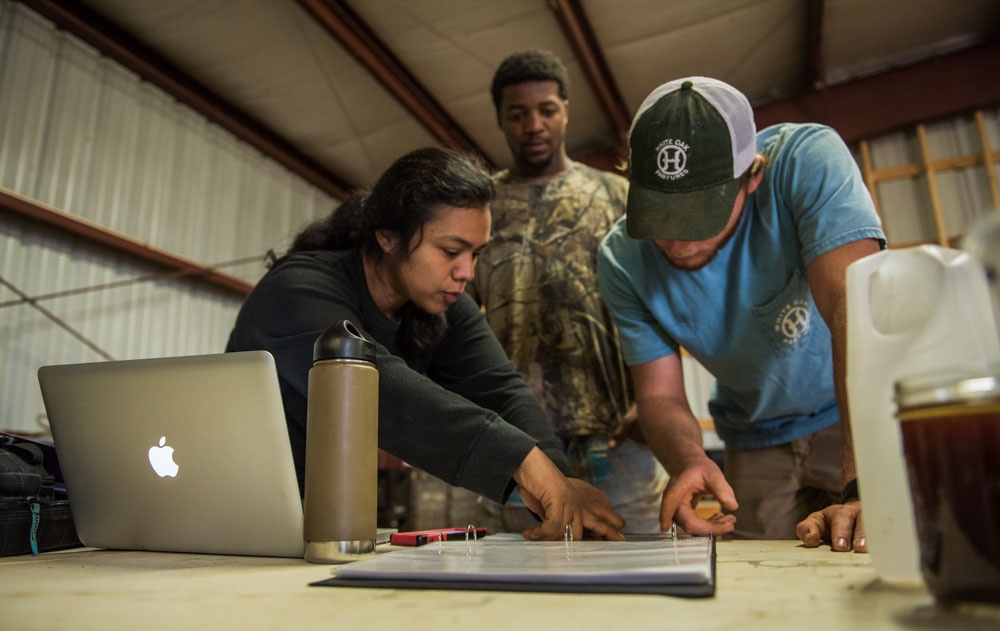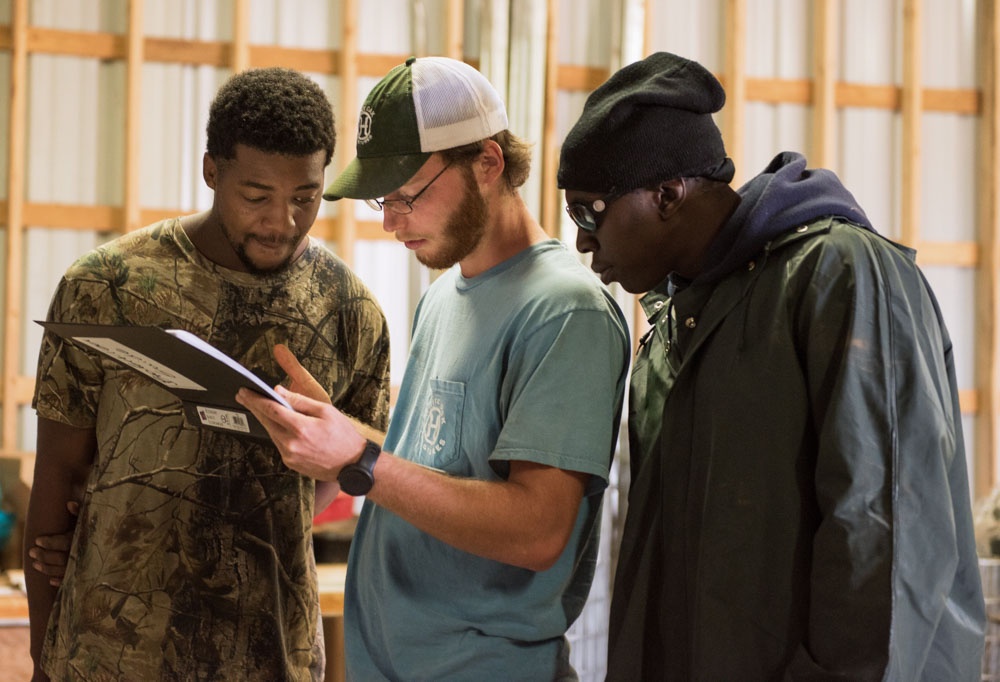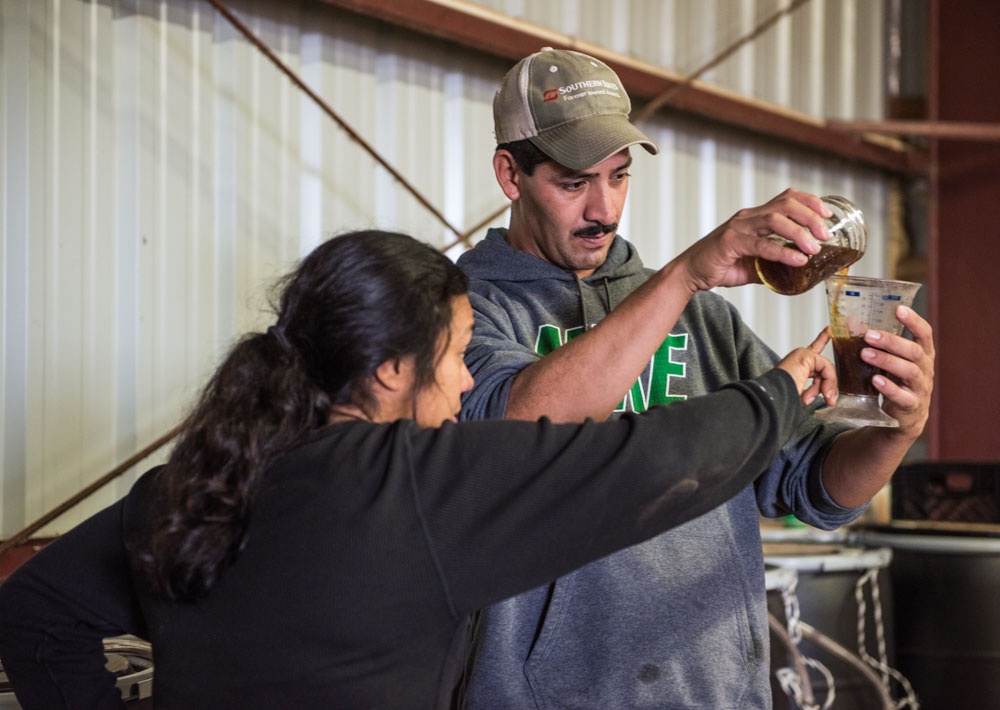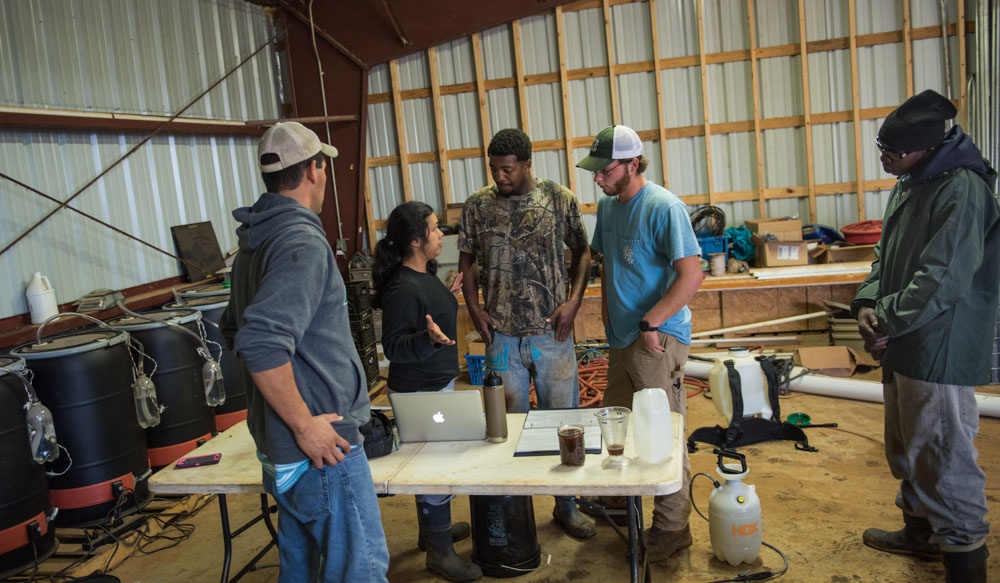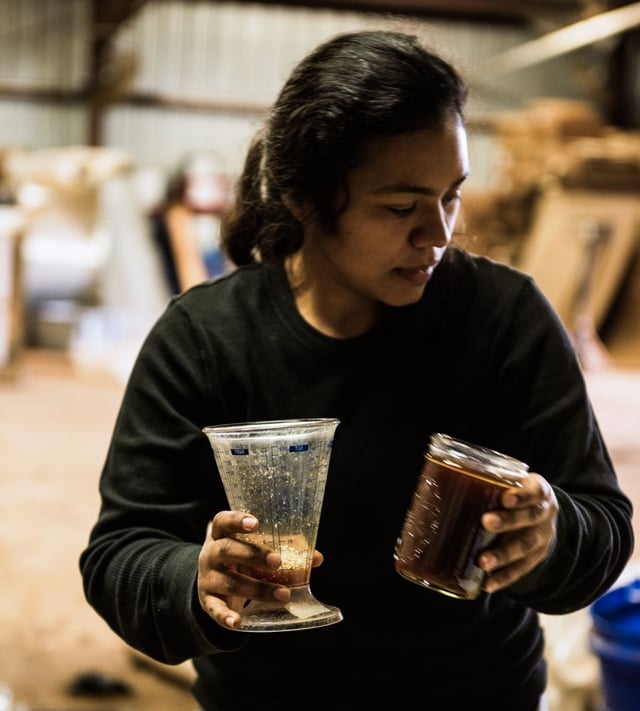 Our biofertilizer is an anaerobically fermented microbial solution made from the rumen of ruminants. We have made large batches of concentrated solution. Depending on the intended application, we have corresponding, specific dilution formulas. Biofertilizer can be applied to a wide range of areas including pasture plants, soil, compost, added to the water/feed of livestock, and used as a sanitizing agent.
When applied directly to soil, biofertilizer increases diversity and bioavailability of soil nutrients, improves soil microbiology, and stimulates plant growth. Applied to plants, biofertilizer improves vitality, disease resistance and recovery from grazing pressure. Sprayed on compost, biofertilizer reduces odor and accelerates fermentation and decomposition. When added to animal feed and water, it serves as a probiotic to improve digestion, nutrient absorption, weight gain, feed conversion, and reduce methane production.
Below: Barrels of our concentrated, fermenting biofertilizer. We apply the dilute solution with the spray backbacks in the foreground.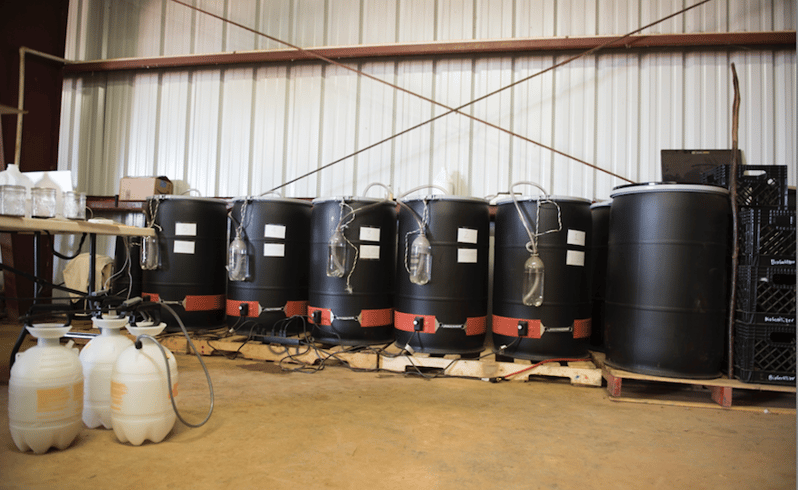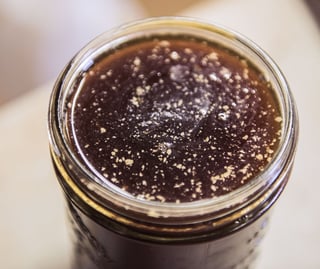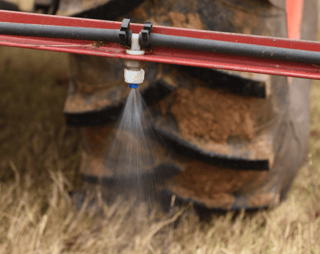 Currently, we are using our biofertilizer largely as a sanitizing agent in our pastured poultry operation. The founding principle being that we are introducing a beneficial microbial community in an area where it is crucial to avoid harmful pathogenic microorganism colonization and blooms. Our biofertilizer ensures an environment where the competition is very high for harmful pathogens and therefore reduces their numbers and ability to bloom.
We spray our brooder houses with biofertilizer, as well as the residual brooder litter once we move the brooders. Loading our brooder litter with beneficial microbial life ensures a rapid rate of decomposition. Through this, we are hygienically handling our brooder litter and supporting its incorporation into our soil organic matter. Additionally, we use biofertilizer as a component in the process of cleaning our laying hen water troughs and Astroturf squares in their nesting boxes. We have also sprayed a test strip of pasture and will be monitoring performance to determine the impacts of direct application.
Biofertilizer supports our holistic approach to land stewardship and animal husbandry. We are excited to continue the use of this all natural supplement in our farm model. Again, we believe in a farm model where we do not need to vaccinate or administer drugs to our animals proactively. We would rather create a living environment which fosters a healthy immune system in our livestock and thereby avoid the need for veterinary care. Biofertilizer is an all natural, low cost tool which can help us further this mission.
Below: Robert sprays biofertilizer inside a newly prepared brooder house awaiting chick arrival. Spraying prior to chick arrival will ensure a cleaner environment for the chicks while they grow.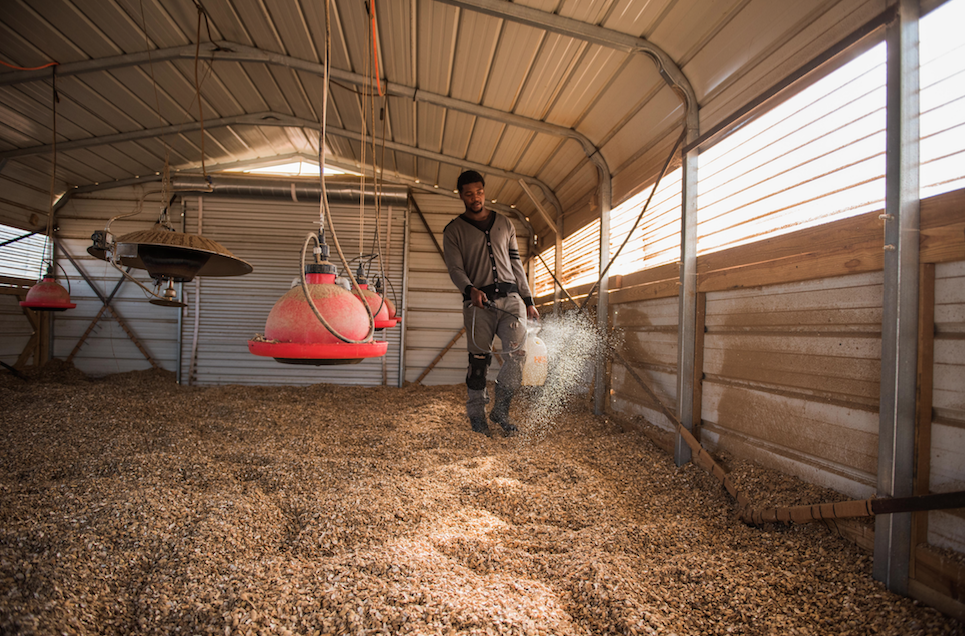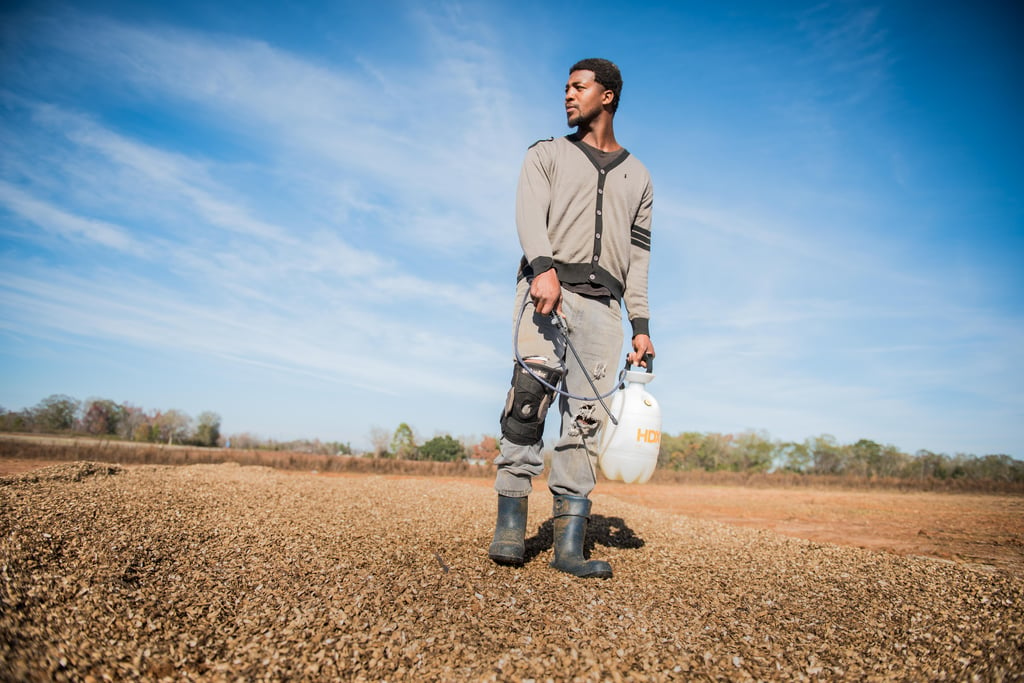 Above: Spraying biofertilizer on our brooder bedding after we move the brooders will increase the rate of decomposition.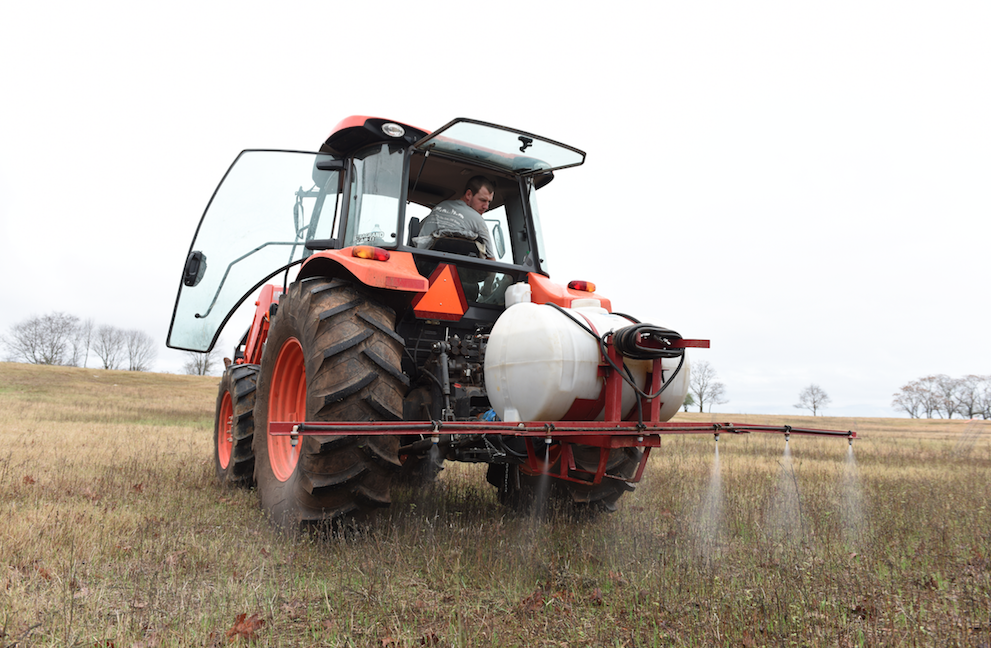 Above: John sprays a test batch of biofertilizer on our pasture which we will monitor for productivity results.