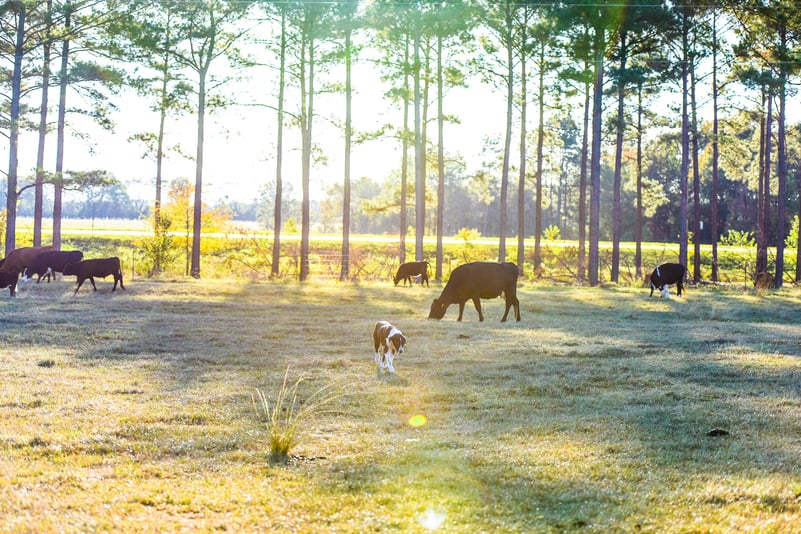 Farming daily reminds us that we are part of nature, not separate from it. Particularly with our holistic, natural approach to land stewardship, we respect and work with the natural world. To this end, we must face the trials that come with a natural, pasture-based system, including the presence of natural predators. We cannot be with our animals 24/7 and depend heavily on our Livestock Guardian Dogs (LGDs) to protect our herds during the night.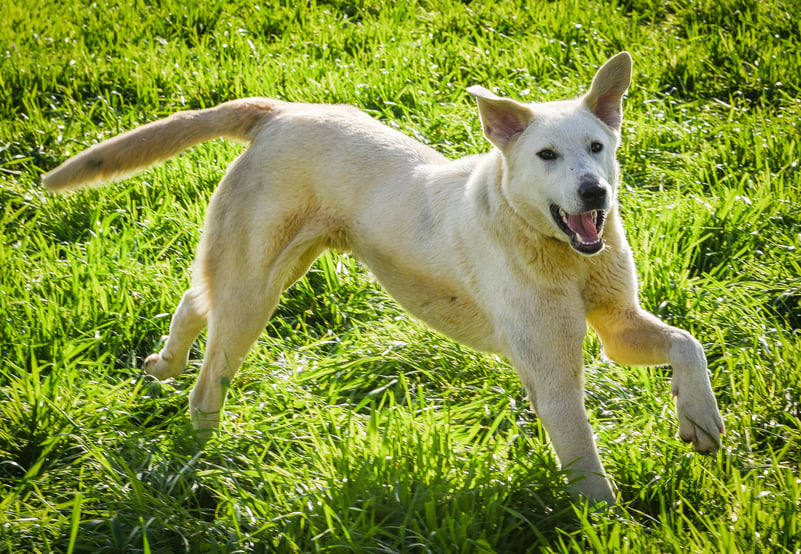 LGDs are among the most ancient breeds of dog. Dating back to Mesopotamian times, humans have used dogs to guard livestock for thousands of years.
Our LGDs are either purebred or a mixture of two Turkish breeds: Anatolian Shepherds and Akbash Dogs. Anatolian Shepherds are a well-known, powerful and independent working breed. Akbash Dogs are a pure white breed- the name Akbash means "white-head" in Turkish. Akbash Dogs are one of the most agile of guardian dog breeds. They are able to cover expansive tracts of land and are extremely athletic.
We use our LGDs to protect all ten of our species. However, it is more common and easier to bond a LGD with ruminants than it is with poultry. We do both here at White Oak Pastures.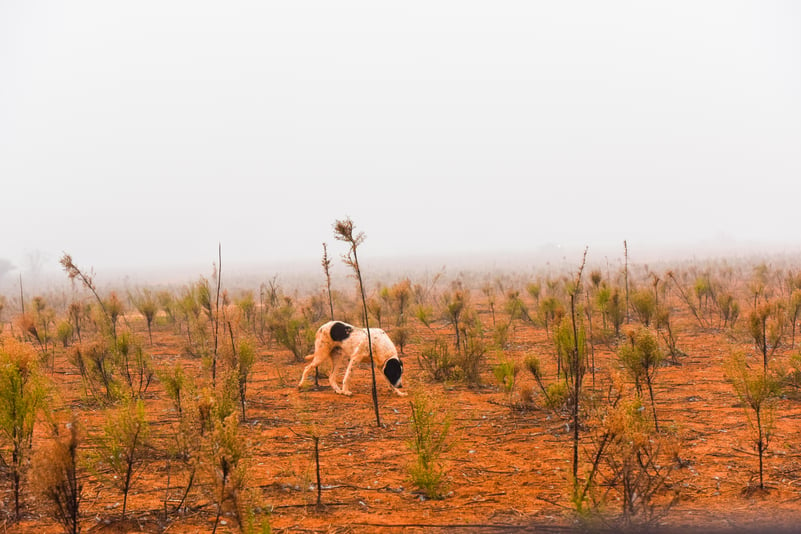 We start with temperament testing our puppies. Character traits that may be beneficial for a certain environment may not be desirable in another environment. It is important to gauge the puppy's personality and assess which job they would fit best with. We are selecting for LGDs with the self confidence and aggression to actively repel predators. As our Poultry Production Manager Jeff Lackey points out, "the LGDs are practically nocturnal; they spend their nights patrolling, howling and fighting". Our livestock remain safe because of the dedication of these LGDs. It is important to treat the LGDs as working livestock. Just as our cattle do work on this farm regenerating the land, our LGDs do work on the farm protecting our livestock. LGDs are very independent breeds and do not always accept direct-training. In "training" our LGDs, we are really creating an environment in which the LGD can succeed and learn the ropes. We are acting as an "unseen hand" in the LGDs' world view.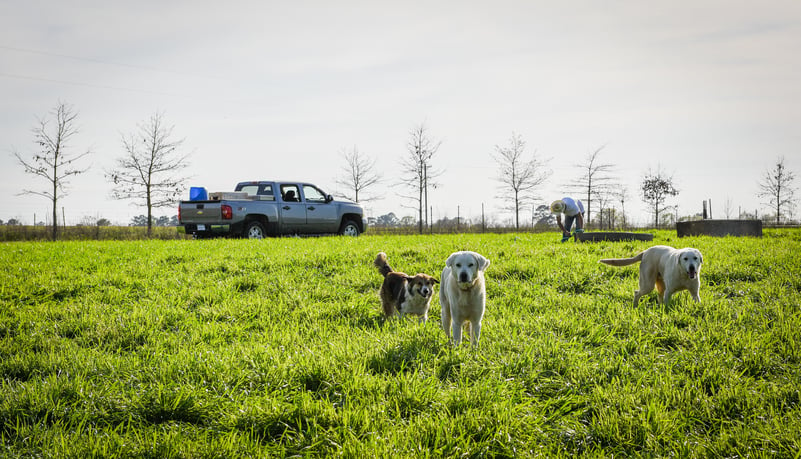 A well adjusted, effective LGD will rarely let the flock leave their sight. The breeds are self confident enough to exercise independent decision making. They are calm, sensitive to the herd's mood, and will move slowly when close to the livestock to avoid disturbing the herd.
As has been well publicized, White Oak Pastures' struggle with eagle depredation has only grown as the years go on. Our farm's eagle population is doubling and bald eagles are killing about 100 chickens a day on our farm. We are growing our LGD program on the farm in response to eagle predation and are training a new litter of puppies to respond to aerial predators.
Venturing into poultry-bonded LGDs is uniquely difficult for several reason. Unlike larger ruminants, poultry cannot teach the LGD inappropriate behavior. For example, if a LGD puppy were to begin playing with a sheep, that sheep is large enough to put the LGD in it's place. It will learn to be gentle and calm around the livestock as per their request. Poultry do not behave in this manner. Therefore, it is a more human-intensive training process to bond an LGD effectively with a poultry flock, requiring between 12-24 months of training.