The 21st Annual Georgia Organics Conference & Expo
One of the largest of its kind in the Southeast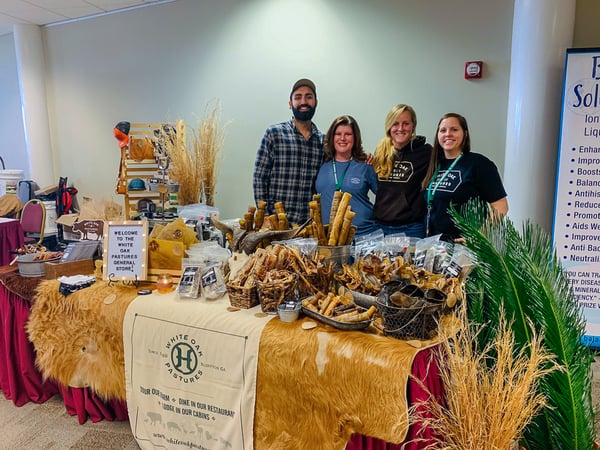 Employees from White Oak Pastures were proud to attend the 2018 Georgia Organics Conference in Tifton, GA the second weekend in February. Georgia Organics is a non-profit organization that champions organic agriculture and healthy families by empowering farmers to thrive, helping schools engage children in delicious and educational farm-to-school experiences, and making organic and local food accessible to all Georgians. White Oak Pastures has been a committed supporter of Georgia Organics for several years.During this annual conference, farmers, growers, consumers, chefs, and educators attend a wide variety of panels and courses. These courses typically revolve around subjects including sustainable farming practices, resiliency, farm-to-school programs, soil health, human health, economic practices, and much more. Jenni Harris, Will Harris's daughter, spoke on the Livestock Superstars panel which was an educational session on raising livestock in Georgia. The conference also offers local farm tours and this year attendees had the option of visiting White Oak Pastures, Sweet Grass Dairy, Koinonia Farm, and many others.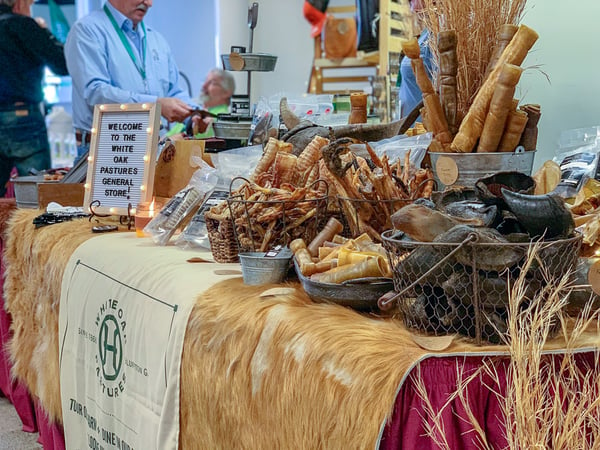 The Georgia Organics conference also features a two-day exposition of vendors, farm service providers, food-related nonprofits, and organizations with a focus on sustainability. Exhibitors included White Oak Pastures, the National Young Farmers Coalition, Seven Springs Farm, Banner Greenhouses, Cafe Campesino, and over 30 more! The White Oak Pastures team set up an extensive booth including the wide variety of products crafted on the farm. The display offered up a variety of pet chews, leather goods (including cowhide rugs!), tallow goods, spice rubs, apparel, caps, honey, and even coffee mugs. The conference attendees from the farm aimed to create a miniature version of the White Oak Pastures General Store at the exposition. Visitors at the booth enjoyed browsing through our products and were impressed with our commitment to zero-waste processing. Dehydrated tracheas, dried cow ears, leather tote bags, and tallow candles all help demonstrate that the farm works diligently to use each part of the animal. The parts that the departments at White Oak Pastures are unable to use for value-added products are composted on site and then later spread back out onto certified organic pastures.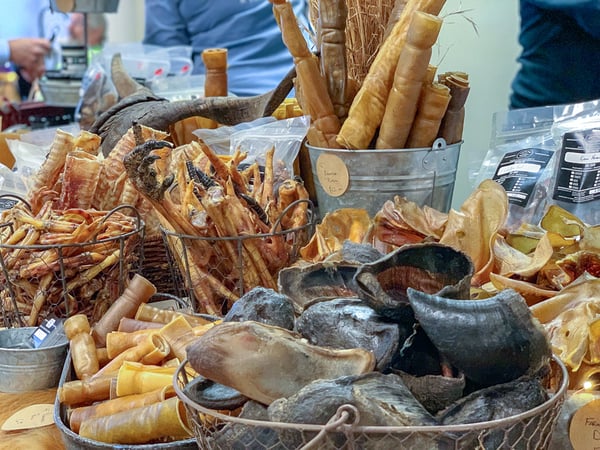 Meals during the conference were provided by Chef Cathy Conway of Avalon Catering. Conway's company embraces the use of local, sustainable ingredients and did an excellent job serving the conference. The employees at Avalon Catering pulled out all the stops during the Farmer's Feast and crafted the perfect dish of braised White Oak Pastures beef cheek. Along with the beef cheek, Conway offered shrimp served with a coconut cream sauce, crudités with feta spread, warm bread, fresh greens, and much more.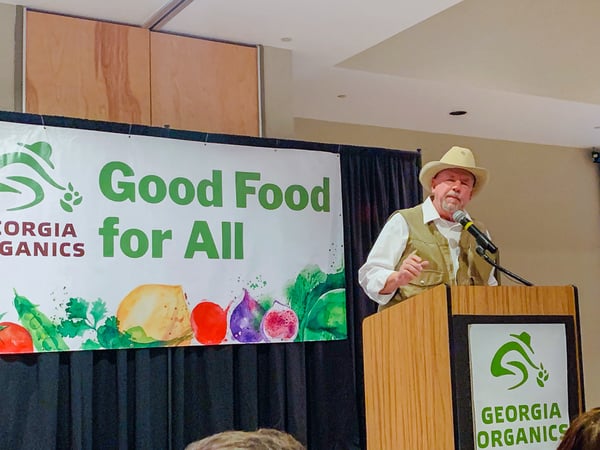 Will Harris of White Oak Pastures represented his farm well as the keynote speaker at the conclusion of the Georgia Organics Conference. He opened with a joke about a farmer's wife, a chicken, and a disgruntled farmer who ended up at the brunt. After the laughter died down, Will Harris spoke about the importance of the many cycles involved with maintaining healthy soil. At White Oak Pastures, our main goal is to sequester carbon in the soil and capture the radiant energy from the sun to grow nutritious grass for our herds and flocks. On the farm, animals are free from confinement and are encouraged to exhibit their natural instincts. When all of those necessary cycles are in place, the livestock at White Oak Pastures become part of the natural rhythms surrounding them and benefit through good health and a low-stress environment.
The farm staff that attended the conference enjoyed speaking to over 400 guests and were thankful for the outpouring of support of White Oak Pastures through purchases at the exposition booth. We look forward to attending next year and continuing to support good food for all.