At Rioja, in Denver, half of the bacon is replaced with ground fatback, a step that makes this excellent burger even better.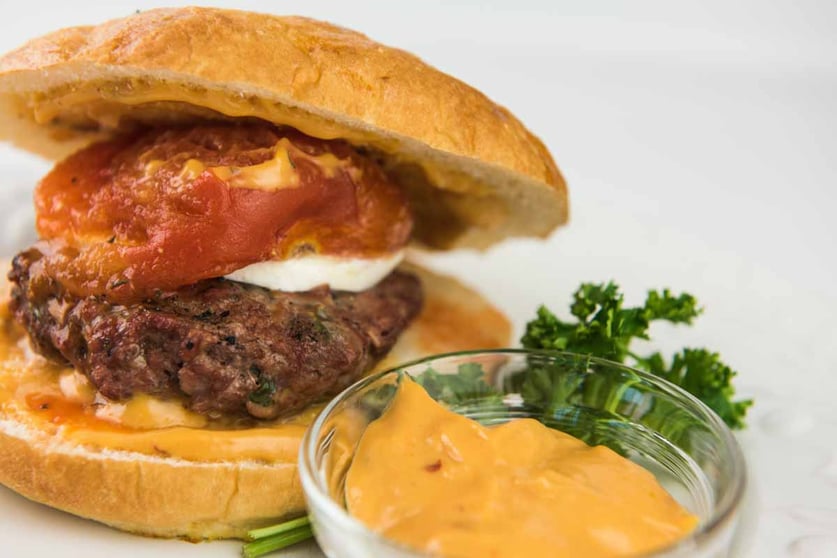 Ingredients:
Aioli
1 large egg yolk
2 tsp Dijon mustard
1/2 cup vegetable oil
1 canned chipotle chile in adobe, finely chopped
1 garlic clove, finely grated
2 tsp finely grated lemon zest
1 tbsp fresh lemon juice
Kosher salt
Assembly
4 plum tomatoes, cored, halved lengthwise
1 tbsp thyme leaves
1 tbsp plus 2 tsp olive oil
1.5 tsp kosher salt, plus more
Freshly ground black pepper
1/2 lb thick cut bacon, cut into pieces
1 lb White Oak Pastures Grassfed Pasture-raised ground lamb, preferably from the shoulder
3 tbsp finely chopped fresh sage
4 buns, toasted
1/3 lb fresh mozzarella, thinly sliced
3 cups baby arugula
1 tsp Sherry vinegar or red wine vinegar
Instructions:
Aioli
Whisk egg yolk and mustard in a medium bowl to combine. Whisking constantly, gradually drizzle in oil, drop by drop at first; keep going until aioli is thickened and smooth. Whisk in chipotle, garlic, lemon zest, and lemon juice; season with salt. Cover and chill.
Do Ahead: Aioli can be made 1 day ahead. Keep chilled.

Assembly
Preheat oven to 225 °. Toss tomatoes, thyme, and 1 tbsp oil on a baking sheet; season with salt and pepper. Arrange tomatoes cut side down and roast until skin is slightly browned and beginning to separate from flesh, 75-85 minutes. Let cool, then slip off skins.
While tomatoes are roasting, freeze bacon until almost frozen through, about 40 minutes (this will help it chop cleanly in the food processor). Pulse bacon in a food processor, scraping down sides of bowl as needed, until very finely chopped, about 1 minute.

Transfer bacon to a medium bowl and gently mix in ground lamb, oregano, sage, and 1½ tsp salt just to combine. Divide meat into 4 equal portions and gently shape into ¾" thick patties.

Heat a grill pan or a cast iron skillet over medium-high. Cook patties until lightly charred and medium-rare, about 2 minutes per side. Generously spread buns with aioli and build burgers with patties, roasted tomatoes, and mozzarella.

Toss arugula in another medium with vinegar and remaining 2 tsp oil; season with salt and pepper.

Serve burgers with arugula alongside.