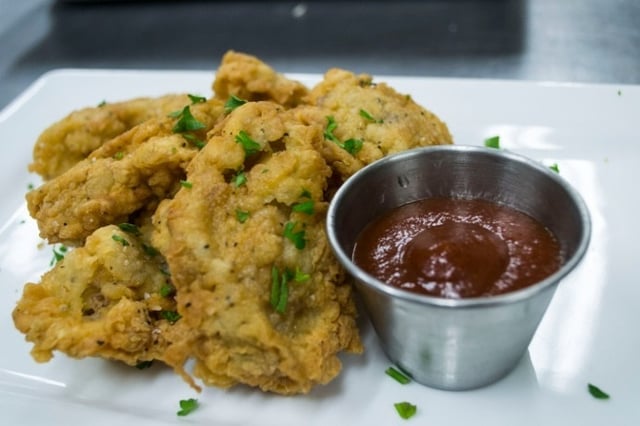 These are also known as "Prairie Oysters" or "Calf Fries". This is a very popular item in the American west and Western Canada where cattle ranching is prevalent, though we love them here in southwest GA too. Fried is the most common way you'll see these prepared, as most everything is better fried. Don't let them scare you, they are actually really REALLY good!
Ingredients:

2 pounds Bull Jewels (testicles or "oysters")
1/2 cup Sugar
3/4 cup Kosher Salt
8 cups Cold Water
4 tsp Distilled Vinegar
1 cup Flour
1/4 cup Cornmeal
1 cup Milk
1 cup Red Wine
Salt & Pepper to taste
Garlic Powder to taste
Hot Sauce to taste
Frying Oil
Instructions:
With a very sharp knife split the tough skin-like muscle that surrounds each jewel and remove the skin.
In a large container, dissolve ½ cup sugar and ¾ cup salt in 8 cups of cold water. The "oysters" should be covered. Allow to sit for 1 hour. Drain and rinse. Place "oysters" back into a clean container once rinsed and cover with milk. Allow to sit for another hour.
Transfer the jewels to a large pot with vinegar and enough water to cover. Bring to a boil and reduce heat immediately. Simmer for about 6 minutes. Drain the jewels and place into ice-water to cool and stop the cooking.
Slice each oyster into ¼" thin rounds. Sprinkle to taste with salt and pepper.
Place the milk in a shallow bowl. In another bowl mix the wine and hot sauce to taste. And in one more bowl combine the flour, cornmeal and garlic powder.
Dredge each "oyster". Dip into flour mixture, then milk, flour again, then the wine/hot-sauce and finish again in flour mixture.
Heat oil in a pan to approximately 375F. Fry each "oyster" until golden brown all over. Be careful not to overcook as they will become tough and chewy if overcooked.
Serve with your favorite dipping sauce, hot sauce or cocktail sauce.