Denna Peterson, who is our Accounts Payable Manager, recently led a Skull Painting workshop and shares the experience she and her "Skull Crew" had.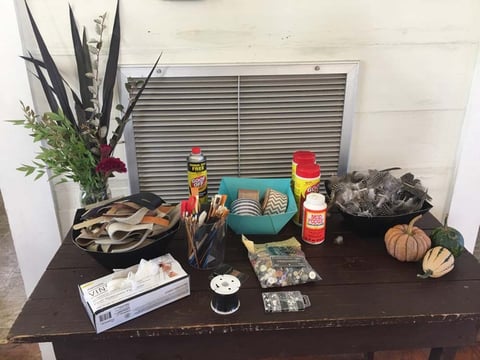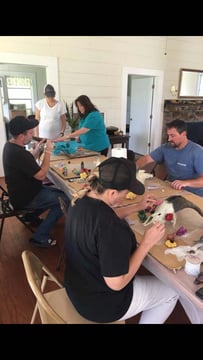 "We had a great time! Jodi (Harris Benoit) gave one helluva tour of our General Store, Hide Barn, and Red Meat & Poultry Abattoirs. She also entertained and assisted the guests while coordinating lunch. Chicken salad wraps and grilled bacon & pimento cheese sandwiches were served in the West Wing at the General Store. Bilal Sarwari, our Community Development Manager, was so helpful preparing everything for our guests."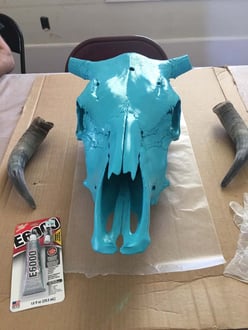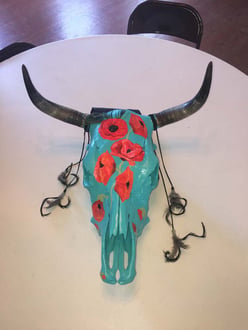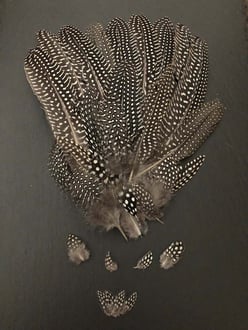 Diana Collins, our Accounts Receivable Manager, used mod-podged paper flowers, guinea feathers, and leather from the hides of our grass-fed cattle to embellish her skull. For those who have never seen guinea feathers, they are beautifully unique, but hard to come by. We raise guineas on the farm and these birds have minds of their own, going where they want when they want. Luckily, they leave feathers strewn about for us to collect. One gentleman adorned his skull with leather and upholstery tacks. Will Harris himself couldn't help but make an appearance, along with Jean Turn, our comptroller. If you couldn't make the workshop and would like to design a skull at home, our cow and ram skulls are available for purchase in our online store. Denna is also available for a consultation to design a skull tailored with your specifications at denna.peterson@whiteoakpastures.com.