Jeff Lackey, manager of poultry livestock production since 2016, describes White Oak Pastures as "Enviro-agrarianism". Prior to White Oak Pastures, Jeff became increasingly interested in raising livestock, producing food, and improving the environment. Those three things led him to White Oak Pastures and Jeff has fascinating information to share!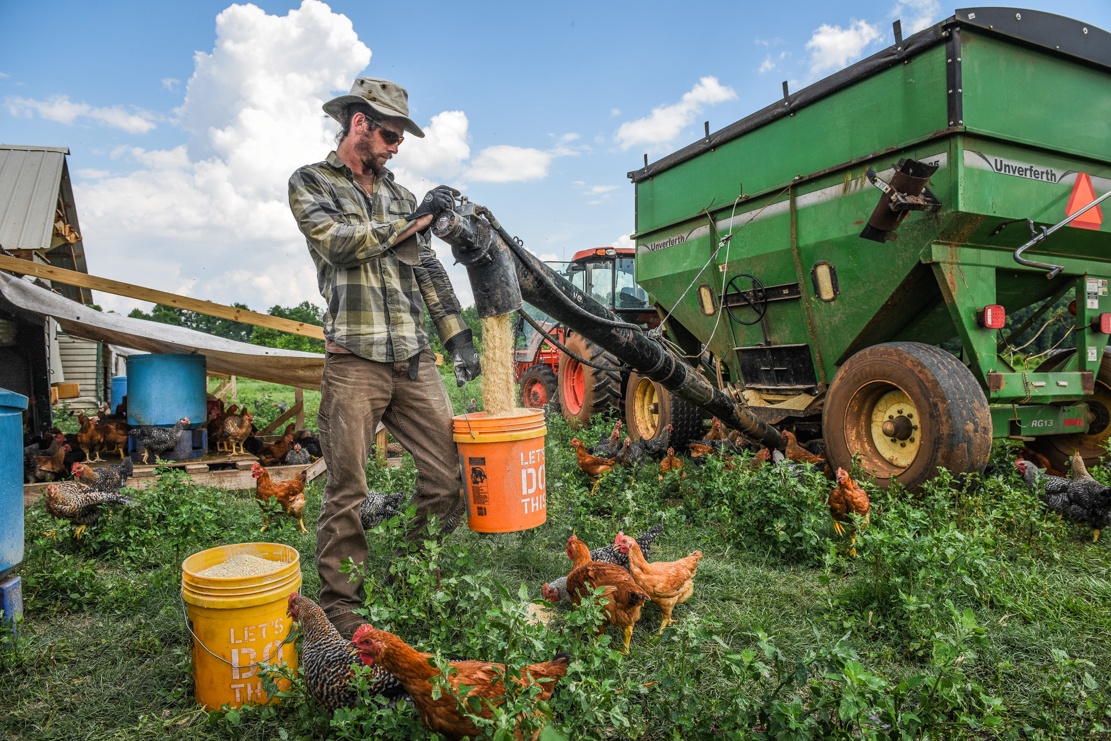 "I ensure livestock, especially poultry, have water, feed, and shelter on fresh ground, be it by automatic system or labor. I coordinate closely with the processing and marketing divisions of our farm for effective and timely harvesting and keep the program properly oriented for continuous improvement.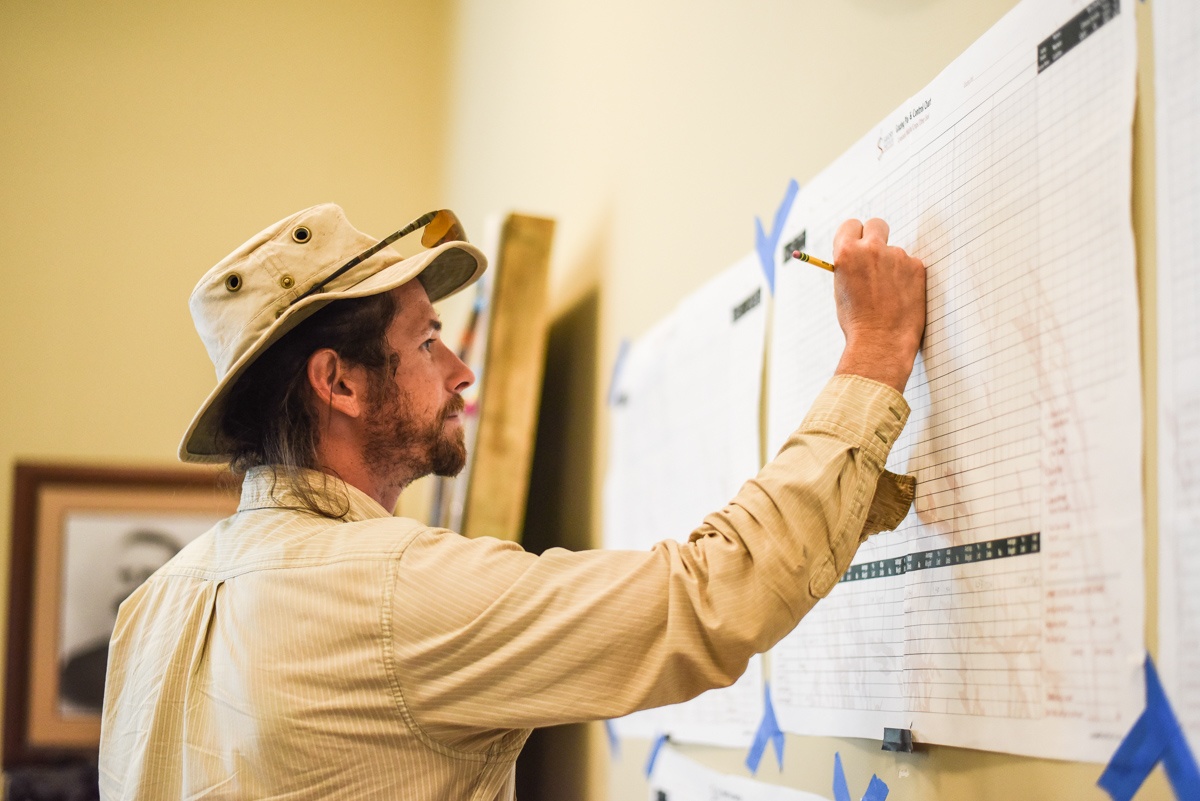 Jeff gains most satisfaction from his work when "seeing the pasture improvement we can catalyze by raising livestock in a particular manner. It is a long process to heal the damage from industrial agriculture, and it is satisfying to participate in driving land health. We have begun taking drone photographs of every flock of broilers after they have traversed a section of pasture.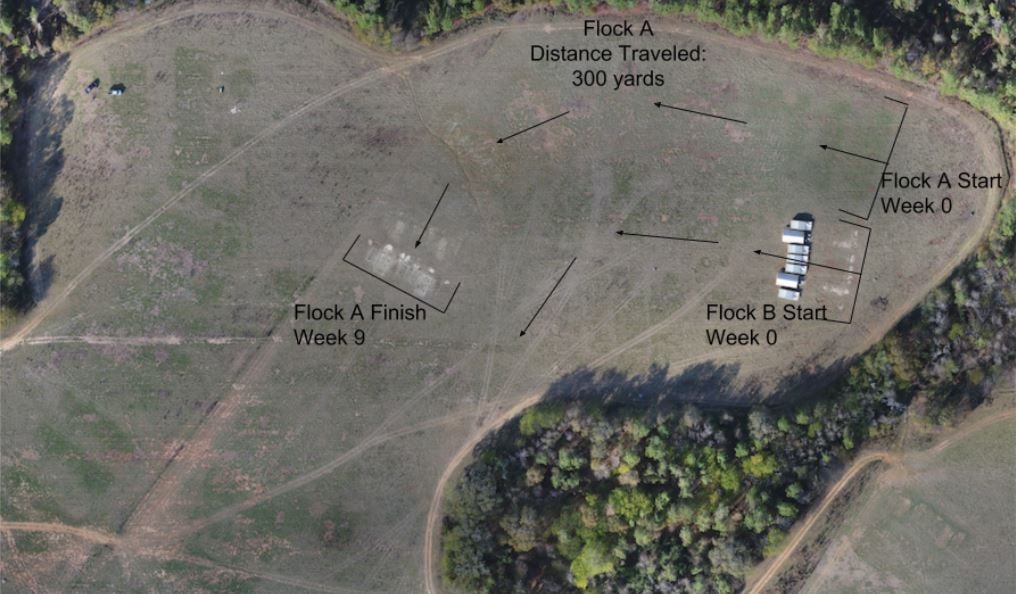 These images convey the power of spatial mapping and demonstrate the role pastured poultry plays in regenerative agriculture. I really enjoy seeing how fast the pasture recovers when we are moving the livestock at a pace that allows for nutrient deposition and the right amount of forage consumption.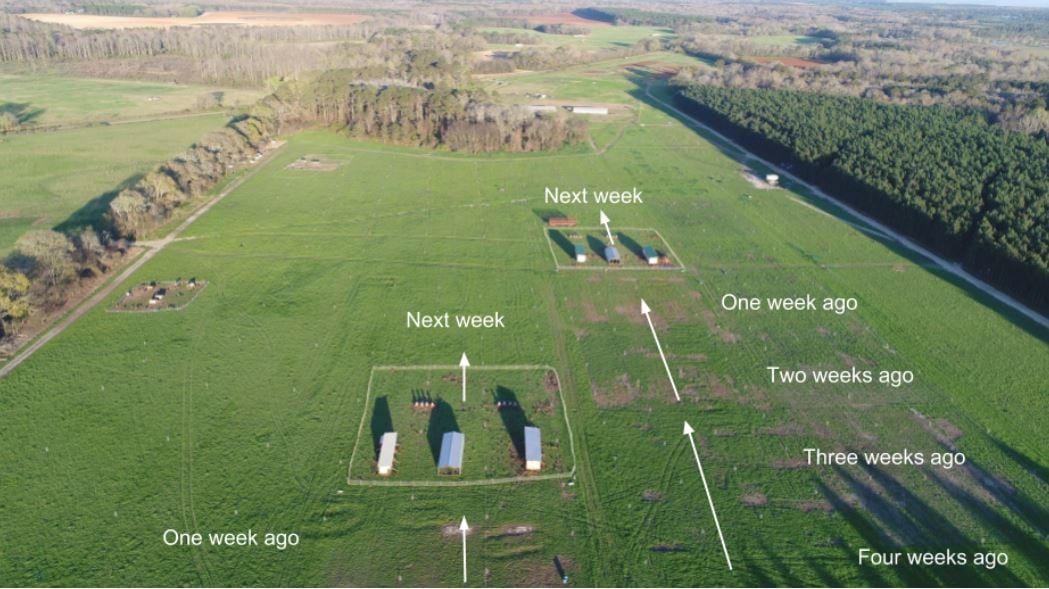 This aerial photo illustrates the trajectory of two laying hen flocks. The flocks are square fenced with electric netting, deterring predators and restricting the amount of pasture the hens can access. Every week, the poultry team moves the flocks forward to a new square of pasture that has not been visited by the hens within the last 3-6 months. The picture shows the impact from a flock living on a particular square of pasture for one week, and the pasture's progression of recovery in the following weeks. By moving the flocks each week, we are able to promote pasture recovery and regeneration for future groups of livestock.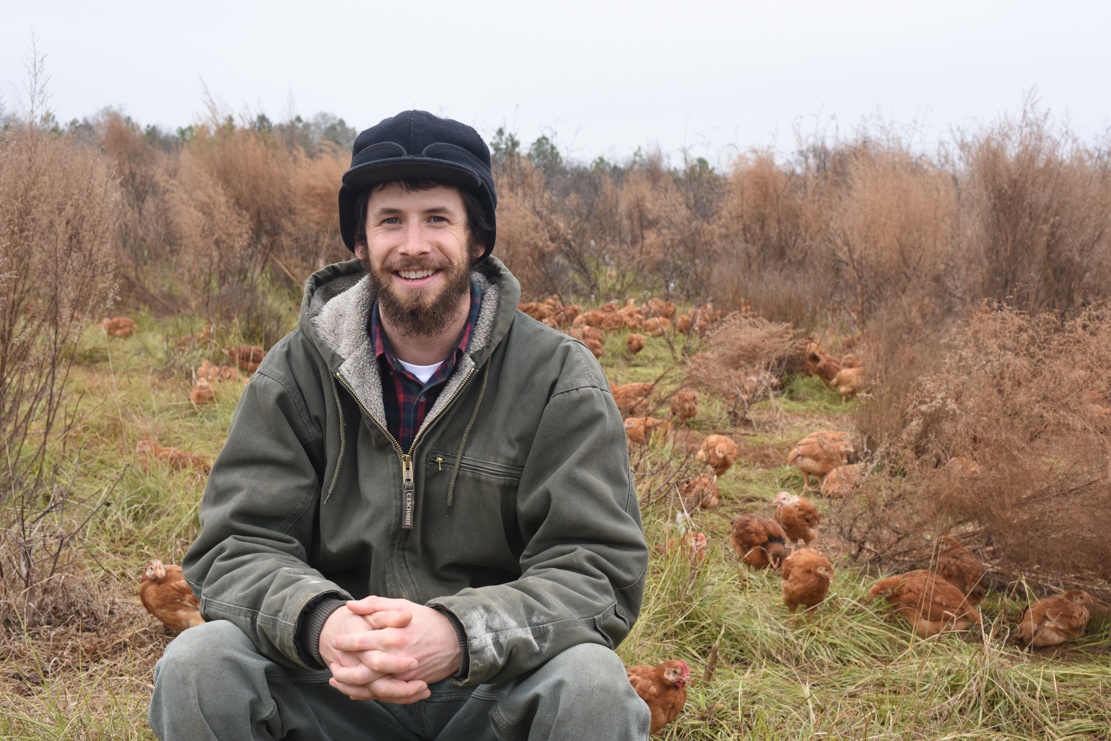 The biggest challenge is that we are working with the natural world. On a living farm, there is nothing we can separate and work with in isolation. We are working with it all, a dynamic and unpredictable work. The best part of south Georgia is the rural setting enables us to have the acreage to conduct an integrated, scaled pastured livestock operation.
Because a few of Jeff's interests are raising livestock and producing food, he enjoys checking on the animals the most and preparing food is a hobby of his. "This spring my favorite White Oak Pastures product to cook has been our chicken thighs (boneless, skin-on). They are fantastic when covered with olive oil, salt, and pepper, and then skewered for cooking on the fire. The roasted half-chicken is my favorite at the Dining Pavilion. Earlier this year we began properly finishing our ducks; add an extra bit of fat on the bird by changing their feed during the last 10 days of life. I recall being proud when I cut into and tasted a duck airline breast from that first flock of finished ducks. Delicious."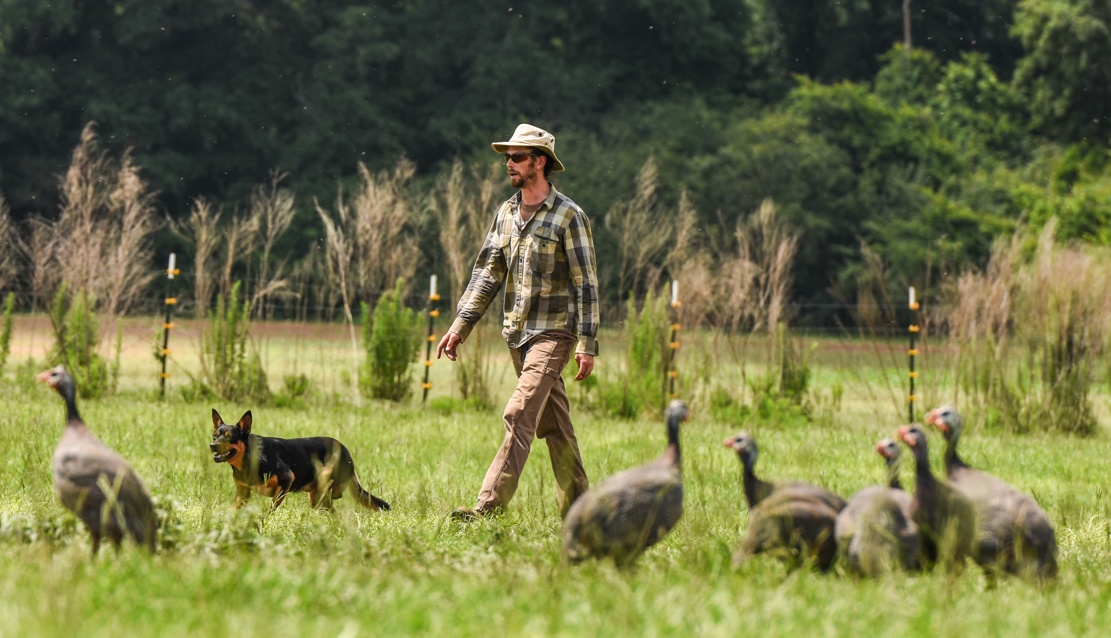 Jenni Harris says "Jeff does an extraordinary job keeping everyone in the loop with production. This is necessary with a vertically integrated system, where processing and marketing are tied so closely together with livestock production. Our poultry production system is stronger than it's ever been, and I credit a large portion of this to Jeff's passion, skill, and knowledge."