---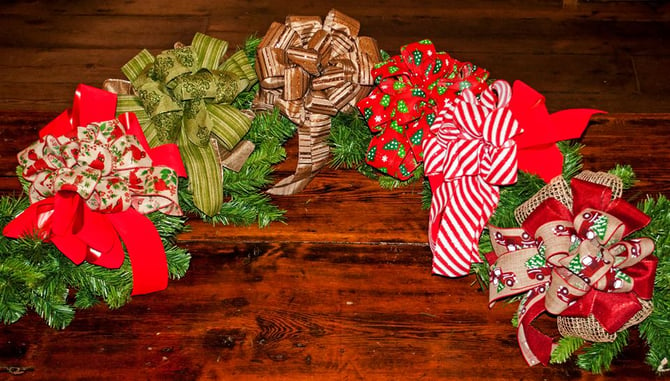 If you find yourself feeling a bit nostalgic this Christmas Season, make your way to White Oak Pastures' General Store in downtown Bluffton. The sound of the boards as you step onto the old wood floors, takes some of us back to a simpler time. A time where hustling and bustling was far removed from this quaint panacea.
The newest addition to our General Store, built with the truly natural "shabby chic" wooden planks and restored wooden floors and windows, is our dining area. We're delighted to host the first of many private parties this week which will serve a buffet-style dinner. Our dining area allows us the privilege to invite friends, family, and guests to our Open House on Sunday, December 10, from 10:00 a.m. - 5:00 p.m.. Join us for refreshments which include samples of store goodies, and the pleasure of fellowship with others. All are welcome! There will be a 15% storewide discount, but the real treat will be the special appearance of Santa, Mrs. Claus, and their special little elf! Children will have an opportunity to have their picture taken with Santa for a souvenir from 1:00 p.m.- 4:00 p.m.!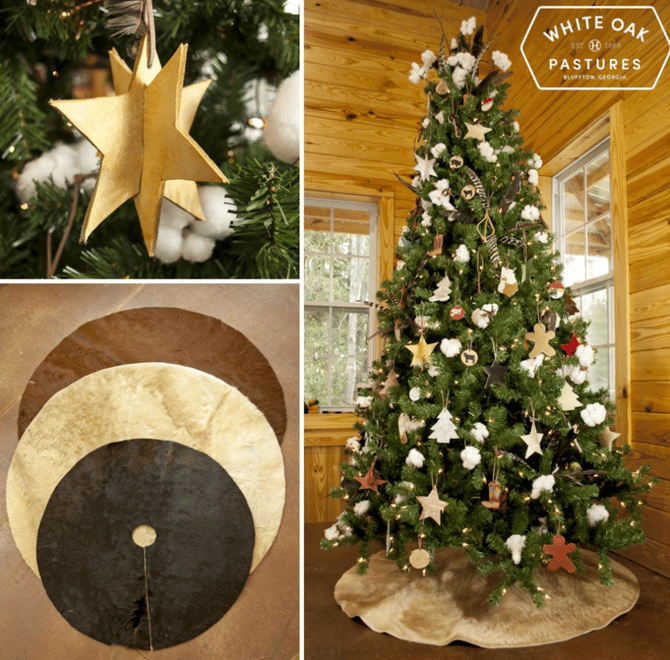 If your holiday appetite gets the best of you, we have our Food Truck right outside the General Store to prepare your food, to enjoy in our new dining area. After you've satisfied your appetite with our delicious pasture-raised food, you'll want to browse through the General Store to see the hand-tied bows made by Chad Hunter, and the beautiful gift boxes our store staff designed. Unique wooden gift boxes, from times passed, contain one of our many tallow candles with the scent of Christmas, Gingerbread, Warm Apple Pie, Forrest Pine or Caramel Popcorn, along with other tidbits!
All of these items would be a pleasure for anyone to have, but let's not forget that this is White Oak Pastures! We ensure that everyone is taken care of, and that includes your pets! We have added new items in our pet chew section in the General Store which includes a wide variety of dehydrated chews and rawhides that all of your pets will love. We even have pizzle candy-cane dog chews! Also avaiable online and in our store are Holiday Pet Gift Boxes! We hope the convenience of the box, the variety of long-lasting chews, and the comfort of knowing where the chews were made will encourage you to give them a try!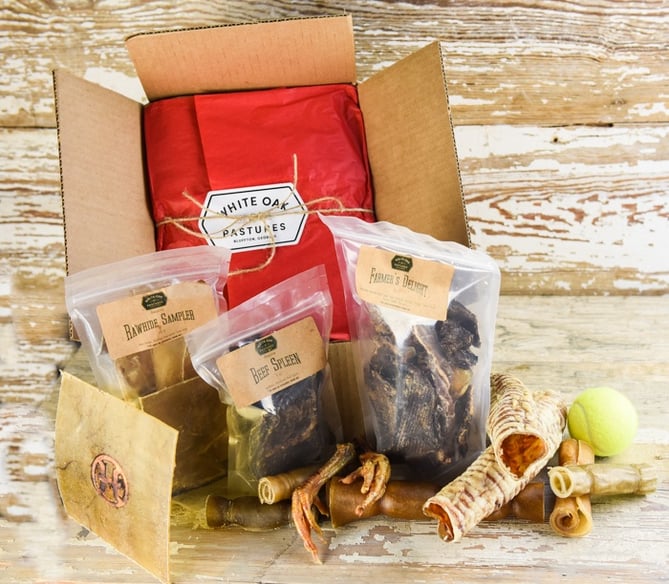 Our unique, hand-crafted leather Christmas ornaments and Leather Christmas Tree Skirts , made across the street in our Leather Workshop, are also available in the General Store. Our Leather Workshop will be open to the public this weekend as well.
So, drop in and have a bite to eat, browse through the General Store, and enjoy the atmosphere of a time gone by.