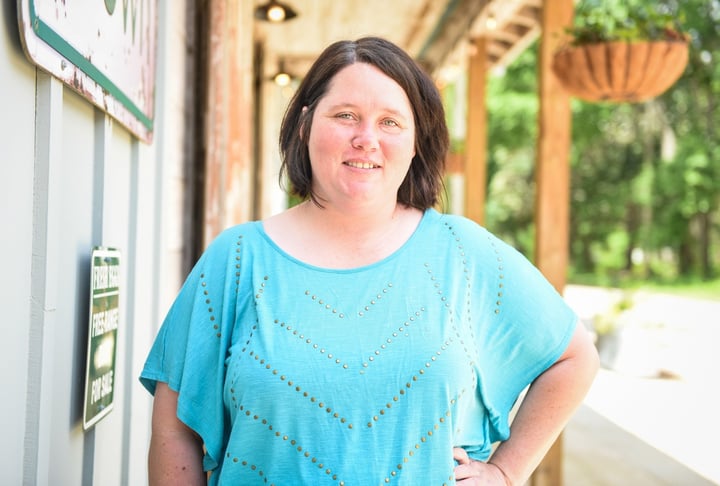 Meet Amanda Johnson, who lives just a hop, skip, and a jump away from the farm, and is taking care of our customers, dinner guests, and lodgers.
Our General Store in downtown Bluffton is where you will find Amanda Johnson, our recently named Employee of the Month. Although Amanda loved working part-time at the Calhoun County Library in Edison, Georgia, she was searching for full-time employment. "I am a huge reader so working at the library was perfect for me. I loved hearing the patrons express their thanks when they loved the books I recommended," states Amanda. Amanda says she got this job by "luck" when she expressed her need for full-time employment; but, we were the lucky ones when her supervisor suggested White Oak Pastures! So, here she is, "Employee of the Month," none-the-less!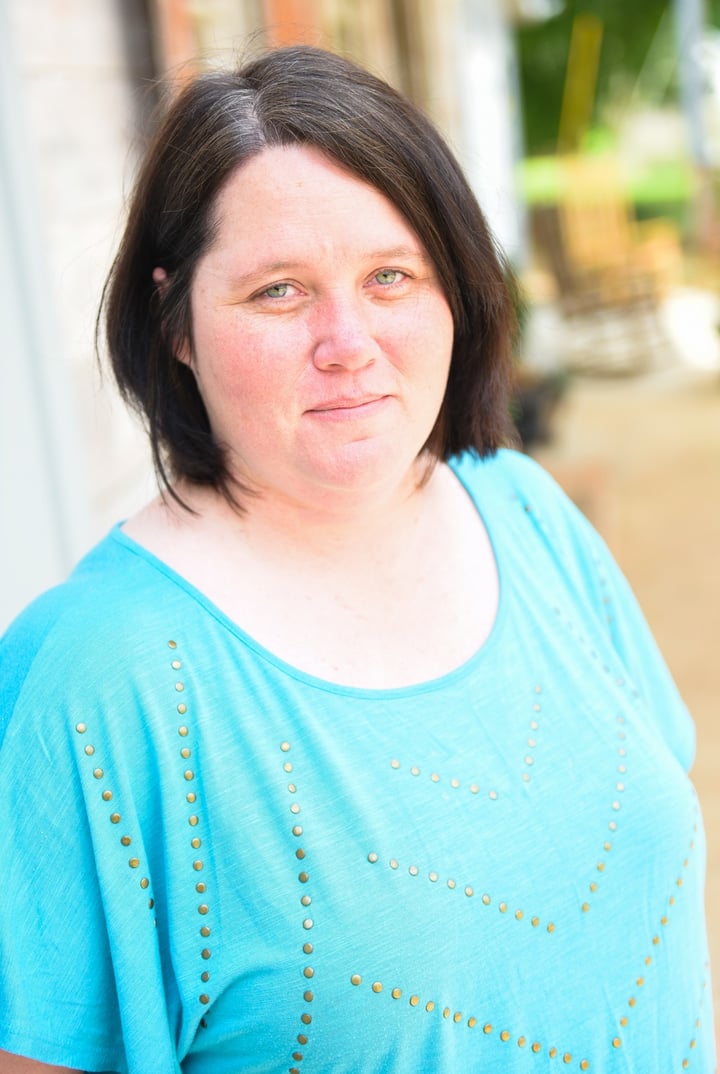 Amanda conveniently lives only six miles away from the farm with her husband, Bruce, her sixteen-year-old daughter Dylana (preferring to be called Cynthia), and her fifteen-year-old son, Dylan. Cynthia and Dylan attend Pataula Charter Academy in Edison. When I asked Amanda about her children, without hesitation, she replied "I am so proud of both of my kids. They are great kids, and they both make great grades in school." Amanda is thrilled that Cynthia's first job is here at our Food Truck, right next to her mother working at the General Store. Amanda's favorites are the duck tacos and the grilled chicken sandwiches. "The most memorable moment here at White Oak Pastures is when Cynthia started working here. She is really busy participating in the literary team, robotics team, and Future Farmers of America (FFA) but is still able to work here." Amanda immediately follows with accolades for her son. "Even though Dylan is a Freshman in high school, he plays varsity football. "He is just a country boy that would rather be on the water and in the woods fishing and hunting. Dylan can be found on a tractor helping his dad bale hay. They bale grass hay, peanut hay, and wheat straw." It is heartwarming to see the joy on Amanda's face as she talks about her children, and it is encouraging because they are, in fact, teenagers!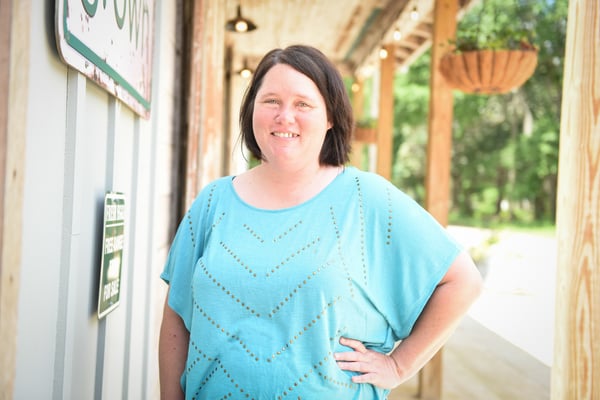 Amanda is keenly aware of the importance of her role at the General Store as she explains,
"We are the welcome center for the farm. We are the first people that the guests interact with, either by phone, email or in person. Our customer service provides the guests with helpful information on dining, lodging, tours, and workshops. We assist guests with purchasing retail available in our General Store, which of course, includes White Oak Pastures grass-fed products. The most satisfying part of my job is watching guests from other parts of the country enjoy our quiet and peaceful country way of life, and it can be challenging answering all the questions they have."
Amanda can also be found assisting in White Oak Pastures' church office, a beautiful 19th-century church refurbished by White Oak Pastures into offices, as well as workshop and conference space. "I like where I am. I get to see most of the employees and all of the guests that visit White Oak Pastures, but I'd like to ride around the farm, seeing more of the places that I talk to employees and guests about." So if you come to the farm this Saturday from 10:00-12:00, you won't find Amanda until after she has been on our farm tour!