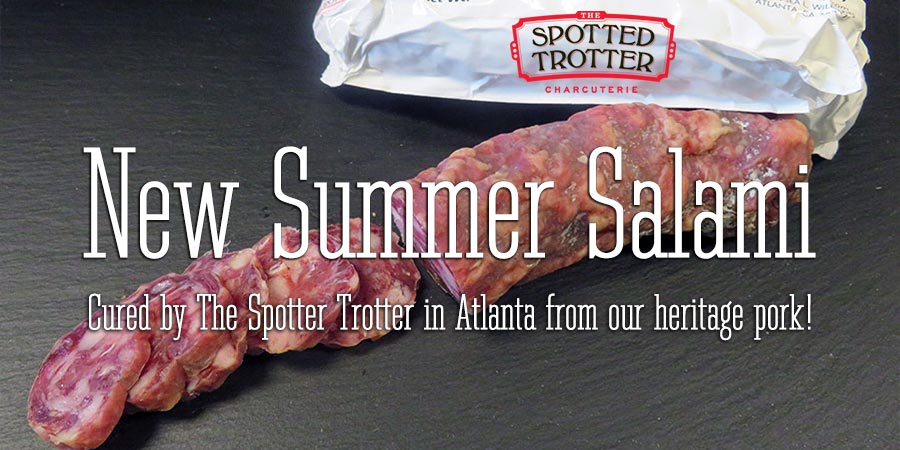 Cured meat has been around since 3000 BC, and we are so excited to add it to our offering for our customers. We partnered with The Spotted Trotter in Atlanta to develop 3 delicious Summer Salamis: Genoa, Black Pepper & Sorghum, Cured Chorizo. We're sure you'll love them! Using our pasture-raised pork and simple ingredients, we could not be more proud to have these available in our online store.
Kevin Outz of The Spotted Trotter on the salamis he made for White Oak Pastures:
1. The Spanish Chorizo is an homage to the classic. However we use Spanish Sherry, and Sweet and Spicy Pimenton from Spain.

2. The Black Pepper Sorghum Salami is New World Charcuterie, celebrating the terrior of the Southeastern United States by using ingredients like Sorghum Syrup to finish this Summer-style Salami.

3. Genoa, also known as "The Superb One," is a classic Italian-style salami with a deep, rich buttery finish that is made in a perfection of simplicity using only 4 ingredients: Pork, Salt, Garlic, Red Wine. This allows the flavor of the meat to come through in a delicate and delicious dance of true Old World salami!

Advice on slicing:
They are small diameter, so a good, sharp, thin blade is best to slice nickel thick. Since the bite size is smaller, it can also be eaten a bit thicker if desired, sliced like 2 quarters thickness but no thicker than that.

Advice with storage:
At home in a cool dry place. If you put in a refrigerator, pull it and let it come to room temperature before serving. It is like fine wine and you want it to have time to open up in flavor before you eat it!