Our farm has had a baby boom this last year! We pride ourselves on rural revival. White Oak Pastures' regenerative farm model contributes to rural revival in South Georgia through job creation. This is a main tenant of our farm's mission. We are so proud to welcome a new generation to the families supported by White Oak Pastures. We all talk about our place of work as a "family". We welcome these little ones to our "farm-ily" with open arms.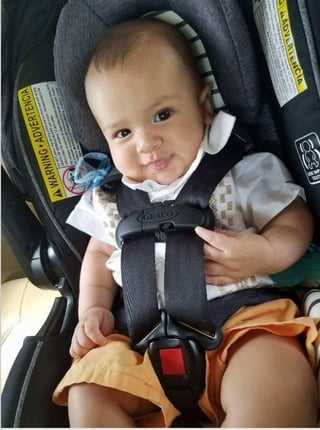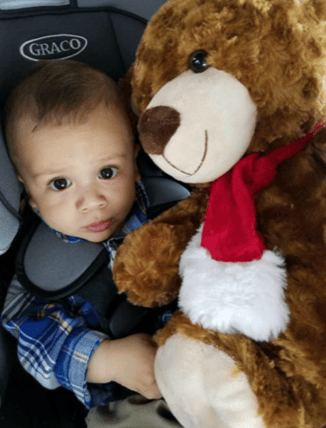 Manuel Martinez Sanchez, born to Victor and Sonnibell. Sonnibell has a variety of jobs in the Beef Plant and always has a smile on her face. Victor's duties have him alternating between the Beef Plant and the Kill Floor. We are so blessed to work side-by-side with this hard working couple and are so happy to welcome handsome Manuel to the farm family.
Birth Date: 4/21/17
Birth Weight: 8 lb 6 oz.
Length: 21 inches
"He is a healthy, happy baby who is "pulling up" on furniture and is trying to walk. He has a smile on his face all the time," just like his parents! His favorite food is broccoli with asparagus. Manuel just celebrated his first birthday with a Mickey Mouse theme. He smiled and clapped the whole time his family and friends sang "Happy Birthday" to him in Spanish, then in English!
---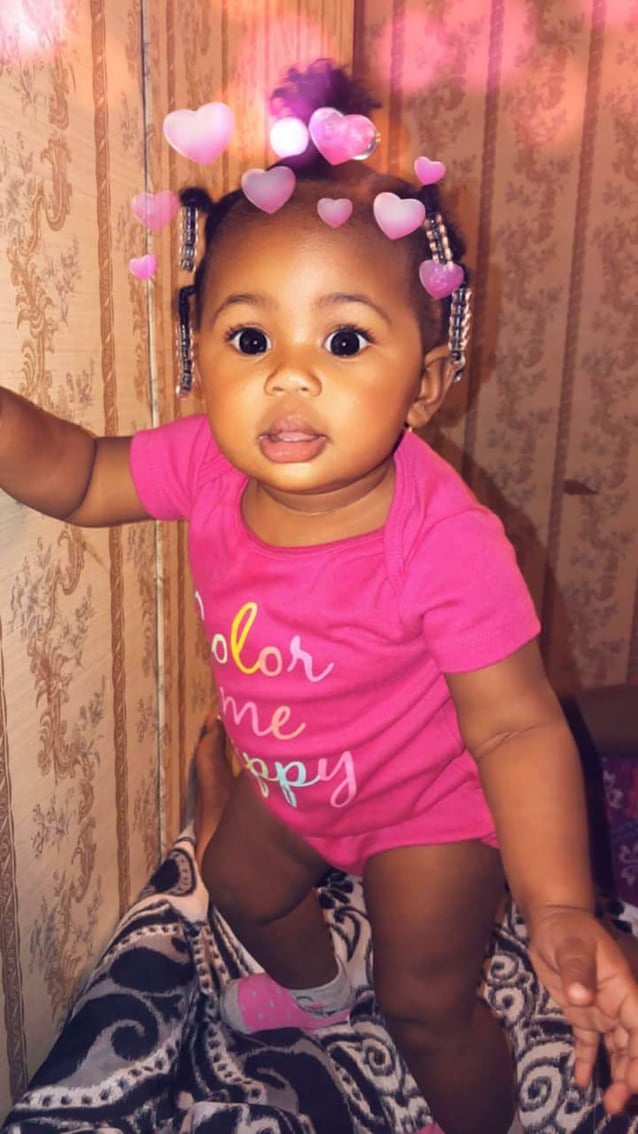 Za'Marria Shanice Shakira Spann was born May 12, 2017. "Her nickname is Marri Pooh and she always smiles and loves to play with everybody. Her favorite cartoon is Paw Patrol and she loves looking at the sky. Her favorite food is Cheetos Puffs", which is a staple for children her age! Her mother, Iesha Spann, always smiles as she works in the Poultry Plant, which is a tough and tiring job. We most assuredly appreciate her worth ethic.
---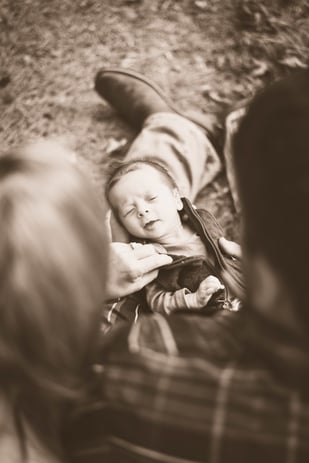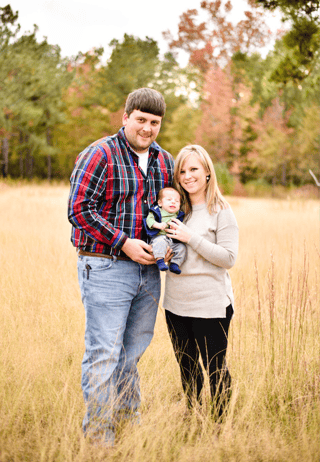 Kristopher Jase Wiley, born to Justin and Amber - Justin started as a butcher in 2009 and was promoted to Beef Plant Manager, managing 38 employees and 35 head of cattle per day. They have recently bought a house in downtown Bluffton, so Buck keeps a close eye on the farm. Baby Jase has already visited the farm many times and we can't wait to watch him grow and explore the pastures with his parents.
Birth Date: 10/6/17
Birth Weight: 7.4 lb
Length: 20 inches
"Jace smiles, laughs, and tries to "talk" to us and we are always 'cutting up with him'. He loves taking a bath after scooting around the floor. He is not quite crawling yet, but will be soon!" Buck and Amber are hardworking parents who entrust Brenda Hughes to care for Jace during the day.
---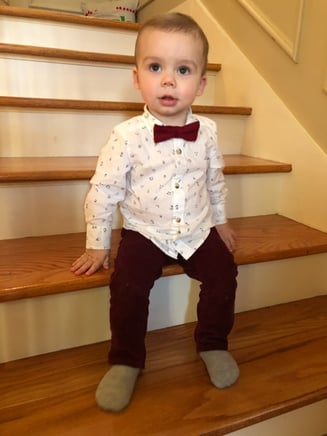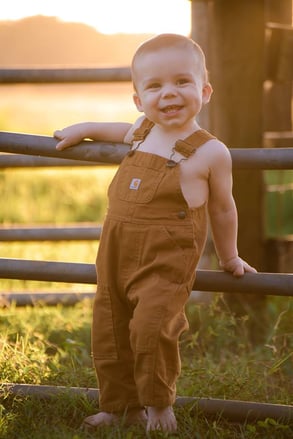 Jack Carter Harris, born to Jenni and Amber Harris - Jenni is the Director of Marketing and Amber is the Special Projects Manager who oversees the Tallow, Honey, Pet Chew, and Leather Departments. Jack is the first grandchild of Will and Von Harris to be born on the farm, making him the leading member of the 6th generation of Harrises at White Oak Pastures. We all love watching him grow so quickly and seeing his rambunctious, curious, and sweet personality develop.
Birth Date: 12/7/2016
Birth Weight: 8 lb 13 oz.
Length: 19.5 inches
"Jack loves trucks, playing rough, and fights sleep. It's clear he is a strong willed little boy, who is going to explore every inch of this farm. Jack learned to walk around 10 months, and we are still waiting on his first word. He loves his dogs, anything with wheels, and playing outside. He especially loves all of his grandparents, aunts and uncles, and cousins London Butler (10 mos.) and Hattie Benoit (7 mos.)."
---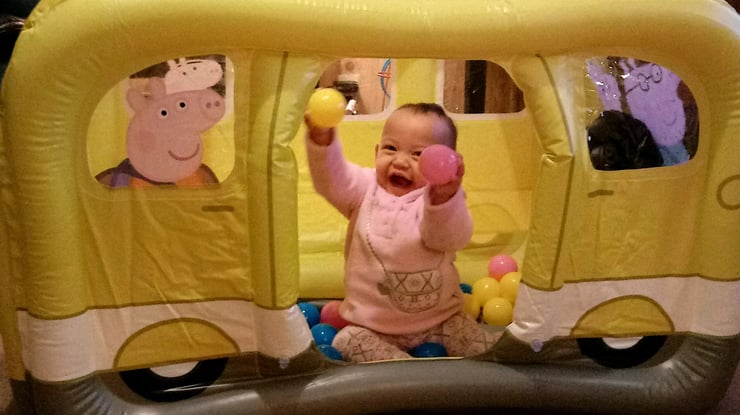 Henleigh Elizabeth Hutchins, born to Leigh Goocher and Henry Hutchins. Henry works as the "Boxer" in the Beef Plant Cutting Room. He has worked for White Oak Pastures since 2016 and we are excited that Leigh joined our team in 2017. Leigh's brother, Bubba Jackson, has worked on the farm for years and is the Loading Dock Manager. We are excited to welcome this beautiful baby girl into our hard-working farm-ily.
Birth Date: 2/18/17
8 lb 4 oz.
Length: 21 inches
"Henleigh is crawling and standing, but not walking, yet! She loves to watch Peppa Pig and LOVES southern cooked food," which her mother cooks on a daily basis at our Dining Pavilion! Henleigh is blessed to have her older sisters Kenzley, 14 years old and Brinkley, 3 years old. On May 24 these girls will find out if they will have a new little brother or sister in the next six months or so!
---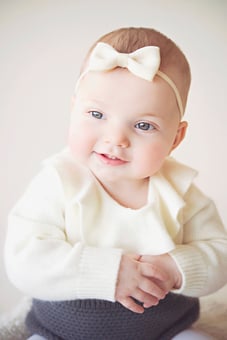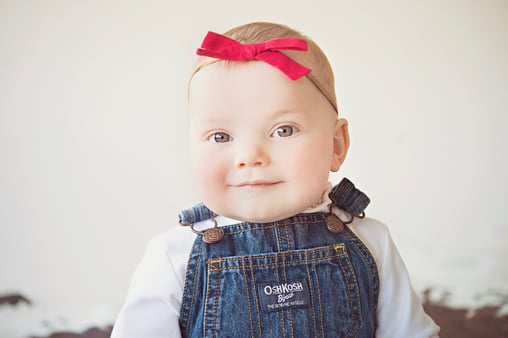 Hattie Bell Benoit, born to Jodi Harris Benoit- Tourism Manager and John Benoit- Director of Livestock. Hattie is the second grandchild born to Will and Von Harris who will continue the farming tradition, alongside her cousin, Jack, as the 7th generation of Harrises at White Oak Pastures.
Birth Date: 7/17/17
Birth Weight: 8 lb 10 oz.
Length: 21 inches
"Hattie has started eating solid food, never misses a meal, and will try to eat yours when she visits the Dining Pavilion! Mornings are her favorite time of the day. She loves to laugh and smile at her mama and daddy. She is starting to get the hang of this "sitting up thing". Mornings are her favorite time of the day and she loves to be outside! She is our world and we fought like hell to get her here, but it was all worth it."
---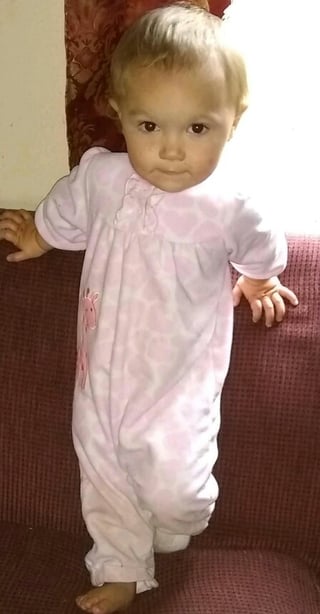 Alexis Michelle Reese, born to Danny and Ashley Tarver. Danny works the heavy machinery such as the Gut Truck and Grinder on the Kill Floor. He was promoted to this department after demonstrating his hard work ethic in the Beef Plant Grinding Room.
Birth Date: 8/3/2016
Birth Weight: 5 lb 9oz.
"Alexis is walking, talking, and she loves being outside..... and she loves animals. We are so proud of our sweet little girl," states her mother Ashley. Danny added "Alexis is running wide open! Jordan, our seven year old son, loves his little sister.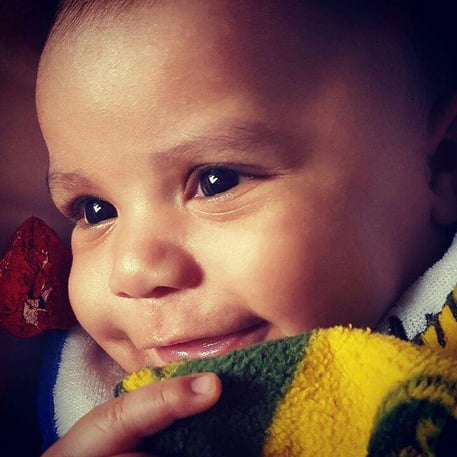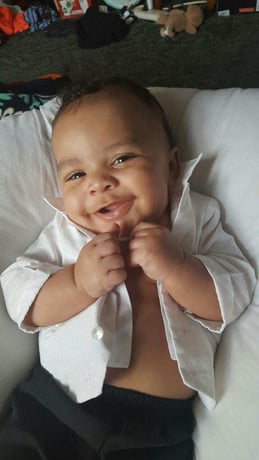 Jonah Reece Rodgers, 6 lb 13 oz., born to Jontavious (JoJo) Rodgers on the Hog Farrowing Crew. JoJo is in charge of all the sows and piglets on our farm and we love his positive, witty attitude. His son, Jonah, is a really joyful baby and loves to smile and laugh. Jonah loves people and has learned if he smiles and laughs, someone will pick him up! He's just learning to sit up but still needs some help. Jonah's favorite toy monkey that rattles when he shakes it. He used to be nocturnal but thankfully has started sleeping through the night now!
---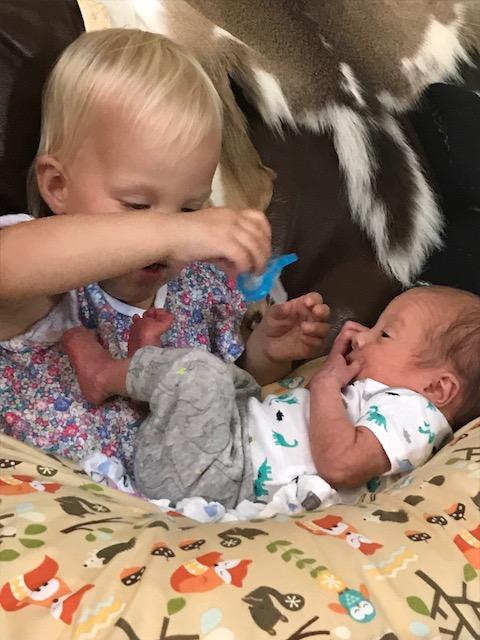 Our Director of Operations, Brian Sapp, and his wife Rochelle are the proud parents of two beautiful children. Pictured above are Charleston Faye Sapp, born 3/5/16, weighing 3 lb. 12 oz. and Whitman Gary Sapp, born 3/22/18, weighing 5 lb. 10 oz..
Charleston has already assumed her role as the "big sister" and is taking care of her little brother. When I asked Brian if he was sleeping, he replied "Every three hours." Unfortunately, Charleston is too young to take a turn in Whitman's nightly feedings in order for Brian and Rochelle to get a good night's sleep.