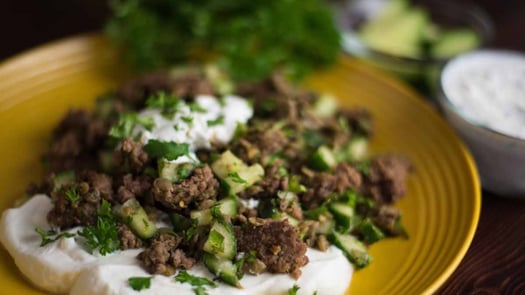 Fragrant bits of spicy ground lamb and heaps of fresh herbs in this recipe transform ordinary lentils into the pantry party kid.
Ingredients:
4 servings
1 tablespoon vegetable oil
Kosher salt and freshly ground black pepper, to taste
2 garlic cloves, thinly sliced
1 teaspoon crushed red pepper flakes
1/2 teaspoon cumin seeds
1.5 cups cooked brown or French green lentils (from 1 cup dried)
1/2 English hothouse cucumber, chopped (those long, narrow cucumbers)
1/2 cup chopped fresh parsley, plus leaves for serving
1/4 cup chopped fresh cilantro, plus leaves for serving
3/4 cup plain whole milk Greek yogurt
Flatbread or rice, for serving
Method:
Heat oil in a medium-sized skillet over medium-high.
Season lamb with salt and pepper and arrange in pan in one single, even patty about ¼" thick.
Cook, pressing occasionally to help meat make contact with pan, until underside is caramelized, brown and very crisp, about 5 minutes.
Pour off excess fat and save. Carefully turn patty and cook until other side is crisp, about 5 minutes.
Turn heat low and break up lamb into small pieces in the pan. Mix in garlic, red pepper flakes, and cumin.
Turn heat back to medium-high and cook, stirring occasionally, until spices are fragrant and lamb is cooked through but still juicy, about 2 minutes.
Transfer lamb mixture to a bowl with a slotted spoon.
Place lentils and 2 tablespoon of reserved fat in same skillet. Season with salt and pepper, and cook, tossing occasionally, until lentils start to brown and crisp, 5-8 minutes.
Return lamb to skillet and toss to combine and warm through. Remove from heat and stir in cucumber, cilantro, and parsley.
Spoon yogurt onto plates and top with lamb mixture, then some more cilantro and parsley. Serve with lemon wedges and flatbread or rice.