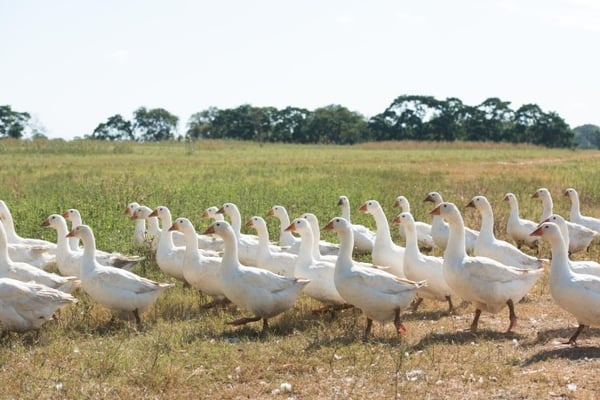 Our geese are free range and have 250 acres of pasture and tree coverage to forage in and explore. We aise Embden geese, a weather-hearty, robust, pure white breed. Geese are herbivores and their beak design makes them the best grazing poultry species.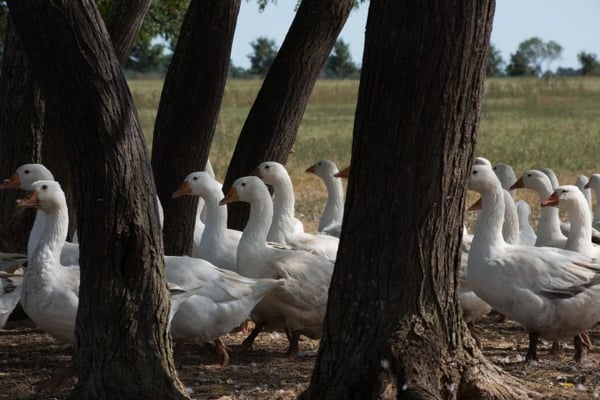 We supplement our birds' diet with non-GMO feed which in turns adds organic material such as available nitrogen back into the soil in the form of manure. Our geese live full, free range lives while contributing to our farm's regenerative agriculture model.
You won't find goose in your everyday supermarket, but we are proud to say that we can send a pasture-raised, non-GMO goose right to your doorstep. Goose is a traditional dish across the globe and Christmas goose was the much-anticipated holiday dish in Europe for centuries.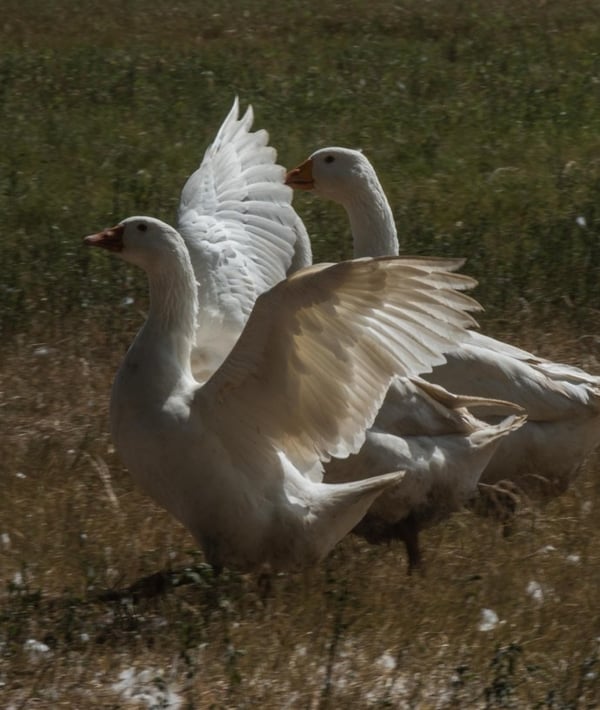 Tis the season for this hearty, traditional dish. Our chef Reid Harrison has prepared a simple and delicious recipe on how to prepare this rich, delicious bird. Watch our video here to see how easy it is to prepare a pasture-raised holiday goose for your next cold weather get-together. Our recipe is as follows:
Citrus Five Spice Christmas Goose
Ingredients
1 10lb White Oak Pastures Goose
2 Oranges
1 Lemon
2 TBL Chinese five-spice powder
2 TBL Kosher Salt
Black Pepper
Small handful each of parsley, thyme and sage sprigs
3 TBL Wildflower Honey (optional)
1 TBL thyme leaf
Method
Calculate the cooking time (approximately 10-12 minutes per pund). If the goose is ready-trussed, then loosen the string and pull out the legs and wings a little – this helps the bird cook better. Check the inside of the bird and remove any giblets or pads of fat. Using the tip of a sharp knife, lightly score the breast and leg skin in a crisscross. This helps the fat to render down quicker while roasting.
Zest the lemons and limes. Mix with Kosher salt, the five-spice powder and pepper to taste. Season the cavity of the goose generously with salt, then rub the citrus mix into the skin and sprinkle some inside the cavity. Place the zested fruit and the herb sprigs inside the bird and set aside for at least 15 mins. Do this a day ahead to allow the flavors to really penetrate into the goose for the best flavor, and lighten your load on cooking day.
Preheat oven to 450̊ F. Place goose on a wire rack in a roasting pan. Roast the goose for 15 minutes at 450̊ F then turn the heat down to 350̊ F and allow to cook for about 45-50minutes. Drizzle with the honey and sprinkle with thyme leaves. Finish roasting for another 30-45minutes until deep golden brown and crispy (cover the goose with foil if it is starting to brown too much).
Every 30 mins or so, baste the bird with the pan juices, then pour off the fat through a sieve into a large heatproof bowl. You will end up with about a quart of luscious fat – save this for the potatoes and any other veg you might want to cook. At the end of the cooking time, leave to rest for at least 20 mins, covered loosely with foil. The bird will not go cold, but will be moist and much easier to carve.