This elegant stew can be made up to the point that the farro goes in; then cover and chill up to 2 days.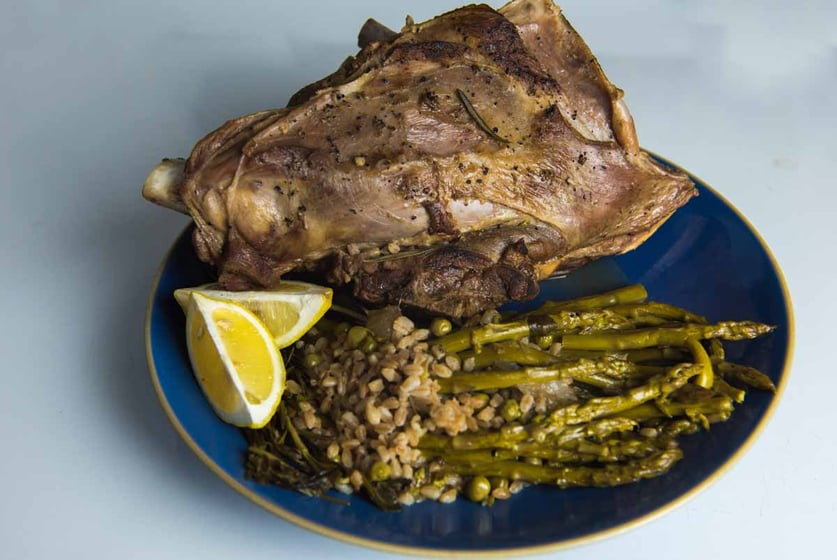 Ingredients:

6 servings
4 sprigs of oregano
4 sprigs of thyme
2 springs of rosemary
2 bay leaves
1/4 cup olive oil, plus more
Kosher salt and freshly ground black pepper
8 ounces pearl onions, peeled
4 garlic cloves, thinly sliced
2 tbsp balsamic vinegar
1 cup dry red wine
6 cups low-sodium chicken broth
1 cup semi-pearled faro or wheat berries, rinsed
1.75 lbs baby turnips, trimmed, scrubbed, halved if large
1 bunch of asparagus, trimmed, cut into 1-inch pieces on a diagonal
1 bunch arugula, kale or mustard greens
Instructions:
Tie together oregano, thyme, rosemary, and bay leaves with kitchen twine.

Heat ¼ cup oil in a large heavy pot over medium-high. Season lamb with salt and pepper. Cook, turning occasionally, until browned, 8-10 minutes per side. Transfer to a plate.

Add onions to pot and stir to coat. Season with salt and pepper and cook until starting to brown, about 4 minutes. Stir in garlic; cook 30 seconds before adding vinegar. Cook scraping up browned bits, until syrupy, about 1 minute.

Add wine, bring to a boil, and cook until reduced by one-fourth, about 4 minutes. Add broth, lamb, and herb bundle. Bring to a boil, reduce heat, and simmer gently, partially covered, until lamb in tender, 75-85 minutes.

Stir in faro and cook until nearly al dente, 15-20 minutes. Remove herb bundle; add turnips. Cook until faro is cooked through, turnips are turnips, and lamb is almost falling apart, 30-40 minutes.

Mix in asparagus and peas; cook until crisp-tender, 2 minutes. Add greens and stir to wilt. Season with salt and pepper. Serve drizzled with oil.