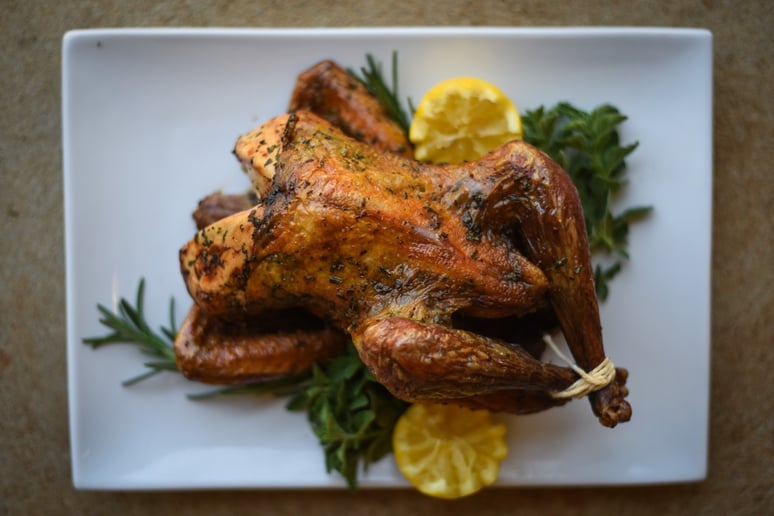 Our on-farm, Le Cordon Bleu Culinary School-trained Chef Reid Harrison says: "I like guinea, because they say you are what you eat and these are some smart resourceful birds! They have a great flavor and are beautiful with their purpled-hued skin. When it's all said and done, if I could only have guinea instead of chicken, I wouldn't complain a bit".
Ingredients:
1

1tsp

2 tsp

1tsp

½ tsp

1

2 cloves

To Taste

2 TBL

Fresh Rosemary - chopped

Fresh Oregano - chopped

Fresh Sage - chopped

Fresh Thyme - chopped

Lemon – zest and juice

Garlic- minced

Salt & Pepper

Olive Oil
Directions:
Mix all herbs with lemon zest, juice and garlic. Add olive oil and season to taste with salt and pepper. Rub down the whole guinea well with herb mixture. Allow to marinate for 2 hours or overnight
Preheat your oven to 350F. Place the guinea on a greased roasting pan/sheet-tray. Place on the center rack in the oven and cook for approximately 20 minutes until the guinea is golden brown, juices run clear and a thermometer inserted in the thickest part of the bird reads 160F. Remove from the oven and allow to rest for 5 to 10 minutes before serving and enjoying.