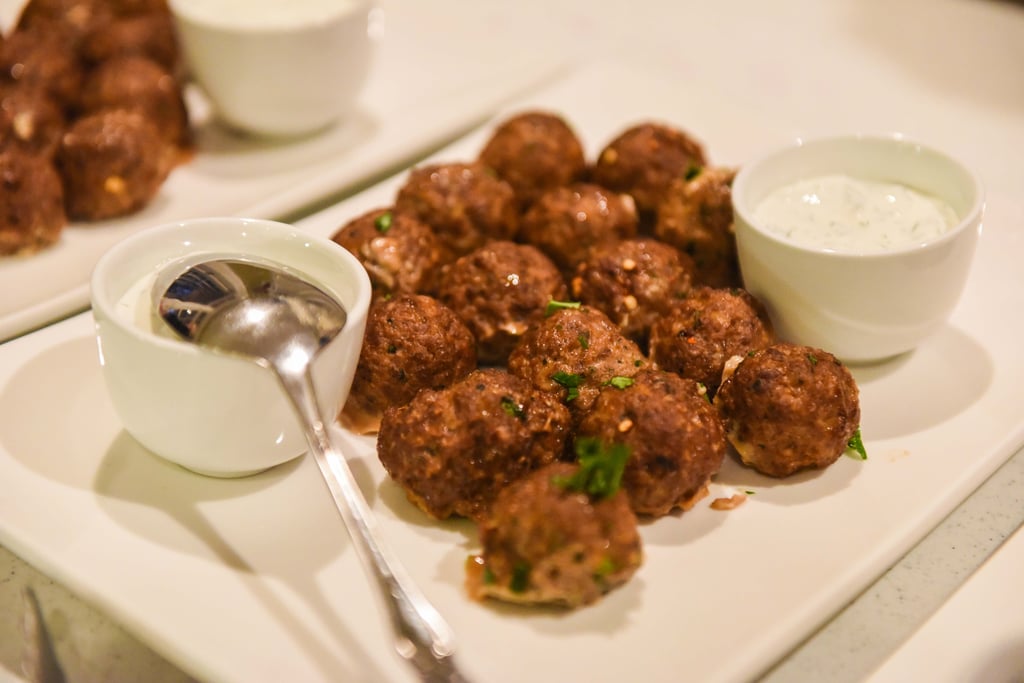 Ingredients:
4 servings
Chile Sauce
3 pasilla chiles, seeds removed, chopped
1.5 tsp crushed red pepper flakes
1 tbsp cumin seeds
1/4 Sherry vinegar or red wine vinegar
1 tbsp sweet smoked paprika
1 garlic clove, chopped
1/2 cup olive oil
Kosher salt
Meatballs and Assembly
1/4 small onion, chopped
8 garlic cloves, 7 chopped and 1 clove finely grated
1 tbsp chopped fresh parsley
1 tsp chopped fresh oregano
1 tsp chopped fresh sage
3/4 tsp fennel seeds
3/4 tsp ground cumin
1 tbsp kosher salt, plus more
1 large egg
1 tbsp rice flour or all-purpose flour
4-5 tbsp olive oil, divided
1/2 English hothouse cucumber, thinly sliced
1/2 tsp finely grated lemon zest
2 tbsp fresh lemon juice
1.5 tbsp Sherry vinegar or red wine vinegar
Freshly ground black pepper
1/2 cup plain sheep's milk or cow's whole milk yogurt
1/4 cup chopped fresh mint
Crushed red pepper flakes (for serving)
Special Equipment
A spice mill or mortar and pestle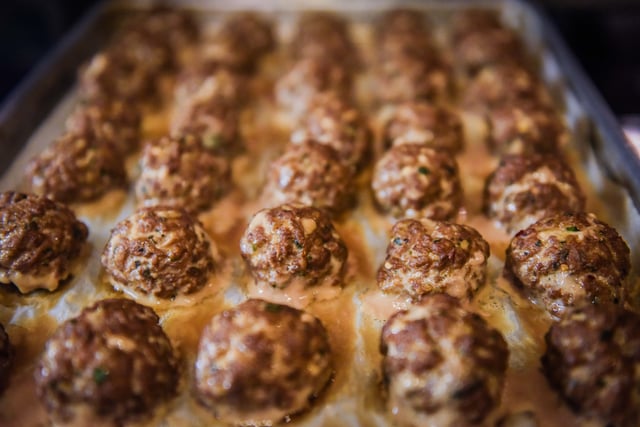 Preparation:
Chile Sauce
Toast chiles, red pepper flakes, and cumin seeds in a dry small skillet over medium heat, tossing occasionally, until fragrant and cumin seeds are golden, about 3 minutes. Let cool.
Working in batches, finely grind in spice mill, then transfer to a blender.
Add vinegar, paprika, and garlic to blender and blend until smooth. With motor running, gradually stream oil and blend until combined. Transfer to large bowl; season with salt.

Do Ahead: Chile sauce can be made 2 days ahead. Cover and chill.

Meatballs and Assembly
Pulse onion, chopped garlic, parsley, oregano, sage, fennel seeds, coriander, cumin, and 1 tbsp salt in a food processor, scrapping down sides as needed, until finely chopped. Add egg, goat, and flour and pulse until evenly combined. Form goat mixture into 1½" balls.

Heat 2 tbsp oil in a large skillet, preferably cast iron, over medium-high. Working in 2 batches and adding another 1 tbsp oil to skillet if needed, cook meatballs, turning occasionally, until browned on all sides and cooked through, 5-8 minutes. Transfer meatballs to paper towels to drain.

Transfer all meatballs to bowl with chile sauce and toss to coat. Toss cucumber in a medium bowl with lemon zest, lemon juice, vinegar, and remaining 2 tbsp oil; season with salt and pepper. Spoon yogurt into bowls. Evenly divide meatballs among bowls; top with dressed cucumber and mint and sprinkle with red pepper flakes.

Do Ahead: Meatball mixture can be made 1 day ahead. Cover and chill.