Why not try something different for dinner ?
Besides direct-to-your-door service, another benefit of ordering from our farm is that we raise and butcher our own hogs. We make it easy for you to access a wide array of cuts that you simply can't find at the average grocery store. Here, we suggest two delicious recipes using unique cuts we know you'll love and also include how-to-videos. We are proud to provide our consumer with pasture-raised, non-GMO fed, Global Animal Partnership 5+, Certified Humane pork. Our zero-waste approach to agriculture uses every part of the animal- including the tasty, nutritious parts!
Beer & Tequila Pork Jowl Tacos

Pork Jowls are a delicious soul food and an economical treat that is very often over looked. Jowl is a cut that is very similar to pork belly in the ratio of fat to meat. You can also cure the jowls to make a bacon-esque dish called guanciale. However, we are making tacos in this recipe! Pork Jowl Tacos are a nice alternative and do not require quite the wait as guanciale. Watch our video here to see Chef Reid Harrison prepare pork jowls and read our recipe below:
Ingredients:
1

2 TBL

1 Cup

2

To Taste

1 ½

1 Cup

2

Garlic- Chopped

Onion – Diced

Pablano Peppers – Diced

Salt & Pepper

Diced Tomatoes – Peeled & Seeded

Tequila

12oz Dark Mexican Beer (such as Negra Modelo)

Directions:
Trim about ¼ cup of fat off the jowl and render it in the Dutch oven over low heat. While you are cutting the jowl, break it into 2 or three equal pieces. Once the fat is rendered, add your onions and peppers. Sautee till fragrant and brown. Add the garlic and sautee for 1-2 minutes. Season to taste with salt and pepper. Add Tomatoes with their juice and make sure you scrape up any brown bits that have formed in the pan. Season the jowl lightly with salt and pepper, then sear on both sides till browned.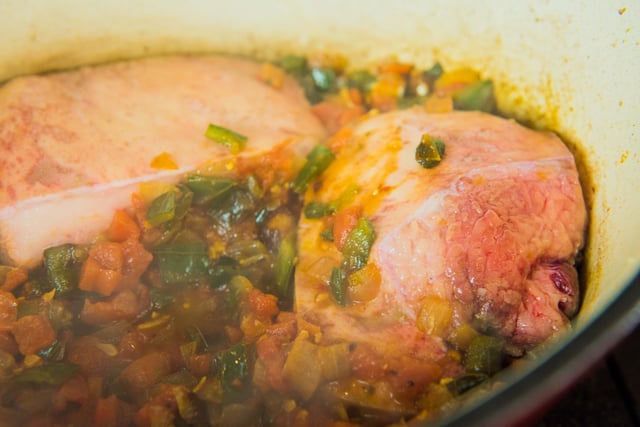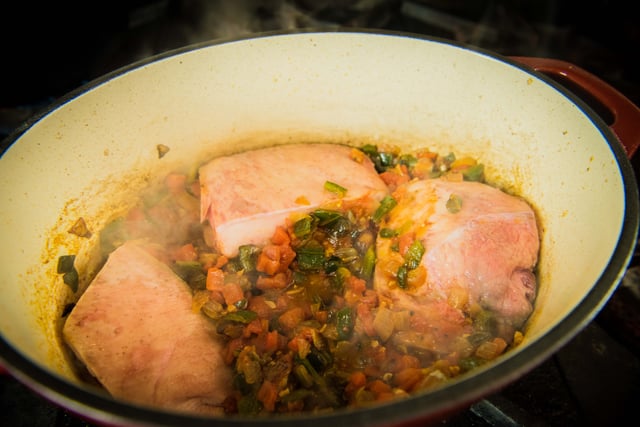 Add Tequila and beer. Bring to a boil, then reduce the heat to low.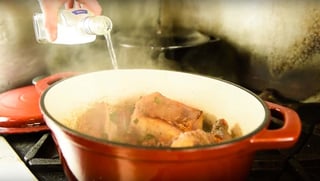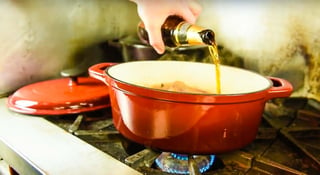 Cover the lid and allow to cook for 1 hour or until tender. Once tender, remove the jowl from the pan.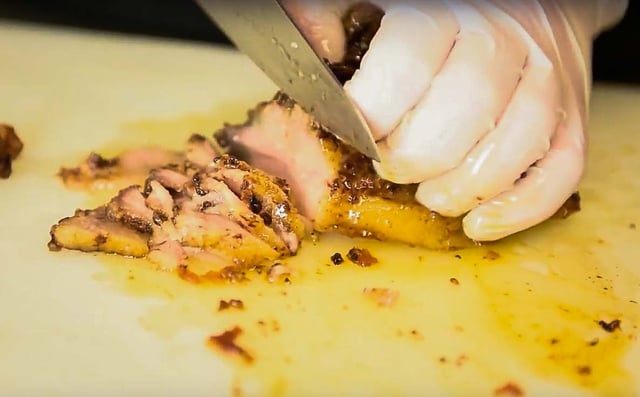 You can slice and serve pork jowl on tacos or tostadas with some of the cooked broth, fresh pico-de-gallo and guacamole. You can also feel free to save it and let it set up in the fridge then you can cut it in thin or thick strips and pan fry it just like bacon. Enjoy this delicious cut!
Thai Braised & Glazed Pork Neck Bones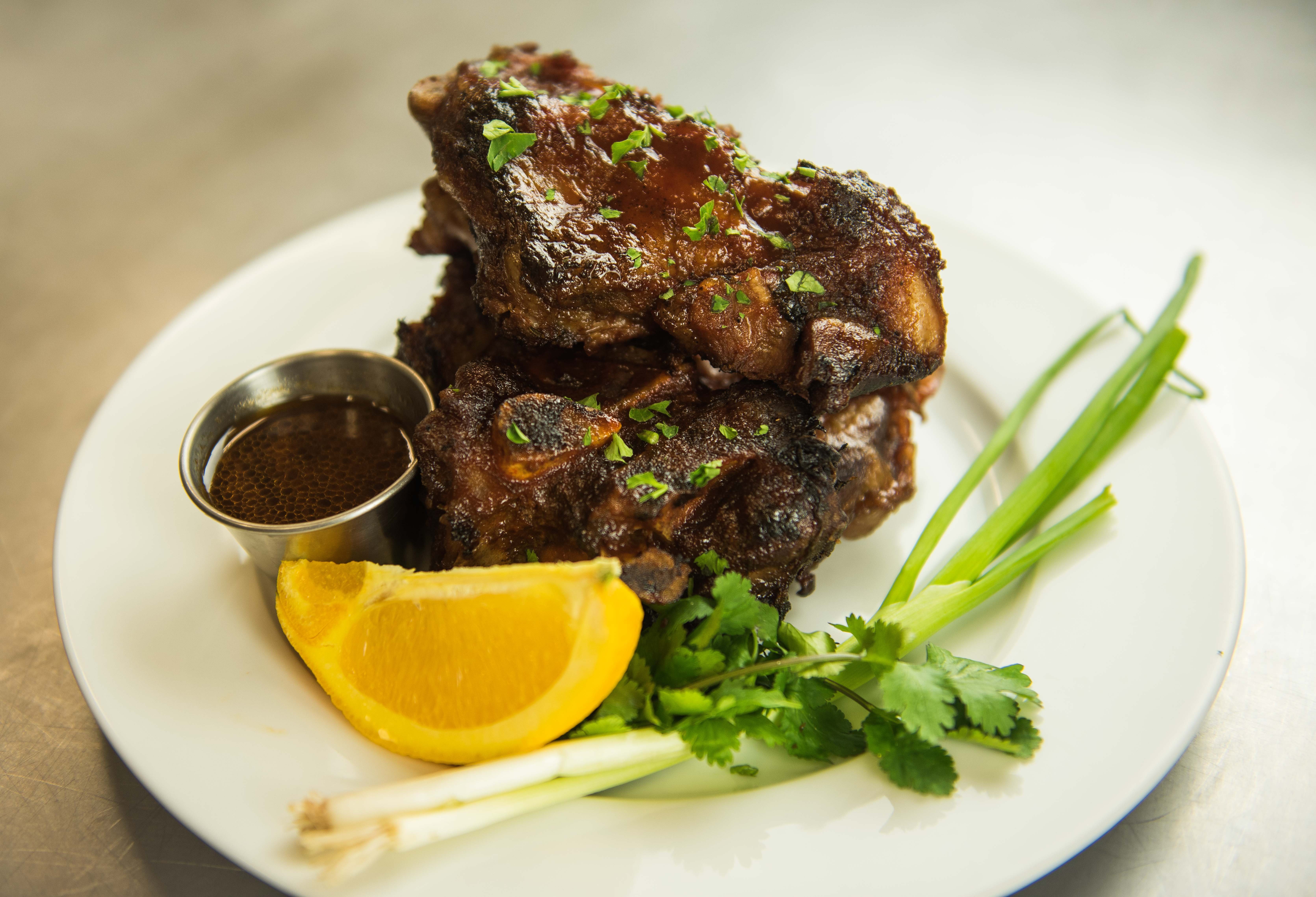 Neck bones are great to add into stocks and broths, but there is also a lot of delicious meat on these often discarded bones. This recipe is a creative and tasty way to do something a little different with a great, cheap cut. Eat pork neck like you would spare ribs. Plus the left over broth makes for a great soup or curry base!
Ingredients:
5 pounds

3 cups

White Oak Pastures Pastured Pork Neck Bones

Water

8 Cloves

3

8

1

¼ cup

3 TBL

1 TBL

1 TBL

1 Bunch

2 TBL

GLAZE

5 TBL

1 TBL

2 TBL

2 TBL

1 TBL

2 TBL

1 TBL

Garlic

1/8" sliced fresh ginger

Scallions

Onion – Rough Chop

Soy

Asian Fish Sauce

Dark Brown Sugar

Thai Red Curry Paste

Cilantro – STEMS, save the leave for garnish

Rice Vinegar

Ketchup

Thai Red Curry Paste

White Oak Pastures Wild Flower Honey

Dark Brown Sugar

Sriracha

Fresh Lime Juice

Asian Fish Sauce
Directions:
Add first 12 ingredients to a large pot with a lid. Cook over low heat for 1-1.5 hours until fragrant and meat is almost falling off the bones. When they are almost finished, start charcoal.
Mix glaze ingredients together with ¼ cup of reserved and strained broth from the pot (save any more broth for a delicious soup). Brush Glaze over neck bones while they roast on the grill. Once they are charred and have a sticky coat of glaze, eat like ribs and enjoy!