We believe there's something special about our online store, which we like to call "your one-stop-shop in the local food movement". Our online retail is an essential part of our entire animal agriculture operation, helping our business grow while allowing us to maintain control over the final product that we send to our customers.
Farms produce food on their land, but what happens after production varies. Some farms may do processing on-site, but frequently, farms outsource order fulfillment to a third-party. Middle-men and order fulfillment warehouses aggregate farm products, obscuring supply chains and sourcing.
At White Oak Pastures, all of our orders are packed on our farm. We may not have a fancy warehouse or high-tech inventory system, but we keep do keep it all in the "family" at White Oak Pastures. We raise, slaughter, butcher, package, and ship everything that we offer to our customers, keeping jobs on our farm while overseeing quality control of the final product.
Many first-time customers ask questions about our online ordering process, so we've compiled the most common questions here.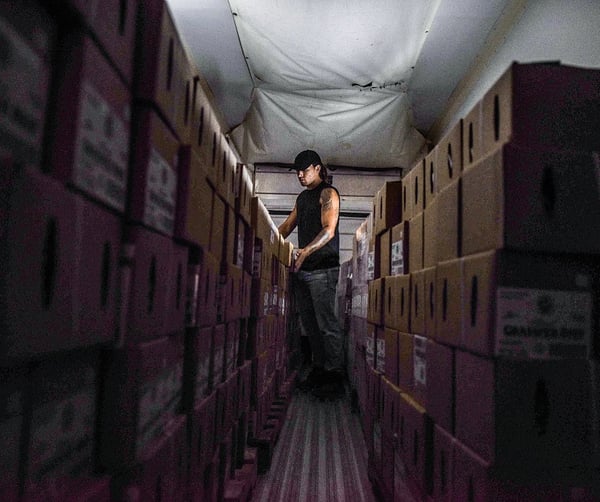 How do we ship perishable products?
Most of our perishable products are frozen prior to being shipped. We typically ship each package with an insulated cooler, packed with dry ice. While this cooler is not recyclable or returnable, it does an extremely efficient job of keeping meat and other perishable products at a safe temperature through shipping. You are welcome to reuse it, perhaps taking whatever meat or poultry products you have purchased on a picnic!
In recent news, we are happy to announce that we now offer the option to upgrade to a compostable cooler. These Green Cell Foam Insulated Shipping Coolers are made up of Manufacturing Green Cell Foam, for which the primary raw material is U.S. grown, non-GMO cornstarch (an annually renewable resource). Producing this Green Cell Foam requires 70% less energy and produces 80% fewer greenhouse gases than petroleum-based foams. Plus, it is compostable in your very own backyard, biodegradable, and water soluble. We tested these Green Cell Foam coolers alongside our styrofoam cooler option, and they performed degree-for-degree in our comparison.
To choose the Green Cell Insulated Coolers, click the green "Upgrade to a Compostable Cooler" button during checkout. A 10% charge will be calculated from your order's product total to cover the additional expense. The upgrade fee does not affect the flat rate shipping rate, but only covers the cost of the shipping container.
A side note on shipping eggs: Because we do not chemically wash our eggs, they do not require refrigeration and are shipped as non-perishables in a separate container. Sometimes large orders with multiple packages may get separated in transit. If your eggs do not arrive within one day of the rest of your order, track your package through the shipping company, or call us and we can track it for you.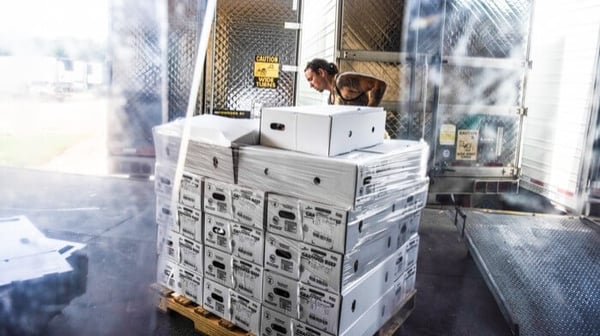 How does the package get to me?
We decide our shipping rates based on the shipping map, below, which divides the country into different zones based on our location in the southeast corner of the United States. Due to the perishable nature of many of our products, we only allow a package to be in transit for three consecutive days. If you live within the one, two, and three-day zones, you are able to receive your package using ground shipping. If you live outside the ground shipping zones from our farm, you will be unable to choose ground as the shipping option, and you must use two-day air service or overnight service.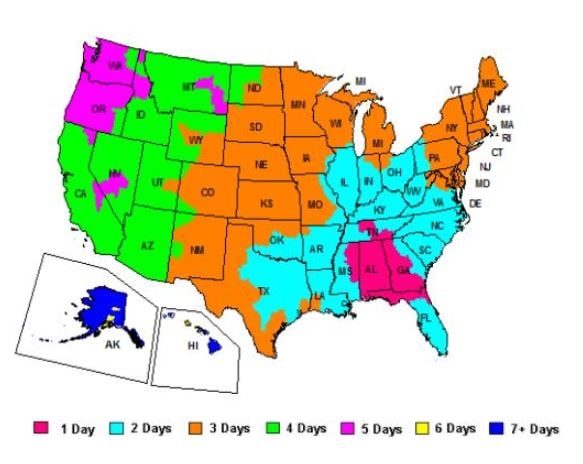 We typically only ship perishable products Monday through Thursday, to ensure all products will be received prior to the weekend. While we work hard to ship orders as quickly as possible, this reality also means that there can be up to a 7-10 day lag time from when your order is placed to the time it arrives. For instance, if you live in the three-day ground zone, your orders can only be shipped on a Monday or Tuesday. If you order after 2 pm on Tuesday, for quality assurance, we hold your order until the next Monday or Tuesday.
If you do have a concern about an order arriving by a specific date, please feel free to call our office to make arrangements, or note it in the comment section when placing your order. We do our best to work with you!
What are your shipping rates?
We have moved to flat rates for shipping within our ground network.
Orders ranging from $100 to $399 in product value will be shipped for a flat rate of $9.95
Orders less than $100 in product value will be shipped for a flat rate of $39.95
Orders totaling $400 or more will be shipped at no charge
Any order containing only non-perishables will be shipped for a flat rate of $9.95 nationwide
What if the product I want is out of stock?
The way that we farm at White Oak Pastures is dependent on seasonality, weather, and natural cycles. We take pride in natural production systems and regenerative agriculture that actually improves our soil. From time to time, due to natural factors, some items may not be available (but hopefully, that just makes you appreciate them more when they come back!)
If you find an item out of stock, you can click "Notify Me When Available", and we will send an email reminder when more is in stock. We promise that all items will be restocked, and we are committed to keeping your favorite products as much as possible.
What to expect when you're expecting… a package from White Oak Pastures
You can expect the same high-quality products that we work hard to produce at our farm, delivered to your home. And you can expect that your products were packed on our farm, by our team. We are proud to maintain the full business cycle on our farm: an interconnected web of the people who raise the animal, the people who slaughter and process our livestock, and the people who eventually pack and send our products to your doorstep.