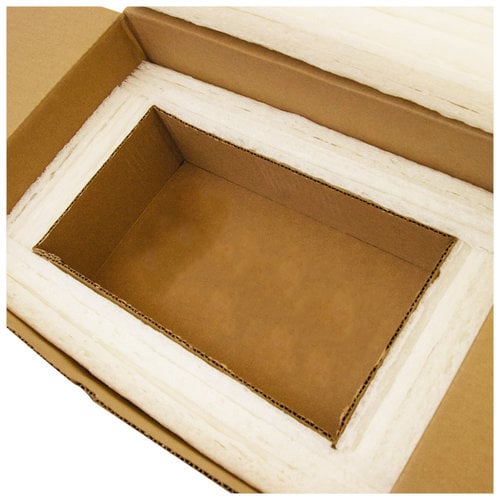 We are proud to announce that Green Cell Foam Insulated Shipping Coolers are now available to protect White Oak Pastures' frozen and perishable products during shipment. The perfect combination of sustainable technology, thermal performance and shock protection, these shipping coolers have thermal protection equal to polystyrene inch-for-inch.
Manufacturing Green Cell Foam requires 70% less energy and produces 80% less greenhouse gases than petroleum based foams. It is also backyard compostable, biodegradable and water soluble (ASTM D6400 and BPI certified). The primary raw material is U.S. grown, non-GMO cornstarch, an annually renewable resource.
(Most of our perishable products are frozen prior to being shipped. We typically ship each package with an insulated cooler, packed with dry ice. Our standard cooler is not recyclable or returnable, but you are welcome to reuse it if possible, perhaps taking whatever meat or poultry products you have purchased on a picnic!)
We tested the Green Cell Foam coolers alongside our standard styrofoam cooler option, and they performed degree-for-degree in our comparison. Compostable coolers are up to the job of keeping your meat and other perishable products at a safe temperature through delivery, and they can be safely composted after shipping.
How do you add a compostable cooler to your order?
When you check out, you will be prompted to select if you would like to add a compostable cooler to your final order. A charge of $7.00 per cooler will be added to your shipping price at checkout, based on the number of coolers needed for your order, to cover the additional expense.
To start receiving shipments in Green Cell Insulated coolers, simply start shopping and select the compostable cooler upgrade during checkout.
How do you compost the cooler?
Green Cell Plus takes 3-panel sections of green cell foam and envelops them in a polyethylene film to provide an effective barrier against moisture and humidity. The plastic film is readily recyclable in most communities. Tear the film and remove the green cell foam panels. Recycle the film with other #4 plastics. Place the Green Cell foam panels in any compost pile or yard waste container, dissolve them in a sink or bucket of water, or use as a fire starter. For more disposal information, please click here.
---
Learn how White Oak Pastures' system
effectively captures soil carbon,

offsetting a majority of the emissions related to beef production.