Food shopping has seen some of the most radical changes in decades over the last four weeks - changes none of us ever dreamed possible. These changes forced us to take our farm operations back to the drawing board and rethink how we manage fulfillment. Over the last thirty days, we added 16 full-time employees to help keep up with the demand in our online store. That's 16 full-time jobs created in one of the poorest counties in one of the poorest states, thanks to you, all of our customers. These opportunities don't come by often, and we are so grateful to be able to help reduce the panic-buying.
Fulfillment team working hard to fill the surge in orders. Subscribe to our YouTube Channel for more videos.
In the month of March, our team fulfilled over 3,300 orders through our online store. That's over 3,000 customers who relied on the resiliency of White Oak Pastures to keep their refrigerators and pantries stocked. We made some mistakes in the rush to fill the demand, but we've learned a lot and are working hard to better serve our customers.
One takeaway has been that we need to put some measures in place to better take care of our loyal customers - the community that supports us and at the same time relies on us for the highest quality food. To that end, we will be rolling out a new loyalty program to reward our devoted customers with better access to the resiliency of the White Oak Pastures ecosystem. Stay tuned for those details.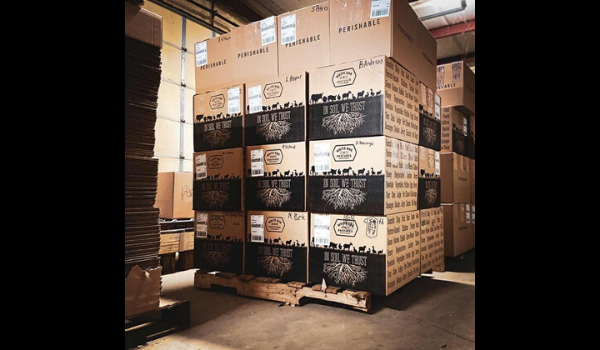 Boxes stacked to the rafters.
We also learned that our customers really want to buy in bulk. So, we've designed a few bundle packages that will be large enough to stock up your freezer, but small enough to store and consume in a reasonable time. And not surprise your children...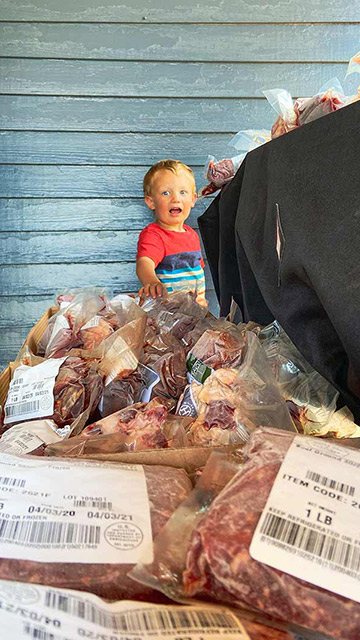 Magnus surprised by all the meats
We can't wait to share these new initiatives with you! As we prepare to roll them out, we wanted to take this opportunity to thank you - for your continued support of our regenerative practices and our humble collective of cowboys, butchers, and more who are committed to rebuilding our soil and our rural community.