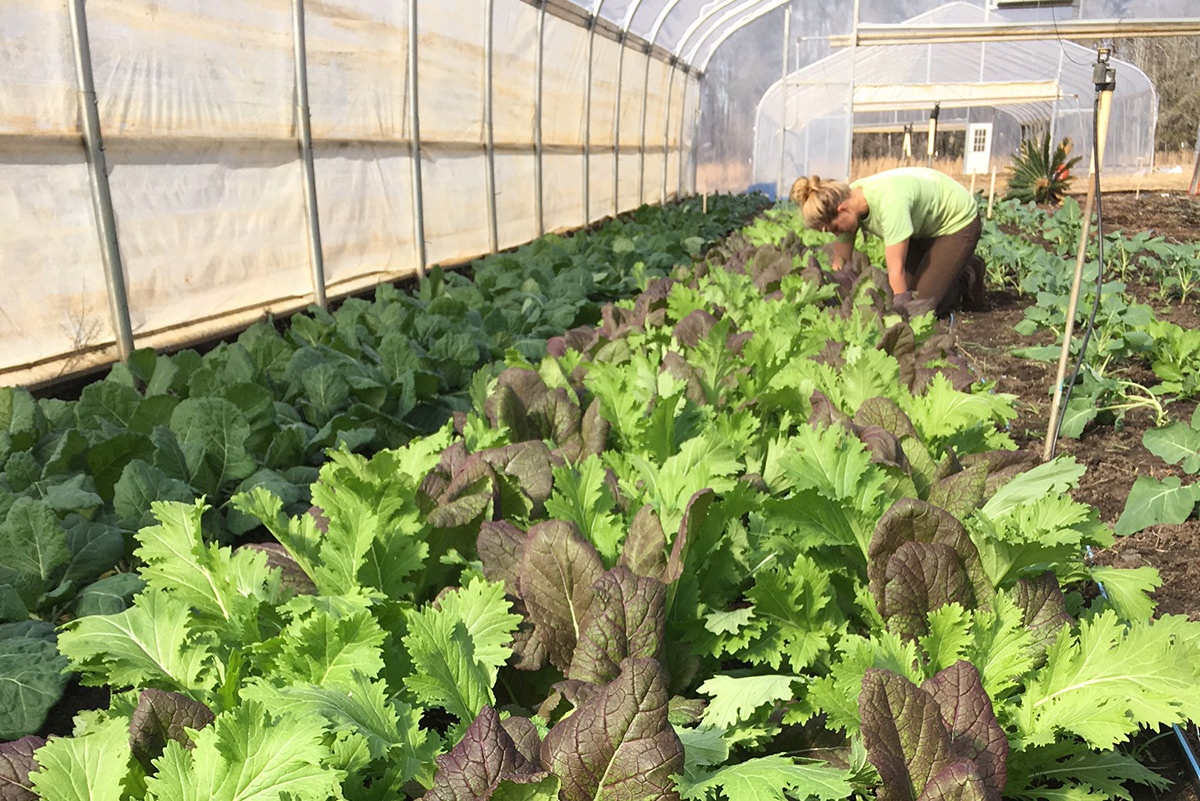 There are numerous aspects of White Oak Pastures that are unique, fascinating, inspirational, educational, beneficial, and productive. Learn how our Garden Crew is literally planting seeds of success.
Bilal Sarwari, White Oak Pastures Organic Vegetable Garden Manager, has a foundation built from a major in Human Biology and Anthropology, with a minor in Environmental Studies from Oxford College and Emory University. This foundation, combined with his passion from where health and sustainability meet, guides Bilal during everyday and long-term decision making for our Organic Garden program. An early memory of planting tomatoes at the age of four with his father not only cultivated a garden, but also cultivated an appreciation for the land and what it can mean for people.
But, like most White Oak Pastures departments, this is not a one man job. Bilal always boastfully speaks of Sarah Jordan, Maddie Wilbanks, Ty Long, and Chenoa Duke, all of who work diligently every day, carefully managing the soil using organic pest control methods, and harvesting the veggies just hours before they're processed and frozen. In addition to their gardening duties, the crew leads an effort to revitalize the town through our "Keep Bluffton Beautiful" initiative. By installing native plantings, interesting specimens, edible landscapes, and pollinator habitats, the Organic Garden crew helps create a vibrant community for Bluffton residents and guests.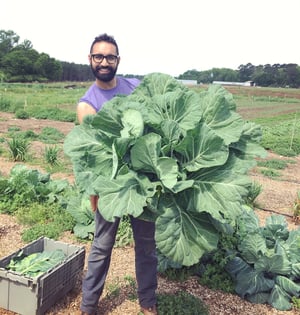 Bilal explains, "We spent a great deal of effort in building up the soil with vegetable compost we generate on site. Our efforts were rewarded with bountiful harvests! We tried a variety of new organic greens called Champion Collard Greens. Each plant produced large, healthy leaves that were kissed by frost, making them just a little sweeter. We continue to harvest three varieties of Swiss Chard: Fordhook Giant, Pink Passion, and Orange. Each frozen bag will contain a mix of some or all of these varieties. Don't forget to try our organic kale which was grown with the same attention to plant and soil health as everything else."
True to our "no-waste" tenant, Bilal shares, "We make a special effort to communicate with each department to make sure that nothing from the Organic Garden goes to waste. Even as plants start to reach the end of their life cycles in the field, we cut them at the base so the roots create an environment for microbial life. The spent plants are then immediately fed to the hogs, who then return the nutrients to the pasture through their manure. The hogs provide an added benefit of consuming any pests that linger on the vegetation, preventing them from making their way back to the garden."
Bilal explains the concept and practices of companion gardening. "An organic garden is a natural extension of any livestock operation because animal impact helps support healthy soil, which in turn supports healthy plants. Our vegetables were planted thoughtfully and carefully, with one main goal in mind: to make lasting, permanent changes to help increase the health of our soil. We love our Certified Organic produce because the gardeners at White Oak Pastures go beyond organic to bring our customers and guests the best possible product while regenerating the land we cultivate each day of the year."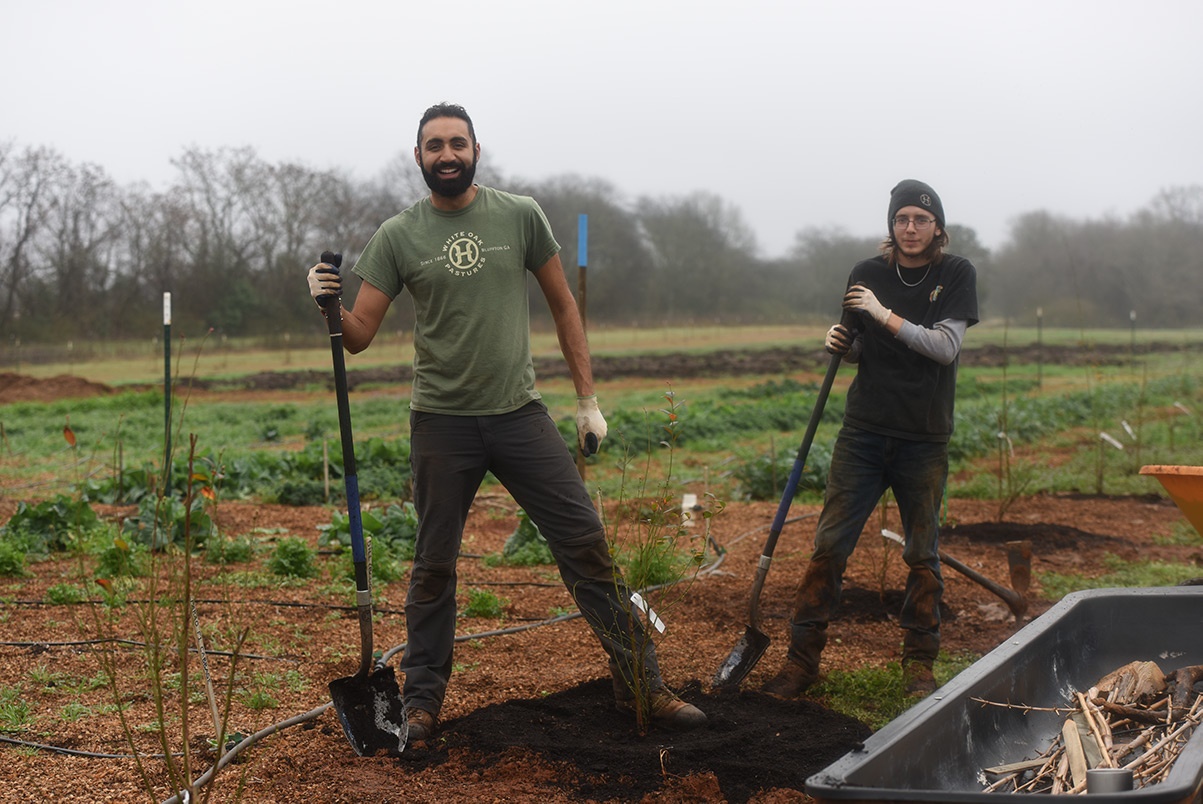 "We plant perennial fruiting shrubs and trees near the garden to provide a safe haven for bacteria and fungi during times that the soil is disturbed (planting, seeding, disposing of spent crops). We plant herbs and specific vegetables near certain crops as a method of pest management, and/or fertilizing. Potent herbs can help deter problem insects, the roots of some crops help bring nutrients up from lower levels of the soil, and symbiotic bacteria in the roots of legumes help make nitrogen available to surrounding plants. This method of gardening is called "companion planting" and it helps us maintain a healthy and organic system."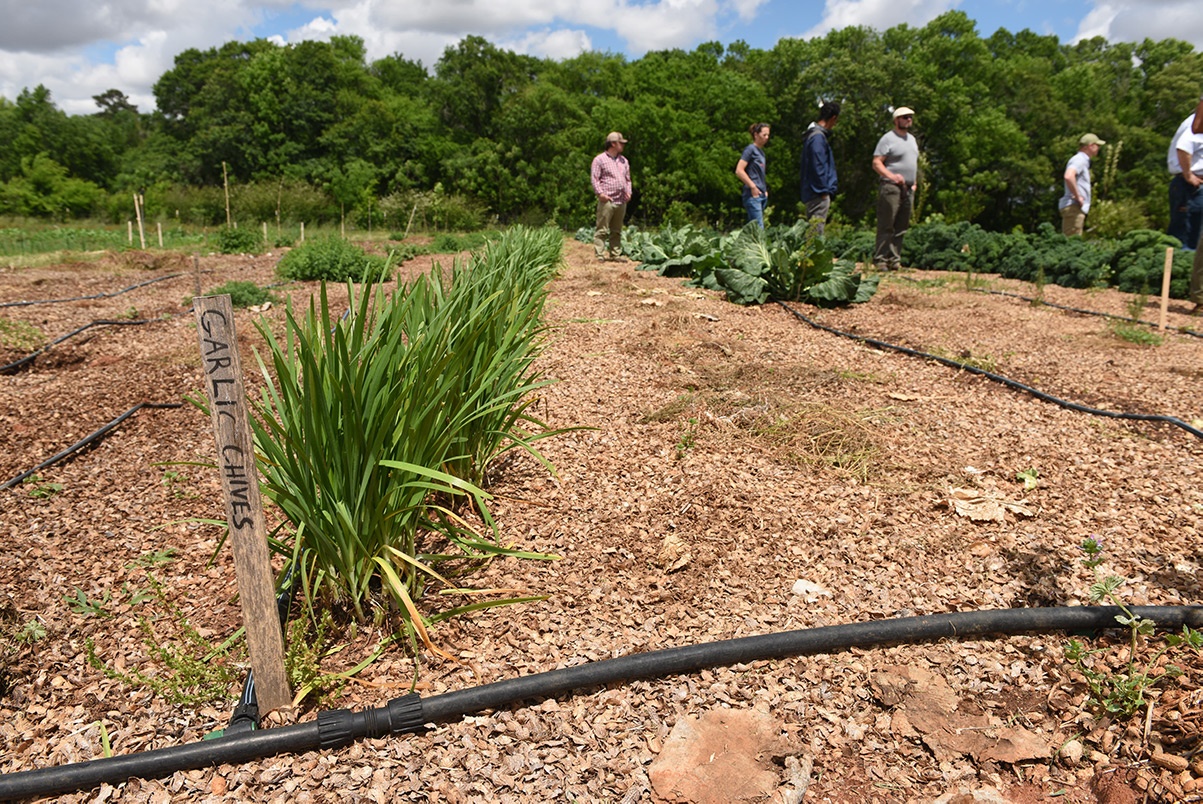 Great care is taken by our incredible team of gardeners to grow and nurture our nutritionally rich and vibrantly colored vegetables. To quote Alfred Austin, "The glory of gardening: hands in the dirt, head in the sun, heart with nature. To nurture a garden is to feed not just the body, but the soul."