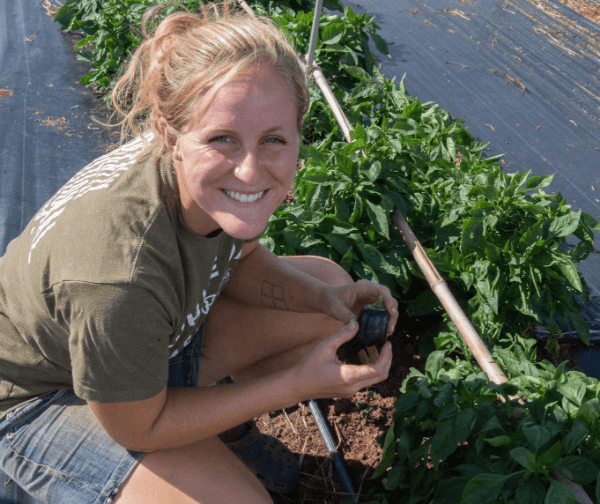 While working in the Mental Health field, Sarah Jordan was looking for a change of pace. "I always had farming in the back of my mind, and when my partner moved to southwest Georgia, it seemed like the perfect opportunity to do that. White Oak Pastures was, for me, the opportunity to learn how to farm. I came here as an intern in August 2017. Soon after, I was hired in the organic garden department," where Sarah has recently been promoted to manager!
"My days revolve around leading my team in growing healthy vegetables and healing the land in the process. This means we do everything from planting seeds to harvesting crops, preparing new plots for planting, to weeding and tending to established crops. We see the vegetables through, from the time they are planted until they are packaged and sold to our General Store and Dining Pavilion. The most satisfying part of my job is solving a problem, which hopefully means healthier vegetables. This could be finding a new way to keep pests away or figuring out what nutrients a crop is lacking. My favorite daily activity is planting. I love giving the baby sprouts the opportunity to grow and thrive."
"The biggest challenges are external factors. The weather in southwest Georgia, while lending itself to a long growing season, also brings extreme heat, moisture, and occasional hurricanes. My proudest moment has been having a successful lettuce harvest. It seems little, but I really didn't think I could grow it." Sarah loves dining on all White Oak Pastures vegetables that she and her crew grow. Her favorite is the mixed lettuce salad with radishes, cucumbers, peppers, and tomatoes; however, when dining in our Pavilion on the farm, The Bluffton Burger is her favorite.
Even though Sarah describes White Oak Pastures as "innovative," she feels the best part of living in South Georgia is the simplicity of it all. "I don't stress a lot about how to spend my time." Simplicity definitely has its advantages, but Sarah regrets that the access to different kinds of food is limited.
While Sarah farms just as she had dreamt of, if she were to branch off in a different direction, even for just one day, she would be interested in working with Ivy McMickle. "I enjoy hands-on hobbies such as crafting and building. I'm fascinated by tallow and really enjoy tedious tasks."
Sarah lives with her partner and their dog, while her large immediate family lives far away, but visits often. However, Sarah does have another large family right here on the farm, who is very grateful to have her here!