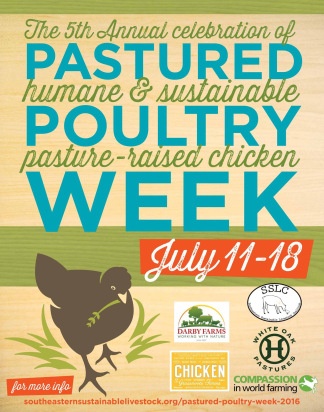 Every week is Pastured Poultry Week at White Oak Pastures, but we love partnering with chefs to really get the word out. On July 11-18, chefs in Atlanta, Savannah, and Brunswick will feature pastured poultry on their menus to celebrate humanely and sustainably raised pastured poultry.
A lot of people are learning about the benefits of grassfed beef, but awareness of pastured poultry lags behind. That's why we need your help spreading the word about Pastured Poultry Week.
According to Compassion in World Farming, the founder and sponsor of the event, the vast majority of the 9 billion chickens raised for food in the U.S. are raised in confinement, in overcrowded conditions where the birds can't express their instinctive behaviors. These chickens are bred to grow so quickly that they suffer from lameness and strain on their hearts and lungs.
At White Oak Pastures, we are proud to raise a slow-growing chicken breed that takes twice as long to reach market weight, and our birds spend their entire lives on pasture, free to roam, scratch, peck, and dustbathe. Our pastured chickens are certified by Global Animal Partnership at Step 5+, Animal Welfare Approved, Certified Humane, and verified by the Non-GMO Project.
We will have pastured chicken, guinea, goose and turkey available for Pastured Poultry Week. Support the chefs who support White Oak Pastures by making your reservations now. Our pasture raised poultry will be featured at the following restaurants, in addition to those who may be purchasing our pastured poultry through a distributor like US Foods, Sysco, Buckhead Beef, or Turnip Truck:
Gunshow, TAP, Sway at Hyatt Regency, Farm Burger, Kaleidoscope, Miller Union, Cooks & Soldiers, Emory Hospital, and Seed Kitchen and Bar.
Check out the Southeastern Sustainable Livestock Coalition's website to see the entire list of participating restaurants. Please tell your friends and family, and help make Pastured Poultry Week 2016 a big success.