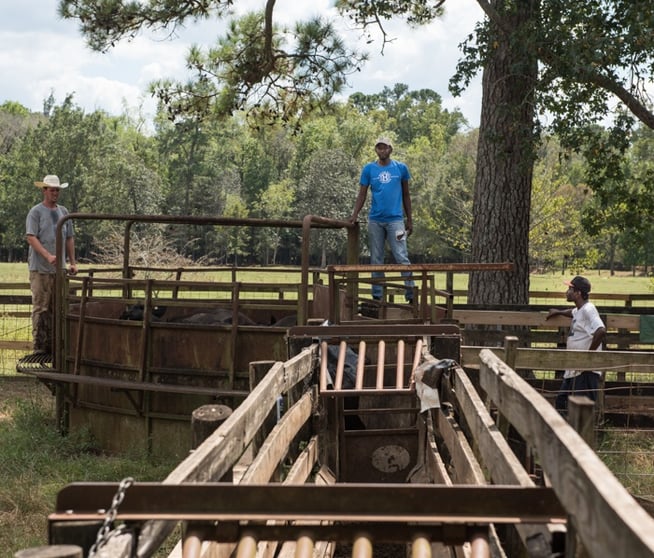 Chad Hunter is a jack of all trades. He can arrange a beautiful floral centerpiece, deliver five-star waiter service, and also work cattle like a pro. We are so blessed to have Chad as part of our farm family.
Chad Hunter, our General Store Manager, has his hands in all areas of White Oak Pastures' hospitality and guest services. Other than managing the store, he is actively involved in guiding tours and coordinating hospitality services at the dining Pavilion and our Dining Room at the General Store. Chad was hired at our Dining Pavilion about four years ago to manage the front of the house, or the serving staff. Chad grew up watching a florist, which is where he learned to make flower arrangements, which allowed him to design floral arrangements for special events at our Dining Pavilion. He does this on special occasions for White Oak Pastures and has even created "Baby Reveals" for Jodi Harris Benoit, Will Harris' daughter, and for Justin "Buck" Wiley, our beef plant manager. Working only on weekends with preparation time on Thursdays, he used his experience from working in a bakery in Athens, GA, and turned Thursday into "dessert time", baking for the employees. This expanded into baking cakes, cheesecakes, bread pudding and creme brulee for dessert. From the Pavilion, Chad moved to the General Store, which was located at our red meat processing abattoir on the farm. When the General Store moved to the restored building in downtown Bluffton, Chad went with it, and took his amazing talents with him! "The building is really cool and it takes you back in time. I like it when it's really busy with spring- breakers and people just stopping in. I love the large bus tours and field trips and love seeing the people who come for the tours and workshops."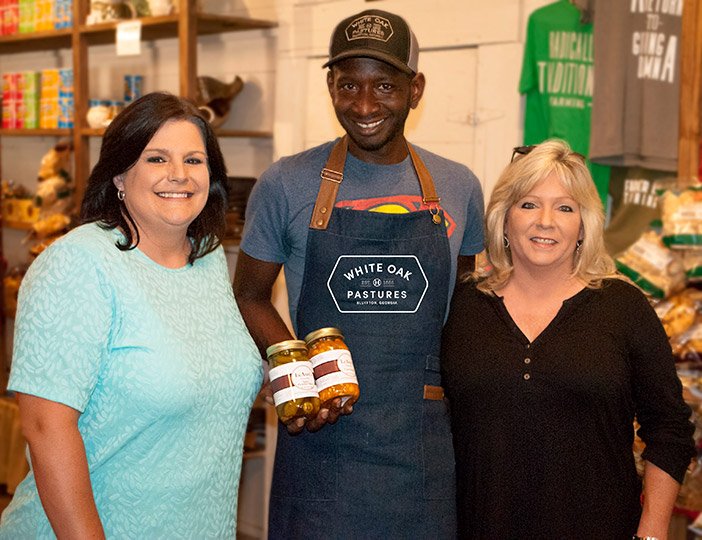 Born and raised on his family's cattle farm in Cedar Springs, it is no wonder Chad fits in so perfectly at White Oak Pastures. After high school, Chad attended the University of Georgia, where he studied biology and worked in a lab with genetically engineered soybeans. "It was monotonous, and 'The Chadster gets bored if I don't stay busy,' stated Chad. When Chad's father started a trucking company, Chad returned home to manage his father's business. He learned all about the trucking industry, was a dispatcher, then a broker who loved the "wheeling and dealing" of the industry. "You have to be ballsy enough to say 'I can do this, book the load, and make sure the truck gets where it supposed to be on time.' Even then, Chad was dealing with meat and produce, by scheduling the transportation as far as California and Maine.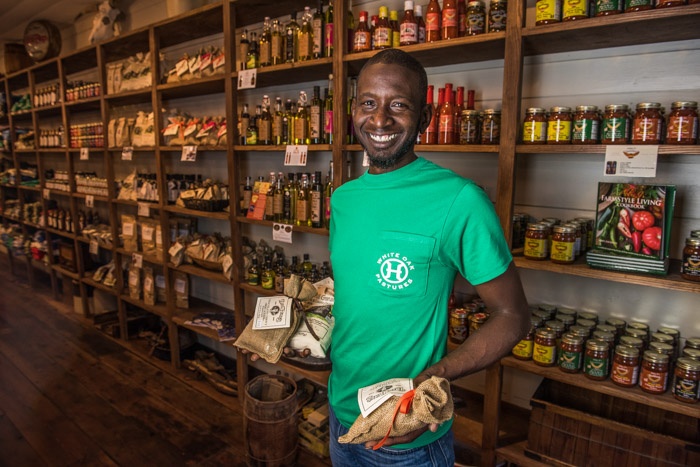 Chad decided to return to school and studied marketing and business administration before he returned to the family farm and transitioned it to a sustainable grassfed program. "Dad managed the farm and it took a lot of convincing, but he slowly caught on. He was organic and wasn't using fertilizers and was already "animal humane", he just hadn't filled out the paperwork. He was naturally doing it. On his farm, Chad handles audits making sure the farm is compliant with its claims of grassfed, humane, organic, etc.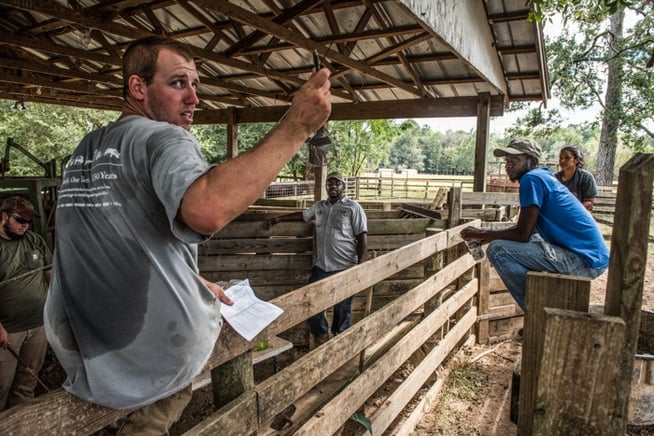 Chad has worked at White Oak Pastures since 2014 and brings a lifetime of cattle experience with him, as his own family owns a multigenerational farm, Hunter Farms, down the street in Cedar Springs, GA.
As if White Oak Pastures and his own family's farm wasn't enough, Chad was a part of Georgia Organics the past year and served as a mentor to three mentees. These beginning farmers were a part of the Journeyman Program, in which they completed several stages of course studies along with an internship. Each farmer had their own farm and different type of farming. One owned a chicken coop, one grew organic vegetables, and one had crop land. Chad spent thirty hours at each farm, advising and guiding them on marketing, social media advertising, crop rotation, and referrals to other agencies that could assist them. Chad laughed as he said "I am a cattle farmer and not one of them had cattle. It would have been so much easier if they had cows." Chad states that he hopes to get the opportunity to work with Georgia Organics again, but by the looks of things, White Oak Pastures and his own farm are keeping him pretty darn busy!