Lashona Butler, our Dining Pavilion and Food Truck Manager, has worn more than a few culinary hats in her life. Lashona came to White Oak Pastures in 2012 and hasn't stopped learning, progressing, and developing strategies. Not only is she enhancing White Oak Pastures, but she is inspiring her staff to strive for excellence! This falls right in with her description of White Oak Pastures as "Innovative". Take the time to read about the woman preparing White Oak Pastures' specialized Pavilion meals and our more southern quick-serve Food Truck meals, which have equally savory food!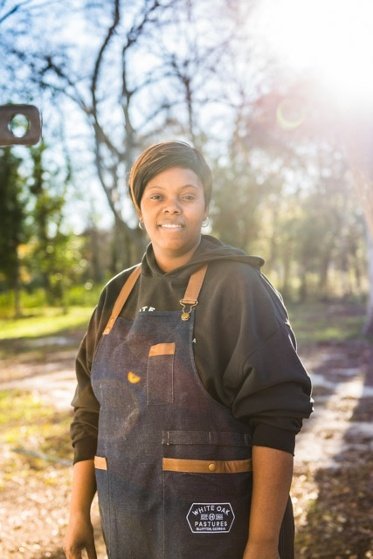 Meet Lashona Butler, the Dining Pavilion and Food Truck Manager.
Lashona Butler was born and raised in Edison, GA, but moved to Cuthbert, GA, ten years ago. There was evidence of what a hard worker she was early in life when she decided to play football up until high school, then transitioned to basketball. As a teenager, cooking was her second passion next to sports, but after a serious knee injury as a sophomore, it then became her first love. After starting at a local deli as a part-time employee, within a year she was knowledgeable enough to work in every department in the grocery store. Working for Mr. Jerry Scarborough, a local grocer, for eight years is where she learned her culinary skills and how to cook for a large number of people. Lashona was taught how true southern cooks prepare food. "I don't measure ingredients, but judge the measurements on the sizes of the pots and the amount of food needed for the amount of people it will feed."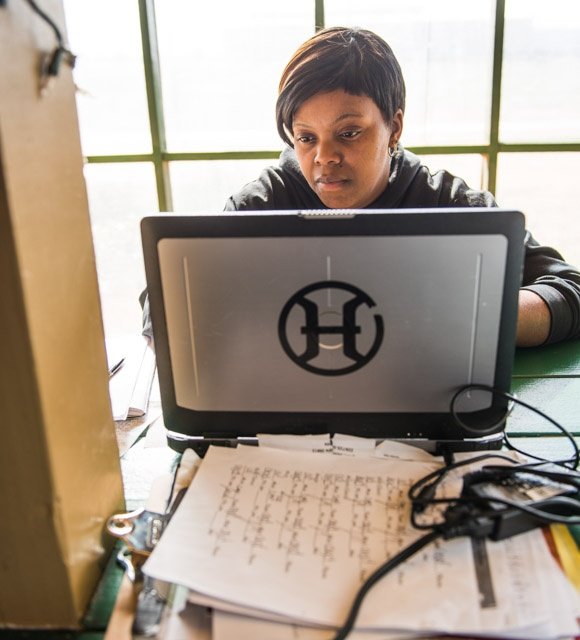 Shona keeping track of pavilion records.
Other than a brief employment at Dollar General, Lashona has always worked in the culinary field. Lashona's previous employer, Evelyn Taylor, called her to visit White Oak Pastures because White Oak Pastures was building a kitchen to serve the employees lunch. Lashona and Evelyn had worked together at the local grocery store, Dollar General, and now at White Oak Pastures for a total of fifteen years. At that time, she and Evelyn were the only ones working at the Pavilion and were only serving the employees through a buffet line. Lashona has seen the building of our egg room, where she worked for a period of time, and also watched as our Internet Fulfillment Center, where our products are housed until they are shipped, was built. Looking back on her time in the egg room, Lashona said "I can appreciate working with our eggs because I know what it takes to get the eggs to look like they do." She has also collected eggs, worked at the chicken plant during the holidays, helped make tallow soap, and has rolled our cow hides for pet chews.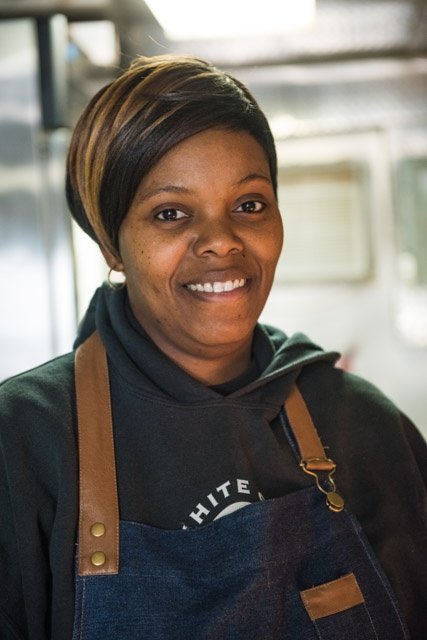 Shona manages a diverse crew across two different locations.
Lashona was our breakfast cook at our Food Truck, parked next to our General Store in downtown Bluffton. She is such a hard worker and is so efficient that she was offered the manager's position at the Dining Pavilion and the Food Truck as well. Soon after, a dining area was built on the west wing of the store for guests to enjoy our wonderful cuisine! "I would have to say, the day I was asked to take on the position of manager of the Pavilion and Food Truck is the proudest moment I've experienced at White Oak Pastures. I love what I do and don't wish to trade places with anyone, but I don't mind learning something new."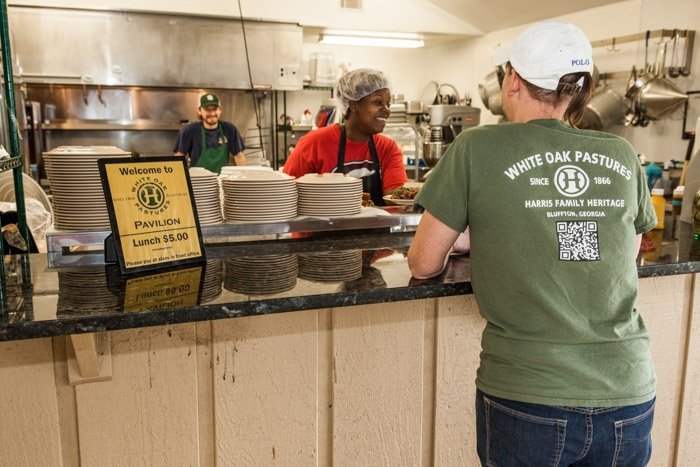 Shona's organization, leadership and teaching skills have been invaluable to White Oak Pastures since 2012.
When asked how she manages both, in different locations, and the most satisfying part of her job, Lashona stated "I have hard workers and they pay attention to what they do. There are actually two amazing events that make it all worthwhile. First is hearing a customer say they enjoyed their meal and they'll be back, while leaving with a smile. Second is to hear my workers say they enjoy coming to work each day and love what they do. They want to be proud of what they do and be able to say that they are a part of this. If the employees are happy about coming to work, they are going to do their job and do it well, and send the customers home happy."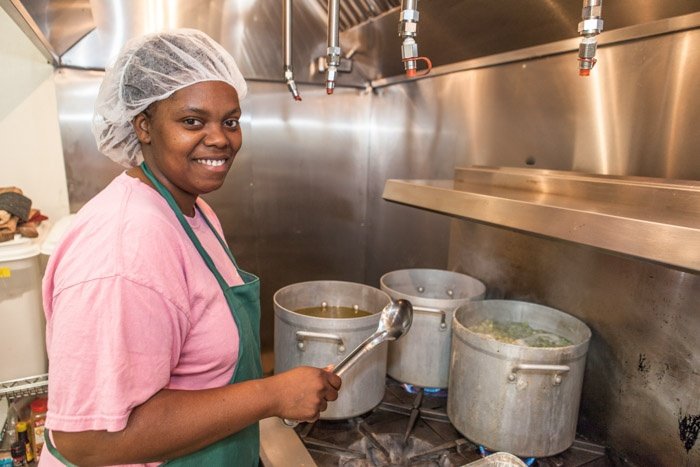 Shona has worked in several departments here at White Oak Pastures but luckily came back to the kitchen.
Lashona believes that communication is the key in making sure the job is done correctly. "Most of the teaching I do is "hands-on" rather than telling someone step-by-step how to do something. I like doing things myself because I want to make sure they are done right, but sometimes people do things differently. I watch what they do and as long as the outcome is the same, it is fine for them to prepare something in a different way. The biggest challenge is making sure the day-to-day workflow is done with passion, speed, and accuracy and maintaining a clean and safe workplace for workers and customers. Also, teaching them organization and not to waste anything. We are a no-waste facility, and if there is something that doesn't look right, we don't throw it away. It is used for compost. My goal is to ensure our quality food is delivered to the table with a beautiful presentation, mouth-watering aroma, and wonderful flavor at an affordable price with marvelous reviews."
As hard as Lashona works, you wouldn't think she has time for much outside of work, but that is the farthest from the truth! When asked what her hobbies are, she replied, "Well, having three amazing boys, Treshawn Johnson, Rae'shawn Clyde, and Dre'shawn Clyde, I would have to say SWGA Wolfpack Football and Calhoun County Basketball." When the parents were asked to practice football with the team, Lashona was right there in the middle of them. Her son's teammates didn't believe that their mama played football in high school….until she tackled them! Her son told her one of his teammates looked at him and said "your mama hits HARD." And this proud mama isn't too shy to run down the sidelines as her son carries the football down the field, either! Don't think that she gets out of the kitchen for long, though. Guess who is called on to cook for the teams, and by "teams", I mean the football, basketball, and baseball team! And not only does she cook for them, she helps coach, as well. Lashona is the "lucky" one that is asked to cook because she is an amazing cook, knows how to cook for a large group of people, and has a "service" heart. The heart to willingly and lovingly serve others. I am sure her fiance`, William Clyde, of six years, together ten is there to help and support this "Wonder Woman"! I also suspect that Lashona runs a tight ship with her three boys, 15-year-old Treshawn and 9 year-old twins Rae'Shawn and Dre'Shawn, while nurturing, teaching, advising, and encouraging them. She would have to with them all involved in sports and Dre'Shawn as a National Mathematics Competitor. We certainly know where their athletic and intellectual gifts come from, and Lashona is certainly doing something right! Lashona does like to have a little fun away from home and states one of the funniest things at White Oak Pastures was "the hidden dance moves of the White Oak Pastures Employee- Family at the annual Christmas Party. We shared some amazing laughs!" I, myself, shudder to think I may have provoked some of those laughs.
Lashona seems to have come full circle from her teenage years. Just as cooking and sports were her passion as a teenager, she is passionately living her life, cooking at White Oak Pastures and enjoying her young athletes' activities. When I asked Lashona how she does it all, she replied, "It's fun and tiring, but you look back and there are so many wonderful memories."