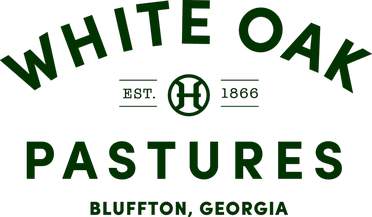 Selling premium, value-added meat and poultry to consumers requires a good amount of marketing, which is not something that comes naturally to us here at White Oak Pastures. Fonts, color schemes, photos and logo designs weren't handed down from previous generations like land stewardship and livestock husbandry. But, as we've done with so many changes during our rapid growth, we adapted to and embraced this new component: logo design.
In the early 2000s, one of our first tasks in building a marketing platform was to pick a name for our website. For a century, what we all know as White Oak Pastures was actually called Tenac Oak Pastures. Will Harris received great advice from a neighbor: "Don't call your farm something people can't easily spell. Do you want to spend the rest of your life spelling the word Tenac?" Tenac Oak is the local name for White Oak. But, since Tenac isn't in most everyone's normal vocabulary, Will decided that White Oak Pastures would be an equally appropriate name. Our farm is three miles from the Kolomoki Indian Mounds, and Kolomoki translates to "Land of the White Oak." The rest is history!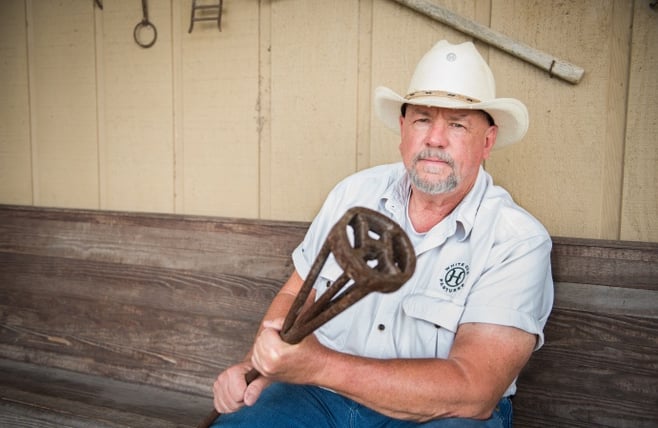 The second task was to pick a logo. Back in the early 2000s, the only product we had to market was grassfed beef. Thankfully, our logo didn't turn out to be a cow, since today we raise 10 species of animals. Instead, we reflected on the true definition of the word brand: "an identifying mark burned on livestock with a branding iron." For generations, the Harris family branded our cattle with the same "circle-H" that you see in the logo today, which stands for the "H" in Harris. In an effort to reduce infliction of pain on our animals, we stopped branding them more than 30 years ago. But what better way to brand our products than with the same mark that previous generations used to differentiate our live animals from those of our neighbors?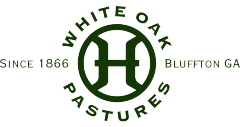 Our old logo, early 2000s - 2016
Back then, we decided to make the Harris "H" the main component of our farm logo. We proudly used that logo during the last busy 10 years of business. Today, in our 150th year, we raise 10 different species of animals, market all of these to passionate customers, grow vegetables, tan hides, compost, house overnight guests, and many other things, and the "H" family brand still communicates all of this to the world.
However, over the last 10 years, we found that we were constantly explaining the connection between the "circle-H" and the words "White Oak Pastures." It seemed folks struggled with the correlation, and we couldn't really blame them. Knowing that we needed some guidance, we hired Egg Branding to help us consolidate our message. After months of discussion, we are excited to reveal our new logo (top of this page), which still proudly includes the "circle-H" while putting more emphasis on the amazing "organism" (as Will calls it) that is White Oak Pastures. What would our brand be without the history of who we are and where we came from? We hope you like our new look, and the hard work and dedication it represents.
Join us October 15th to celebrate 150 years of building the White Oak Pastures brand and culture. Click here for event details.