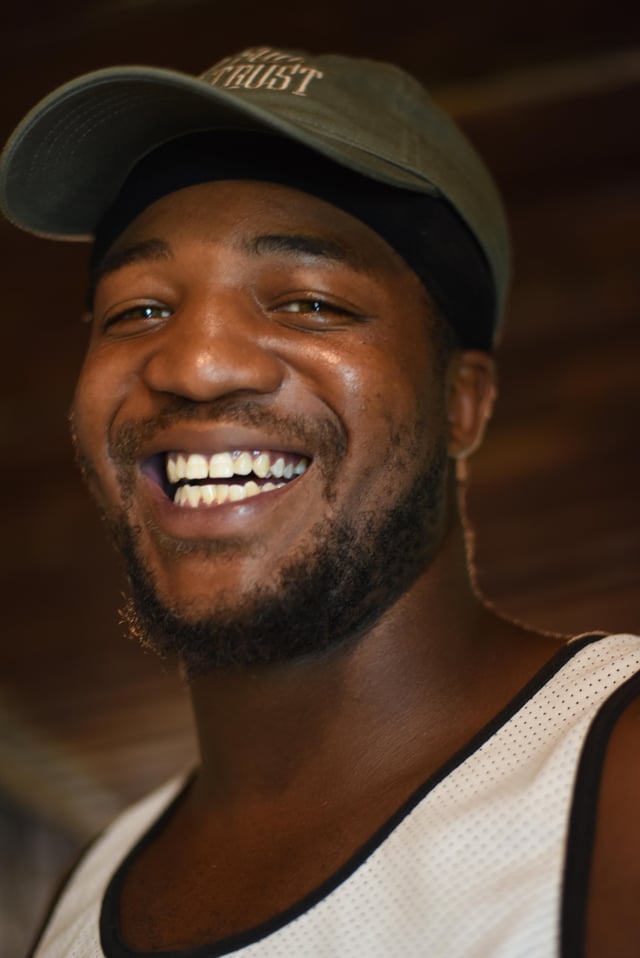 "I make sure our birds live. I make sure they're healthy, well taken care of, and don't have any diseases. I do really care for the animals and I do a lot for them," says Robert Miller, senior member on our Pastured Poultry House Moving Crew.
"The first moment I got hired, I told Dan Coady I want to learn. And if I ever leave White Oak Pastures, at least I can say I did learn. I learned a lot of things from Dan Coady and Cole. I feel like I mastered everything I need to know. I feel like there isn't anything that anyone can tell me about the chickens, how to move a house, or how to drive a tractor that I wouldn't know. I feel like that's the main key to success on the farm. Make sure you know your part and what you have to do".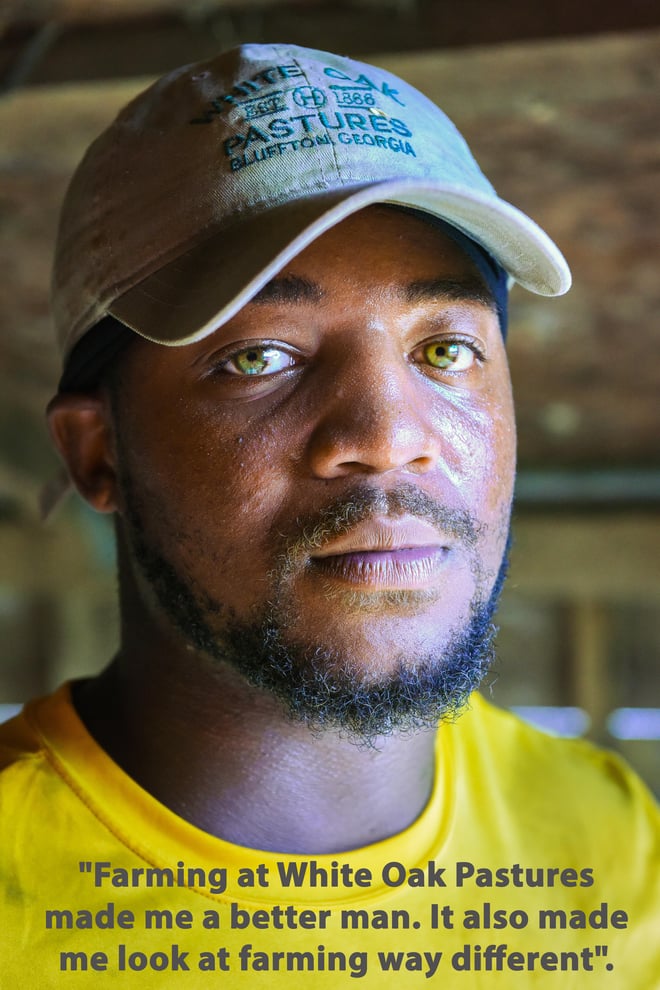 How did you get into farming?
Growing up, I was always around animals. I've been working around hogs ever since I was young. One of the employees here, David Lee, he stayed right across from me, so I used to help him with his hogs- they're unique animals. My grandma had chickens. I grew up around chickens, goats, and hogs. So it already came to me. Down here you really don't have a choice but to farm, either you're farming, or your father's a farmer, or your mother's a farmer. If you're not working on the farm, somebody in your family farms.
I knew Mrs. Van Harris since I was young. She was a teacher of mine. When I started working at White Oak Pastures, Mr. Will Harris found out, and we've been pretty good so far. He's one of the greatest men I know. I look up to him. Jenni and Jodi treat me like a little brother. That's something I feel like everybody should have, that makes me want to go stronger and harder. When you know people care about you and what you do, it makes you go harder. So I try to do everything in my will to make them happy. If they're happy, I'm happy.
"When you know people care about you and what you do, it makes you go harder".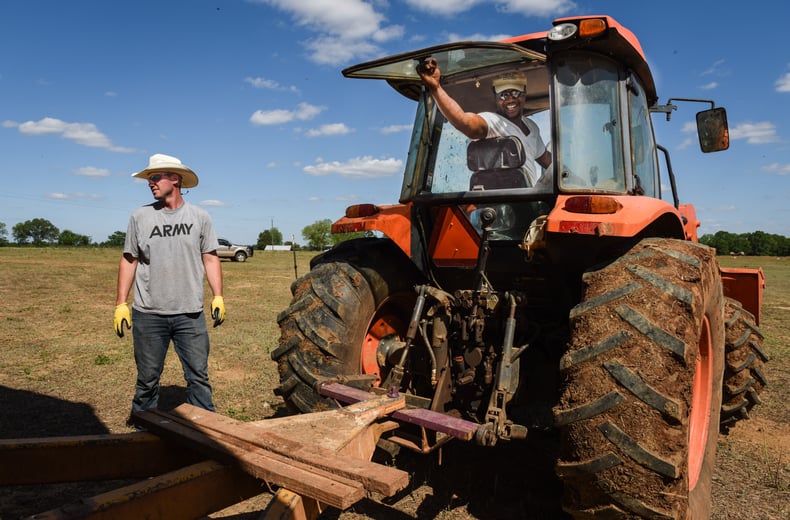 What is the most satisfying part of your job?
Being able to be around the animals- they take you to a different place. Especially when you come from a town of about 300 people. So basically it's the best thing that ever happened to me. Farming keeps me off the street, keeps me working for my kids. It's awesome.
What is the biggest challenge you face on at your job?
It's a learning process but once you learn everything it becomes pretty good.
What has been your proudest moment since working here?
Farming at White Oak Pastures made me a better man. It also made me look at farming way different. How we treat our animals, how much we care, how people care about their jobs here. We take our job pretty serious.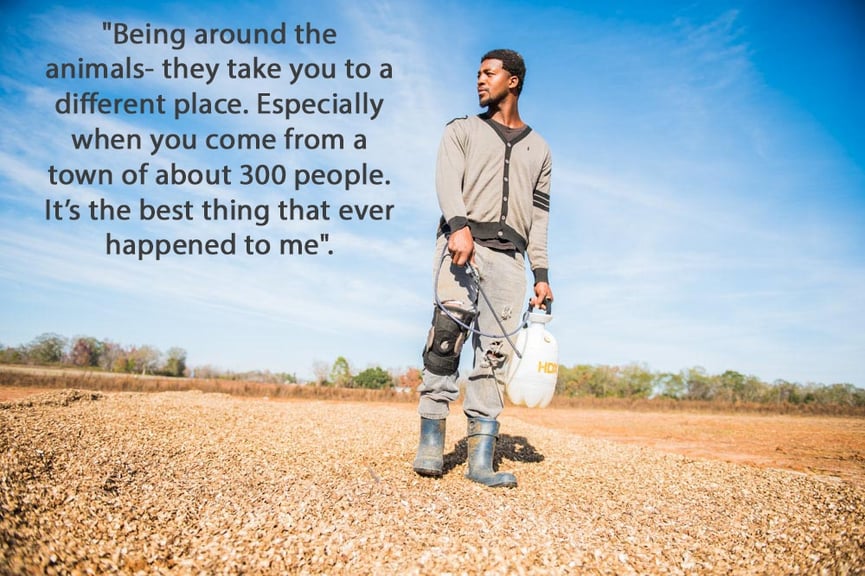 Above: Robert learned how to mix and apply the biofertilizer. Here, he's spraying a bed of peanut hulls which was left when he moved the brooder to fresh pasture. The biofertilizer helps promote a more rapid and sanitary breakdown of the peanut hulls which then add to the soil organic matter.
What is your favorite food in the dining Pavilion?
The Beef and Bacon Melt is one of my favorites.
Choose one word to describe White Oak Pastures.
Life. Yeah. Life. The animals' lives- we treat them as we would want to be treated. We make sure they're in good grass, we make sure their houses are clean, that they have feed and water. Basically, life.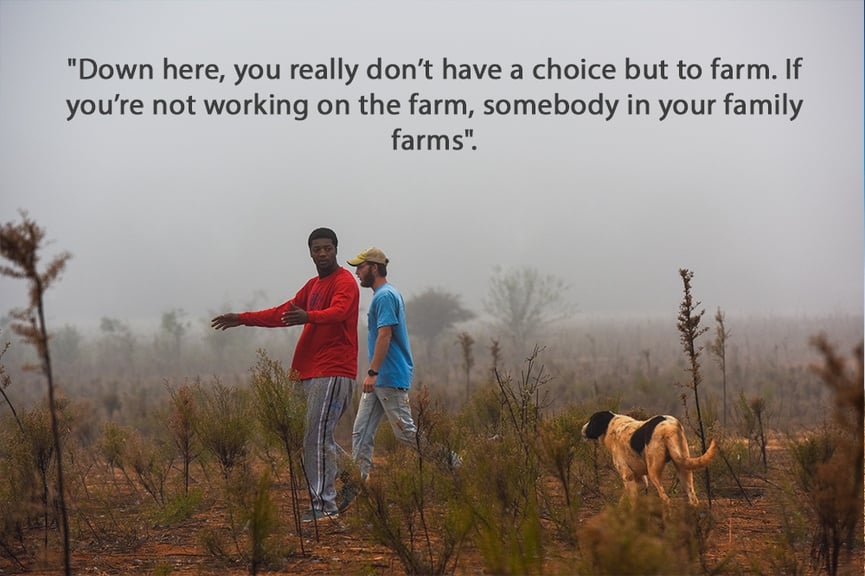 What's the best, and worst, part of living in this part of GA?
Jobs- the worst part. Really where I stay, in Calhoun County, it's pretty hard to get a job there. Either you're working at the grocery store or you're farming. The majority of Calhoun County is cropping – as in corn, peas, and peanuts. Peanut farming is one of the biggest things down here, but it's a seasonal job. So you have to take advantage of it because you have to wait until the next season to work again. The majority of everyone who stays down this way either farm, work in a school, or are in the military. If we want to get a good job, we usually have to go to college or somewhere other than down here.
What's your favorite hobby outside of work?
Music. Basketball. Baseball. Spending time with my kids- that's one of my first hobbies. It's really not a hobby, but it is one of mine.
What's the funniest thing you've witnessed at the farm?
I saw a chicken chase after a guinea. The guinea tried to attack the chicken and the chicken was like "I'm not having it".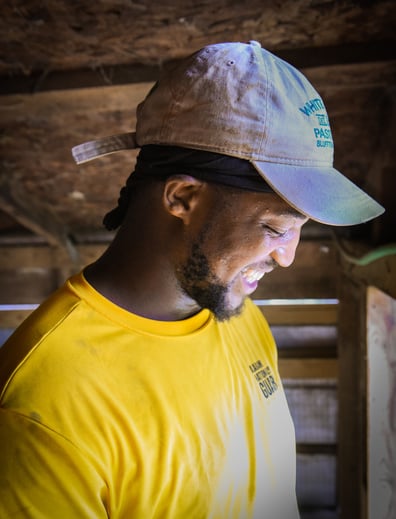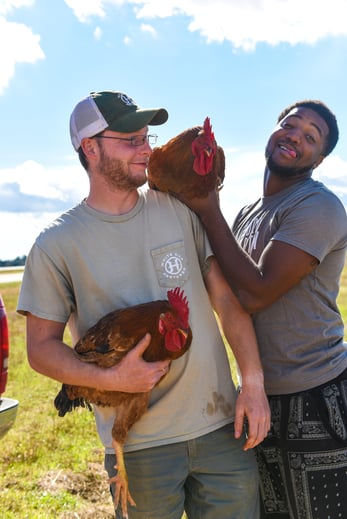 If you could trade roles with someone on the farm for a day, who would it be and why?
I would trade places with hoofstock period, mostly cows. It's pretty hard to move cows and hogs, so the hogs and cows would be the main two, but cows first.
What is your favorite meal to cook at home (with White Oak Pastures products)?
Their steak! Steak and potatoes. They have one of the best steaks I've ever tasted.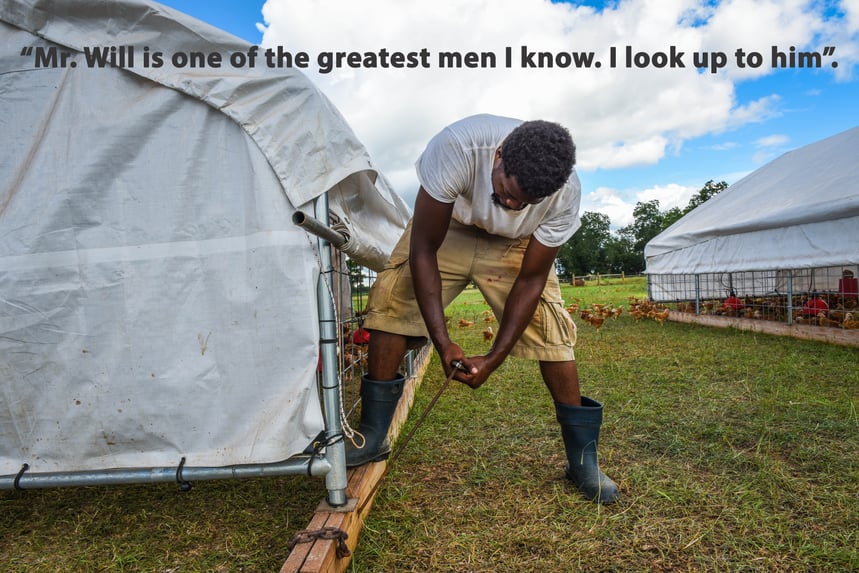 What's your favorite daily chore?
Moving the chickens, making sure they have fresh grass. That's one of my chores every day. The number one thing is to constantly move them. Who would live in filth and be healthy? As an example, I wouldn't want to stay in a house that's messy or nasty so why should we let our chickens or ducks stay in anything messy or nasty. We take pride in moving.
Our crew is a big family. I feel like if- I'll say my brother- if my brother needed to know anything on this farm, he wouldn't ask me because he already knows, because the first thing we do is train. We love what we do- "Everything is Everything"- we take great pride in all we do.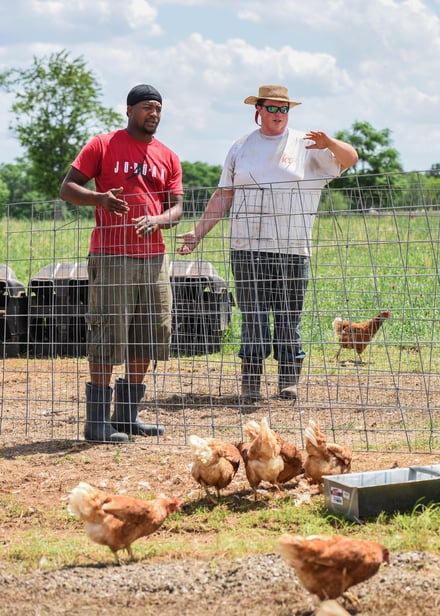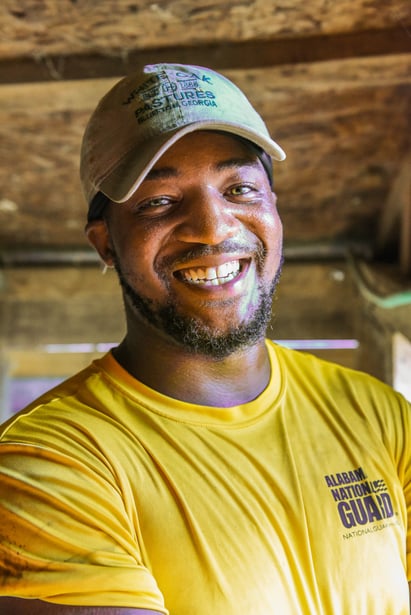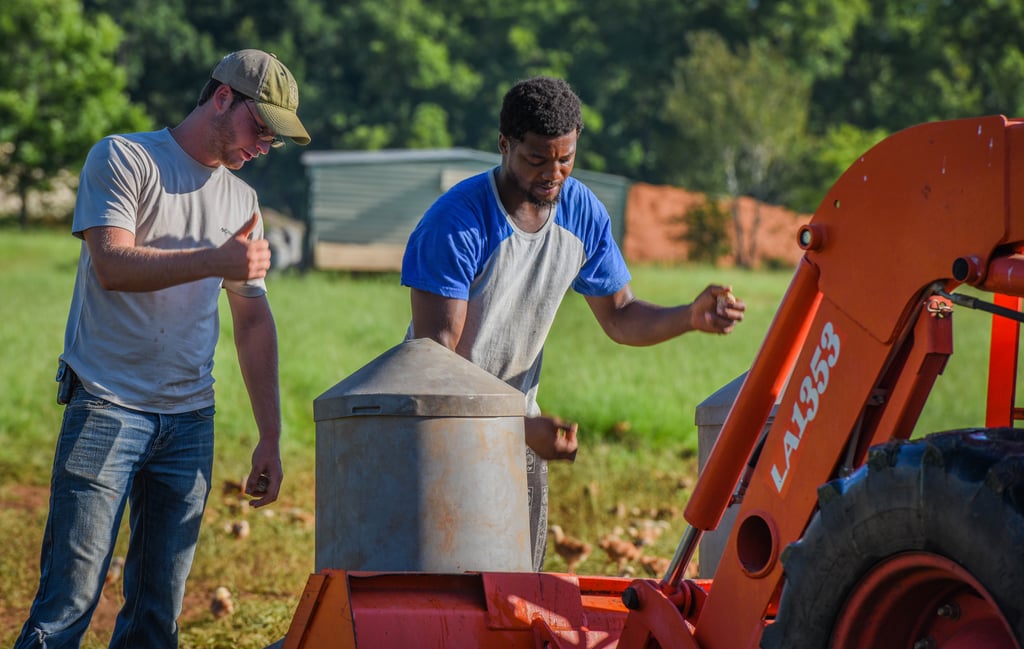 Everybody is really down to earth and talks to each other. You should at least know the correct way to hold the chickens, turkeys, ducks, guineas, and geese. Also, if you've been trained, know the proper way to feed and water them, make sure they have water and that it doesn't overflow. The most important thing for any animal on the farm is water. Without water we as humans would die, so, the chickens would die too if they don't have water. We take pride in everything we do with the crew. We might have good days, we might have bad days, but we make sure we get the job done. Period. And we make sure we do it the best that we can.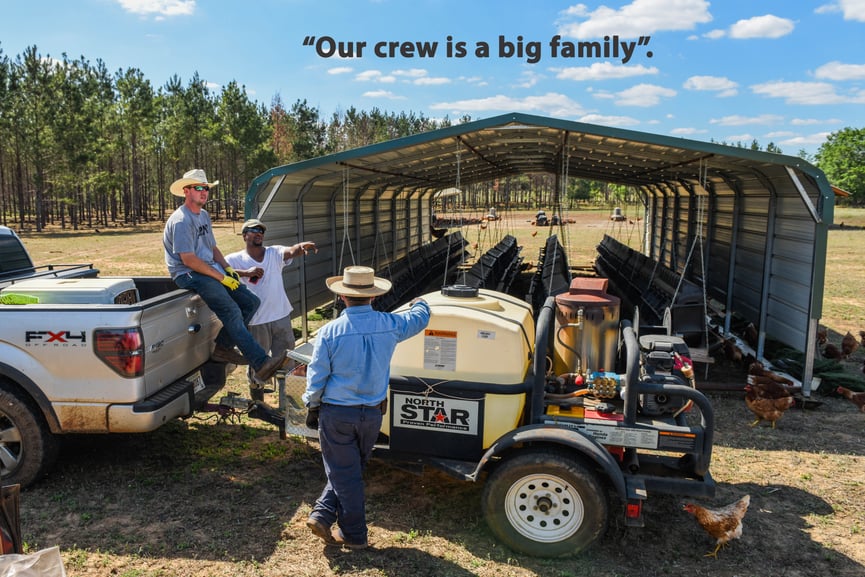 It doesn't bother me to help another employee on the weekend. I feel like we should all help each other. We're family. If we say we're family, we should act that way. I wouldn't want my brother to be down and then he has to play catch up, so we take pride in helping each other, making sure that each other's job is done before we leave this pasture. Everybody has an important job- it's up to you to know what your job is- if you don't know what your job is, you don't need to farm- everything is "Simple Stupid"- either you know how to do it, or you're going to learn how to do it. If you don't want to learn how to do it, then you shouldn't be here. Everybody takes pride on our farm. We love our farm. We have some of the nicest people willing to help us with anything.