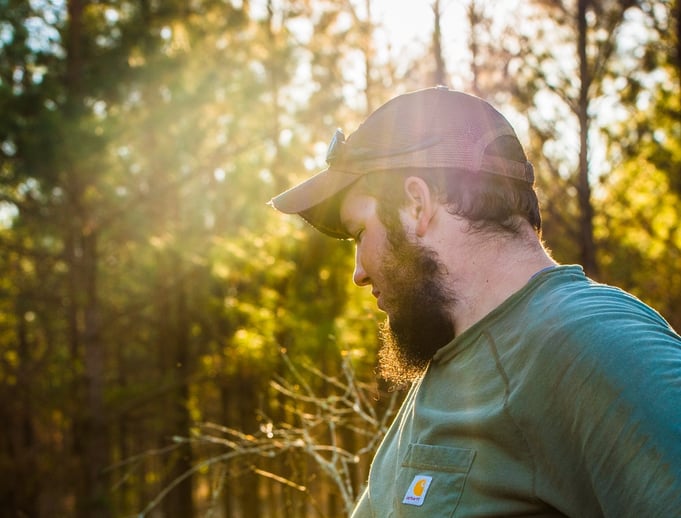 "I really enjoyed seeing my grandpa and my dad farm so I figured I'd take a shot at it too," says Dylan DeSutter. Dylan is the Assistant Hog Production Manager behind our growing hog program here at White Oak Pastures. "I see myself as a partner to Aaron obviously. We work together to find smaller details that one of us has missed, overseeing everything day to day, making sure the pigs are in the right place at the right time". Read on to get to know Dylan and his interesting journey from third generation family farm, to White Oak Intern, to his current role in the pastured hog program.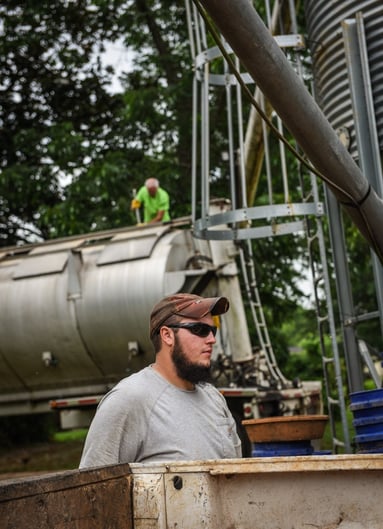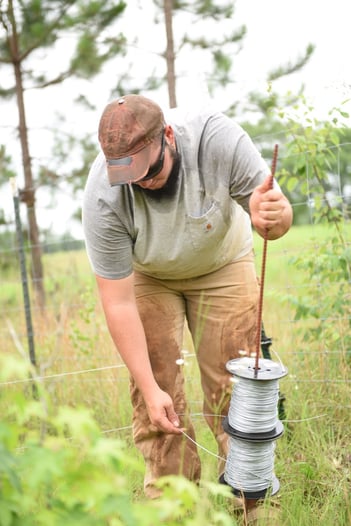 How did you get into farming?
I'm a third generation farmer. My family are mostly grain farmers but we also raise grass-fed cattle and are looking to get more into grass-fed beef. I got into regenerative farming because I started seeing some of the benefits this type of management can have on this type of land especially, for example improving the water and mineral cycling. My family has been working towards incorporating some of these systems on our farm at home. Gabe Brown gets a lot of credit for kind of jump starting my passion as well.
How did you come to White Oak Pastures?
I wanted to get more livestock experience for our family farm and I thought White Oak Pastures was a good opportunity because of all the species that are on pasture here. I started as an intern. I have mostly a cattle background. I had very little experience with pigs but they needed someone and I had an interest.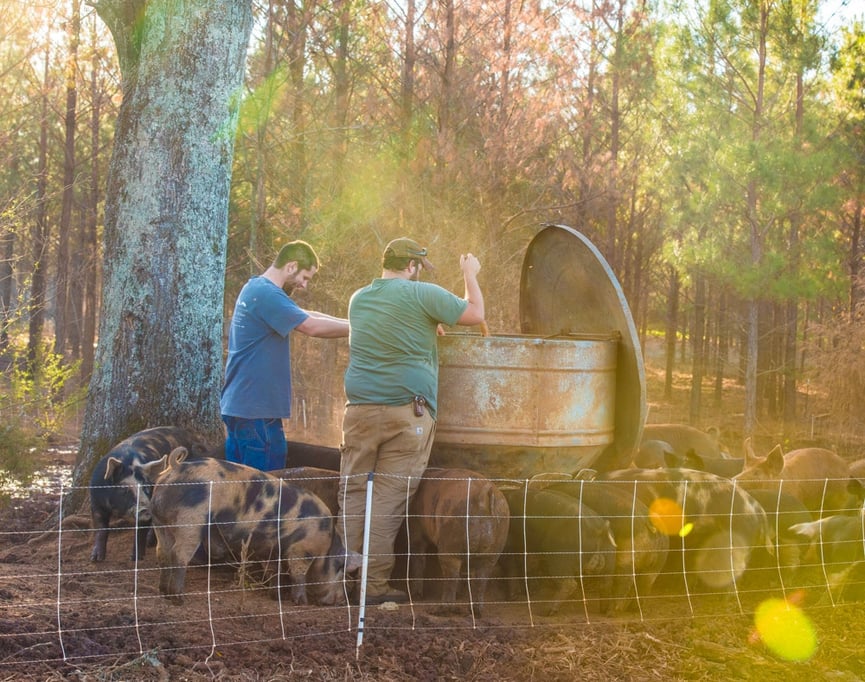 What is the most satisfying part of your job?
Probably watching the piglets run around.
What's the biggest challenge you face on a daily basis? On a long term basis?
Educating employees and consumers about the end product.
What has been your proudest moment since working here?
Starting with the internship and then working my way on to a full time position.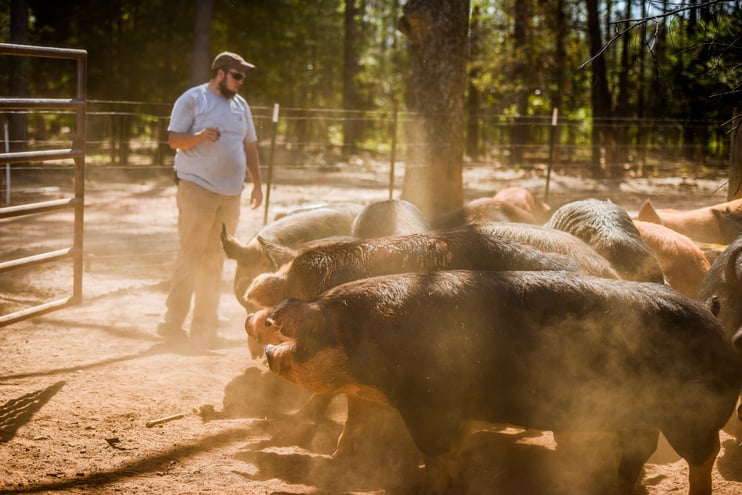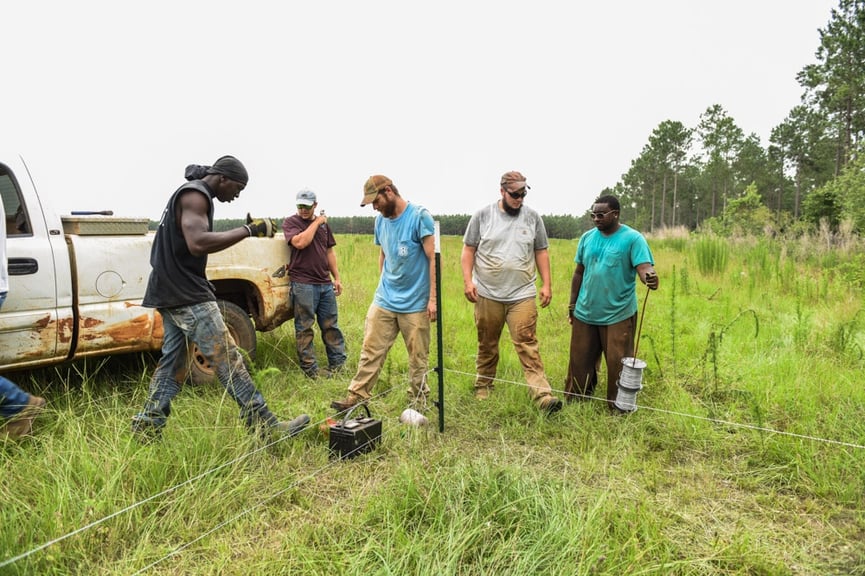 How has hog production changed since you arrived here?
The demand for our pork is increasing so obviously we had to start breeding more pigs. We made an effort to save more gilts and not take them to slaughter. Since we're breeding more, now there's more piglets and more sets to take care of. We've also established a routine which helps us keep everything in order. We've also hired new employees. The first few days they watch what we do and then they help out. A lot of our new employees don't have a lot of experience with livestock in general, but pigs especially, so it's a learning process for everyone. Training new employees is one of the funner parts of the job.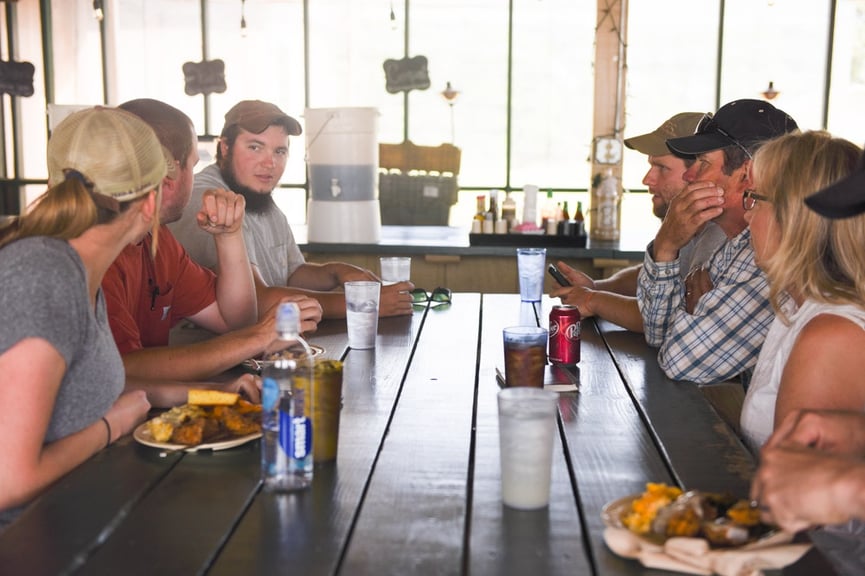 If you could trade roles with someone on the farm for a day, who would it be and why?
Mr. Will- to see a broader aspect of how things have transformed here.
Choose one word to describe White Oak Pastures.
Unique.
What's the best, and worst, part of living in Bluffton, GA?
One of the best parts is how everyone can form a community. The worst part is probably the heat.
What is your favorite meal to cook at home (with White Oak Pastures products)?
Smoking a boston butt.
What's your favorite daily chore?
I like checking for new piglets.
What's your favorite hobby outside of work?
It's a tie between hunting and fishing.