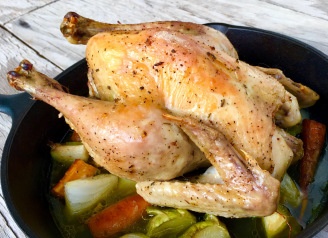 White Oak Pastures' chickens and guineas live unconfined on pasture, hunting, pecking, scratching, and dust bathing. This leads to stronger, healthier, and in our opinion, tastier birds. It also means these birds use their muscles, and we need to take this into consideration when cooking a pasture raised animal. Apply some of the same principles we use when preparing grassfed beef, such as marinating or seasoning one to two days in advance to help tenderize those more active muscle fibers.

One of the easiest ways to cook a chicken or guinea is by slow roasting it. Cooking poultry with the bone in adds more flavor and nutrition to the meat and the broth you have left. We recommend the following recipe when roasting our pastured chickens and guineas.

Ingredients
1 large onion – large chop
3 carrots – large chop
4 celery stalks – large chop
1 bay leaf
1 cup water
1/2 cup olive oil
1/2 cup kosher salt
1 tbsp black pepper
1 tbsp garlic powder
1 tsp chili powder
½ tsp white pepper
1 tsp onion powder
¼ tsp allspice
2 tbsp dried oregano

Preparation

Place the onion, carrot celery, bay leaf and chicken or guinea in a roasting pan deep enough to cover with foil or a lid if using a Dutch oven or cast iron. Mix all spices and herbs together (kosher salt through oregano) in a bowl. You may have more than you need, but this is a good all-purpose seasoning to keep on hand. Pour the olive oil over the chicken and then rub the seasoning over the bird, making sure to get it under the skin and in the cavity so the flavors can penetrate the meat.

At this point, if you can let it marinate for about a day, it will help tenderize the bird as the salt begins to break down tougher muscle fibers. If you don't have a day, just let it sit out covered at room temperature for about an hour before you put it in the oven.

Preheat oven to 325F. Add the 1 cup of water to the roasting pan. Cover with a lid or foil and place in middle rack of your oven. Roast a small chicken for 90-120 minutes; a medium chicken or a guinea for 140 minutes; and a large chicken for 140-170 minutes. Remove lid or foil. Caution: there will be hot steam, so be careful when removing the lid. Let the chicken rest for 10 minutes. Once the bird has cooled enough to handle, remove the meat and use in your favorite chicken salad recipe or anything else you'd like. Make sure you save the stock from the pan, as it's a great base for soup and is highly nutritious.