Meet Johnny "Jake" Jacobs, a "Jack of all trades" and a master of one! Jake is one of our most talented butchers here at White Oak Pastures, bringing experience, hard work, and attention to detail to the butcher block. All of these lead to product production that is second to none!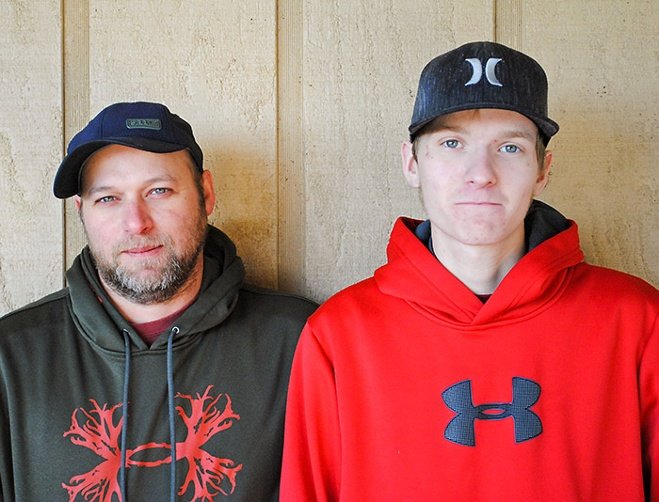 Johnny Jacobs and his twin son Aaron work closely together at White Oak Pastures.
Jake Jacobs, unlike most, came to White Oak Pastures with years of butchering experience under his belt. It wasn't what Jake had planned, but after serving eleven years in the Army, and being halfway to retirement, unfortunately, Jake was injured. He didn't want to retire prematurely, but after having surgery and the probability of re-injury, Jake decided it was best to retire.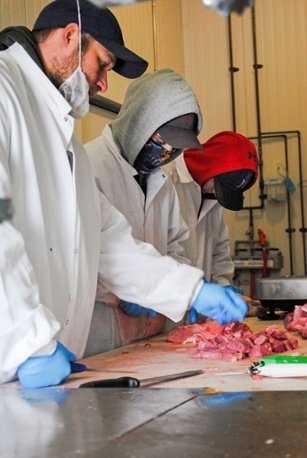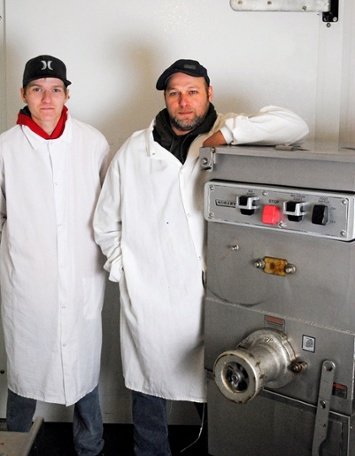 Jake and his wife, Jaci, who also served in the Army, picked up and left Florida, where Jake is originally from, and moved to South Dakota, where Jaci's family lives. Jaci was working at a deli in a butcher's shop, where Jake was quickly hired as a butcher and worked until 2010. He butchered small and large livestock including cows, elk, deer, buffalo, pigs, sheep, and lamb.
"My wife, Jaci and I like to move, but after moving through South Dakota three times, Florida twice, and also Minnesota, we came to south Georgia." Jake lived in Columbus for two years while in the army and loved this area. "We didn't know anyone and started over by ourselves. We looked all through south Georgia. My wife and I drove through here and it was pretty, with very nice scenery. So, we came down here and looked at houses, found one, and moved here."
"I didn't even know that White Oak Pastures was here, but somebody told me about it and I was hired in 2014." Jake started out in the cutting room, then went to the kill floor, and butchers all of our pigs. Next time you cook up a White Oak Pastures pork chop, thank Jake for using his skills to carve up such a treat! He also trains new employees on the kill floor when short-staffed and helps out in the cutting room when needed. At his previous job, he worked in the field, so he is experienced in that aspect as well. Jake knows how to perform all the duties of all jobs at the beef plant. He describes White Oak Pastures as "hectic, busy, work." "You come here, go to work, and if everybody does what they are supposed to, everything gets done. This is the biggest place I've worked. Instead of doing thirty cows a week, we do thirty a day, and it's five times more work every day. Because we have more people, after you've been going hard, you have somebody to step in and it gives you a chance not to go as hard as you have been. Everybody has their designated job and everybody does their job. That is the good thing about White Oak Pastures. As big as it is, it's small enough that you know everybody, know what they do, and if you need help, you can go to whoever you need to get help."
When describing a typical day at White Oak Pastures, Jake states "There are always three guys running one of the machines, and the fourth guy is making labels. Keirsten helped me get everything organized because you need to know what you have to do for the day. To get it running smoothly, everybody has to know what their role is and what they are supposed to be doing.To keep everything going at a good pace, everybody has to do their part when they need to do it, instead of when they get around to it. The preparation is the most time-consuming part of the job and when you make links instead of ground meat, that takes even longer.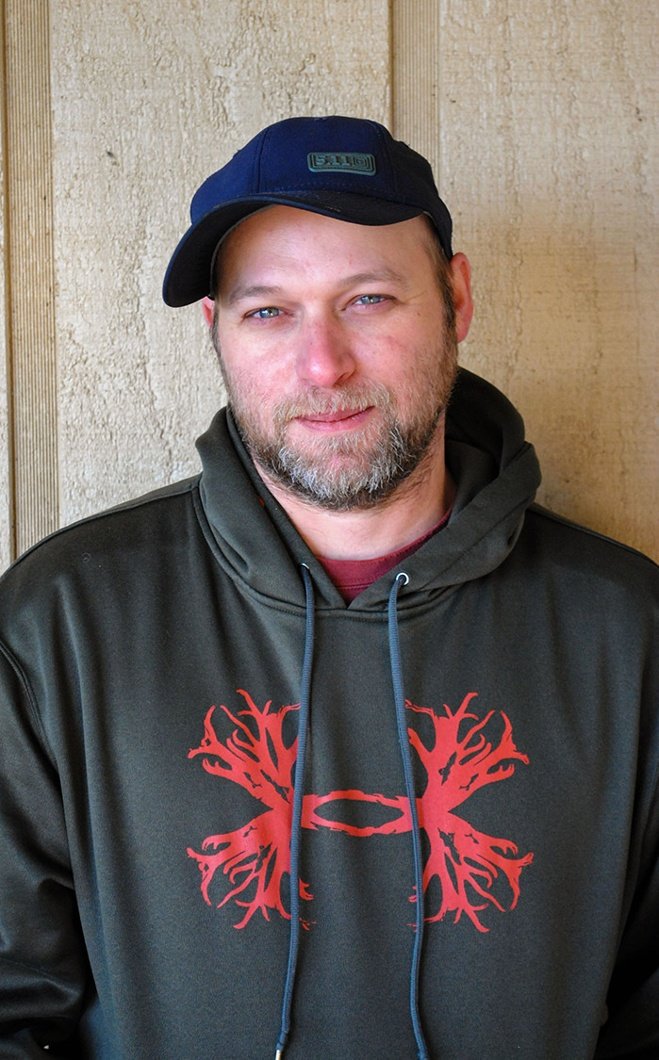 Jake came to White Oak Pastures with years of butchering experience with a range of species.
Jake finds satisfaction in his work when "I do my job well and work hard all day. I want to make sure I do a good job on everything. That is where my satisfaction comes from. "It's helpful to know each person's job. If there is a mistake on a cut of meat, you can help someone better understand what the cut should have looked like. Because I've worked in all areas, it's easier for me to know what's going on. I'd like to learn how 'Buck', our Beef Plant Manager, decides how many cows are needed and what is going to be worked on that day." Jake would also like to know how Buck plans the kill schedule to fill all of the orders that come in each week.
Jake really doesn't want to trade places with anyone on the farm. "I think that everybody has their job, and if I were to trade with someone, I wouldn't know how to do it, and that would drive me crazy. I don't mind learning new stuff, but I want to learn it before I start doing it. With my job, I just kinda got put into it and didn't know much about it, but they let me learn it. It was 'ok, you gotta a couple of weeks to figure it out, let's see what we can do.' If I had questions, I asked "Buck", (Brian) Sapp, Bubba, and Lisa. Everybody was very helpful. The first two weeks were trying, and I didn't want to stay, but now I'm getting it. It's a learning process and I'm still learning. Nothing slows down." Paperwork is not my strong suit. It's not hard, just tedious with small details. I'd rather just do the work and have somebody else do the paperwork, but I'll eventually get it. I'm more 'hands-on, let's get it done.' You can plan all you want, but as soon as the next day comes, it's different. Things come in at the last minute, but we make it work."
'I have four boys, two of which are twins. Both have worked at White Oak Pastures and Aaron is still here." Justin worked here until he recently joined the Army, but is home now for his first break after Basic Training. "Everybody thinks they have a strong work ethic. I've raised them right. Knowing that is my proudest moment." When asked how he did that, Jake said "work". "I've been blessed. I have four very good kids.They don't lie, they don't steal, they don't play. Well, they play games but they are good in school." There are two younger boys, Roman and Silas, ages 14 and 12. "They are getting old enough to 'know everything'."
Outside of work, Jake likes to spend most of his time on the water, fishing. "Me and my boys go fishing and my wife and I will go to Dothan. I like saltwater fishing but generally go fishing in the lake or in ponds. I grew up fishing on an airboat and went fishing everyday after school. We've always lived close to a lake or a river, and here we have plenty of water around us. I don't have a boat right now and not being able to fish is killing me, so I go down and fish with my dad in Florida. Jake also likes to go night fishing and has enjoyed ice fishing in a shack, for eight hours, with the outside temperature of 80 degrees below zero.
"Moving here worked out great and things just fell into place. I like the climate and that we are in a rural area. Because we're in a rural area, it seems like more people are moving away rather than moving towards us, but I would rather be here than in the city. I think we're gonna stay.