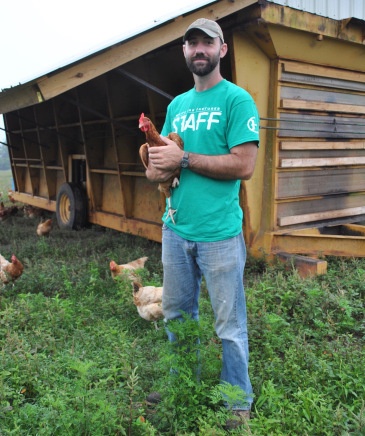 For six years, Dan Coady conducted research for a multinational technology corporation in California, until one day he decided to move to rural southwest Georgia to become a farmer. Today he leads the country's largest pastured poultry operation, and we are lucky to have him.
Dan had found quite a bit of success as a scientist. He developed nearly 100 patented scientific processes and won the American Chemical Society's Young Investigator award. But he began to believe there was a more meaningful way for him to utilize his skill sets and spend his time, producing healthy food for his family and community. He fully agrees with the famous Hippocrates quote, "Let food be thy medicine and medicine be thy food." Dan left the nanomedical research field and moved with his wife and their two young daughters to Bluffton. Together with his White Oak Pastures team, Dan now raises 60,000 broiler chickens, 12,000 laying hens, 8,200 turkeys, 7,600 ducks, 6,000 guinea fowl and 3,000 geese entirely on pasture and processed here on the farm.
As White Oak Pastures' Poultry Manager, Dan's PhD in Synthetic Organic Chemistry and his experience in research and development come in handy more often than you might think. He sees the farm as a puzzle, with the many facets of production, processing, and marketing as the pieces. He describes the poultry operation as its own puzzle, and he uses creative problem solving to find the best ways to rotate the birds, provide housing, and increase feed conversion, all while working within nature's perfect system.
The slower pace of the farm lifestyle suits the Coady family well, too. The kids love riding in tractors and eating in our on-farm dining Pavilion. Right now their favorite meal is Chef Reid's pastured poultry special, of course: a chicken breast stuffed with spicy Italian turkey sausage. The Coady family believes they made the right decision when they moved from California to White Oak Pastures, and we couldn't agree more.