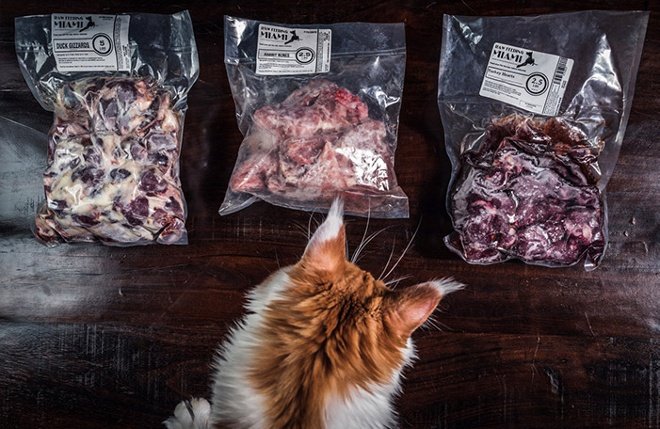 Raw Feeding Miami is an online retailer of raw pet food. We are proud to supply them with our humanely raised, unique range of products.
Please tell us about the history of your business and what it entails.
"Raw Feeding Miami" is an online retailer for raw pet food. We sell a large variety of different cuts of meats from different animals. That way, pet owners who feed a species-appropriate diet, can source all the needed dietary elements."
How did you get into this business?
"I got into raw-feeding a few years back when one of our white Great Danes developed a skin allergy to his dry food. After switching to many of the "best" brands out there, without any change in his condition, we tried raw. Once we saw the results and his symptoms cleared up within 3 weeks, we made the switch. Feeding a multi-dog household consisting of 2 Great Danes can be expensive, so we started to source in bulk. Once our neighbor found out, we started to purchase for other raw feeders. Eventually through word of mouth, we were fortunate enough to turn this into a business."
Why do you choose to support White Oak Pastures?
"Before I ever got into raw feeding, my best friend and I were always searching for local, small farms that support the land and practice ethical animal welfare procedures. When we found out about White Oak Pastures and all the different practices they followed, we knew we found a farm we could support. Eating meat is a choice that many take for granted, without ever really considering all the logistics behind getting that steak onto your plate. For us, it was very important to find a farm that not only respected the animals it was processing, but also took care of its land. We have ONLY ordered and cooked White Oak Pastures' meats in our home since then.
What do you think your customers appreciate most about White Oak Pastures?
The quality of the meat, the variety available, and the practices and ethics the farm stands behind.
What is your favorite White Oak Pastures product?
All the odds and ends that most people never see! The guinea are very cool and delicious!!
What would you like to share about your business that you feel the public would be interested in knowing?
"We sell between 15 to 17 different species at a time: Chicken, Turkey, Goose, Duck, Quail, Guinea, Beef, Pork, Fish, Rabbit, Goat, Lamb, Emu, Ostrich, Venison, and Elk.
I think the best seller is turkey hearts, oddly enough. My personal favorite is organic green tripe since my dogs love it. You should give some to your pups!!
To any pet owner out there that is still uninformed about the pet food industry, I tell you to do one thing, if you really love your animal. Watch "Pet Fooled" on Netflix (free), and at least be informed about what you are feeding your pet.Then you can make an educated decision based on true knowledge."
What are you most proud of in regards to your business?
"We are most proud of the support of our customers from all around the country. This contributes to the awareness slowly spreading throughout the pet industry, which is helping us change the way we feed our animals. We are also proud to provide pet owners with healthy alternatives that help keep their pets alive."
What goals or visions do you have for your business in the future?
"My goals are to continue sourcing great quality products and hopefully come up with a new way to make raw feeding available to people all over the country."