"Damn, that's a nice bumper". It was a rainy, muddy, cold weekend in December 2007. Will Harris had just finished showing Brian Sapp around the farm, which, at that point, Brian describes as "just feeding cattle and the plant was a concrete floor". Brian's lifelong passion for fabrication led him to craft replacement bumpers as a hobby. When Will kicked the bumper on Brian's 2004 Chevy pickup, his eyes "got big as half dollars". Will then told Brian, "You may never strike an arc on this farm, but I know from that bumper that I want you to work for me." Will could tell from how well the bumper was made that Brian would put effort and hard work into everything he did.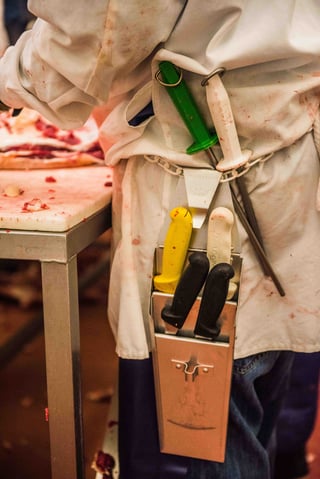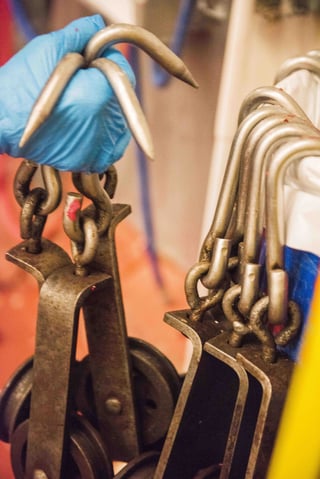 What did you think of Will when you first arrived in 2008?
I thought, for one, he was crazy as hell. He took everything he had to push this product. Grassfed beef at that time was where he wanted to push all his focus. I knew he and I would get along pretty well- we were clear of what I expected of him and what he expected of me- I knew it would be a symbiotic relationship. When I met people and told them I was working with Will Harris they'd say "he's hard to work for"- but I've been here for almost 9 years now- we were both upfront and stuck to our word.
Describe your first year at WOP?
My first year here was a lot of long hard days- at that point I was living in Will's attic - I came in at sunrise and left at sunset. Will and I spent a lot of time together - it was a long year but we had what we knew we wanted and over that year we worked towards that. It was a lot of sweat and tears to get the plant kicked off. It was like Will bought a $2.5 million dollar car and threw me the keys and said "drive".
Are we doing today what you thought we would be doing back in 2008?
Absolutely hell no. Completely different - we now have two processing facilities- a lot different than in May 2008. It's been a good learning experience for me - a 360 degree difference from where we started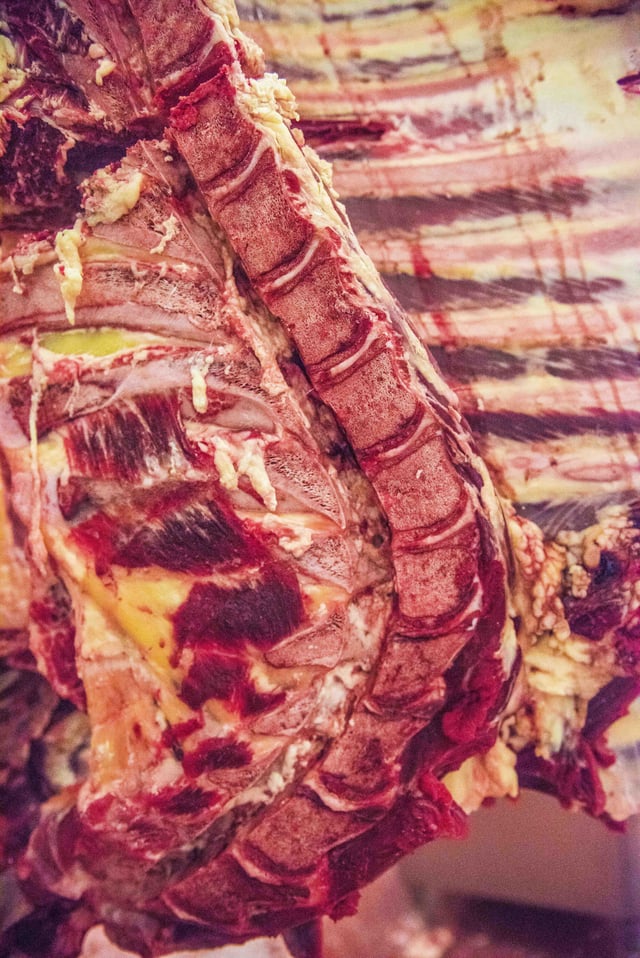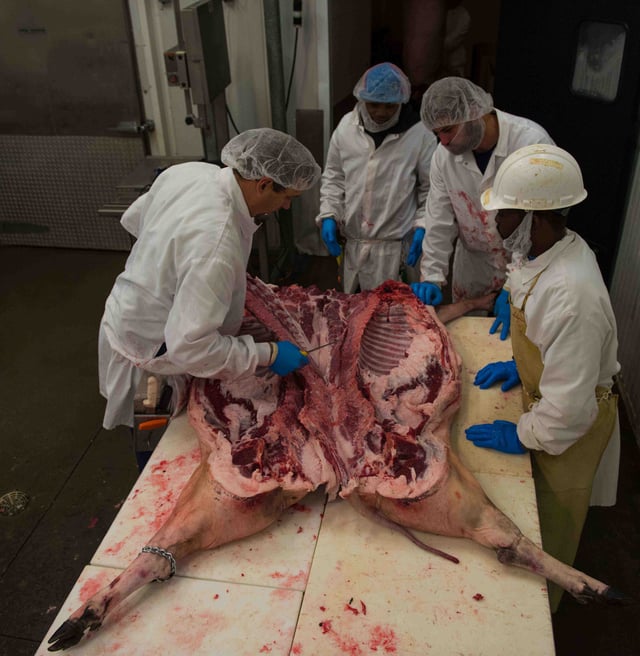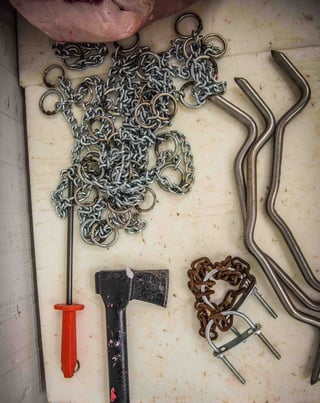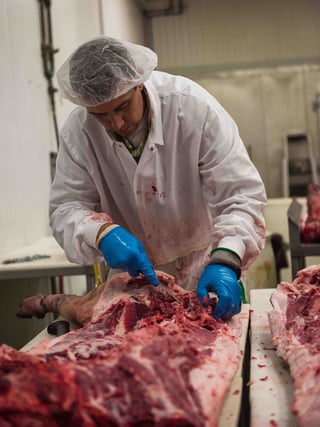 You began your career here in 2008. How did you start and build your career in meat science?
I grew up in South Florida on caladium farm- it's a flower for landscaping- we had greenhouses- my dad, uncle, and grandpa were all in the business. It was a good business and helped me learn a lot about the ag industry. My career building started at home- I learned how to work hard, make smart decisions, and work in a family business. Through livestock and animal judging teams I learned how to make good contacts and learned how the meat industry worked.
I started in Food and Resource Economics at Gainsville. I started looking for a job and learned that University of Florida had meat processing on campus. I went there, met a few folks who took me in. First semester I worked on the technical side- slaughtering, processing, and cutting meat in that facility. A man who had retired from Publix taught me how to cut meat. I built good relationships with these folks and fell in love with the meat business. It was always 45 degrees in the facility, it doesn't matter if it had rained that day, no mud, no dust, you don't have to worry if the tractor will crank.
In 2006, I was finishing up with a B.S. in Food and Resource Economics and was offered an Assistantship to take over USDA Food Safety for the campus Meat Processing Facility. During that time, I built life long relationships. I still call on those guys on a weekly basis and see where industry is headed, what's going on, etc.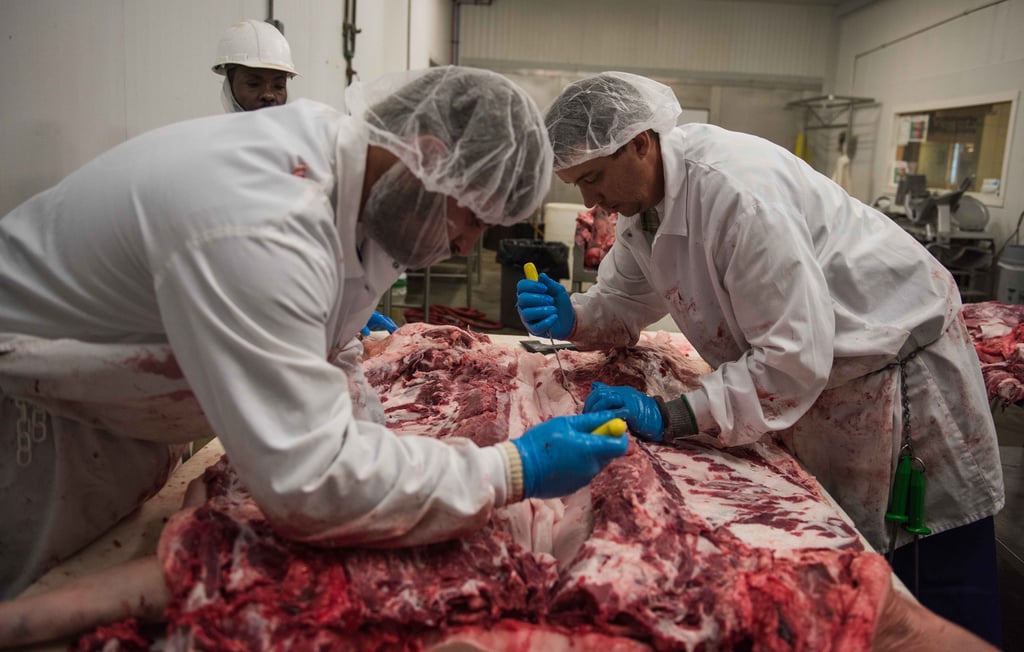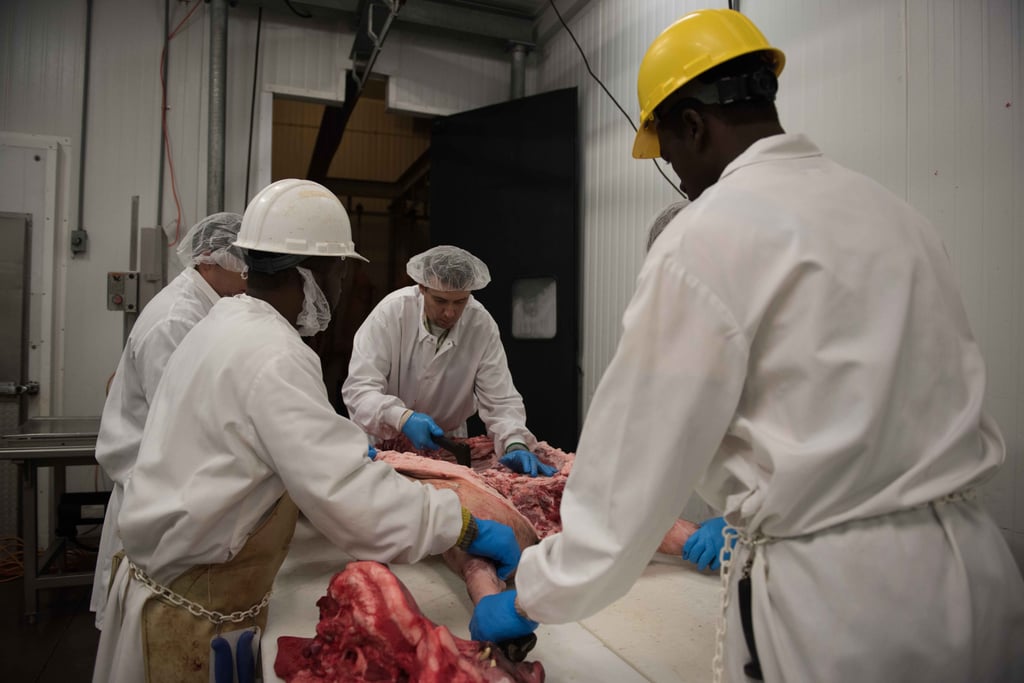 What is the most satisfying part of your job?
The most satisfying part is knowing this company and business are providing back to this community- helping this community grow in ways that weren't possible before. To me that's satisfying. There are good people who work here.
What's the biggest challenge you face on a daily basis and long term?
Organization is the biggest challenge. My desk has bags of meat, check books, inventory papers, USDA labels, equipment, etc. Organizing myself, and keeping track of what's going on on the farm and helping the managers on the farm with their businesses are the biggest daily challenges. Long term, the ever-changing vision of where we're going is a challenge.
What are some long term plans/projects/goals you plan to work towards?
I feel strongly that we need to further grow our processed products- sausage, bacon, smoked products, lard, etc. and get those USDA inspected. I want to grow that, I think it will be really good for company and help mitigate our zero waste facility.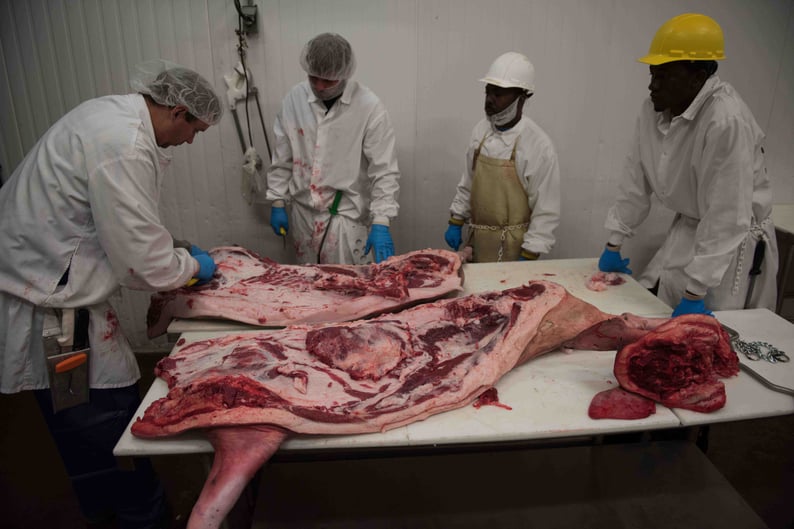 What has been your proudest moment since working here?
There's three:
June 2008- when we slaughtered the first cattle in this plant. That was a really big day for everyone and me and seeing Will's dream come true.

Poultry Processing Facility opening- I put a lot of time into designing and subcontracting this USDA facility.

I partnered with several folks in northern Alabama to open a pork processing facility - a repurposed emu slaughterhouse.
Seeing my hard work and dedication come together to see these facilities come together and run were my proudest moments.
If you could trade roles with someone on the farm for a day, who would it be and why?
John Benoit- I love being outside, cattle, livestock in general, a day on the farm is fun for me. It's relaxing to be outside and with those animals.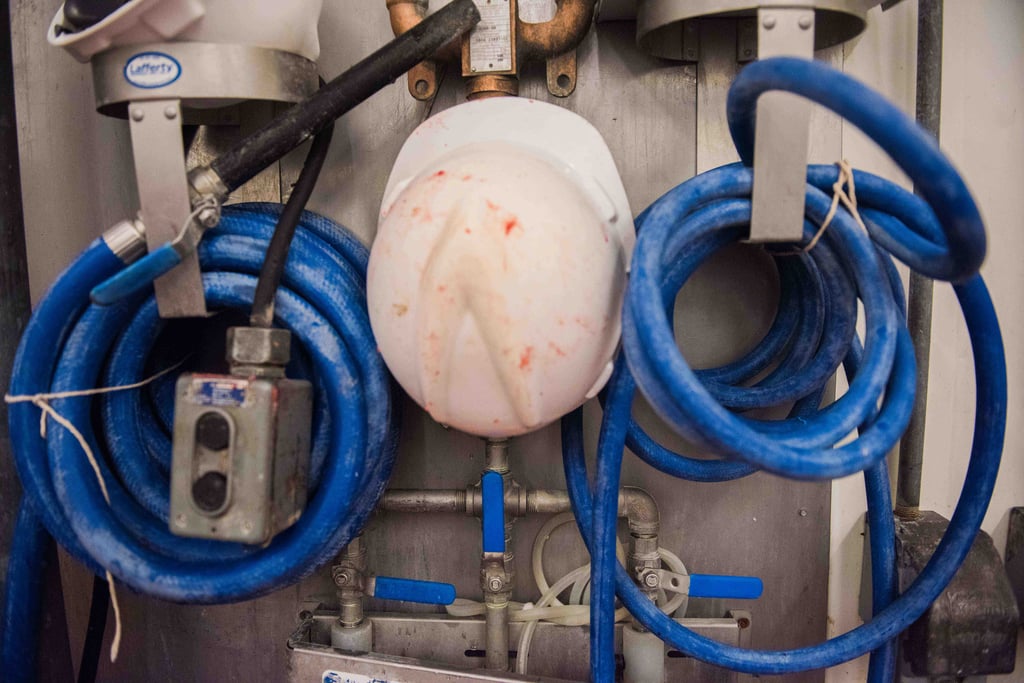 Choose one word to describe White Oak Pastures.
Progressive.
What is your favorite thing about White Oak Pastures? The farm atmosphere- there's good relationships here that feel like family all the way through- from top to bottom- Will, the guys in the field, the kill floor, the cutting room- good people.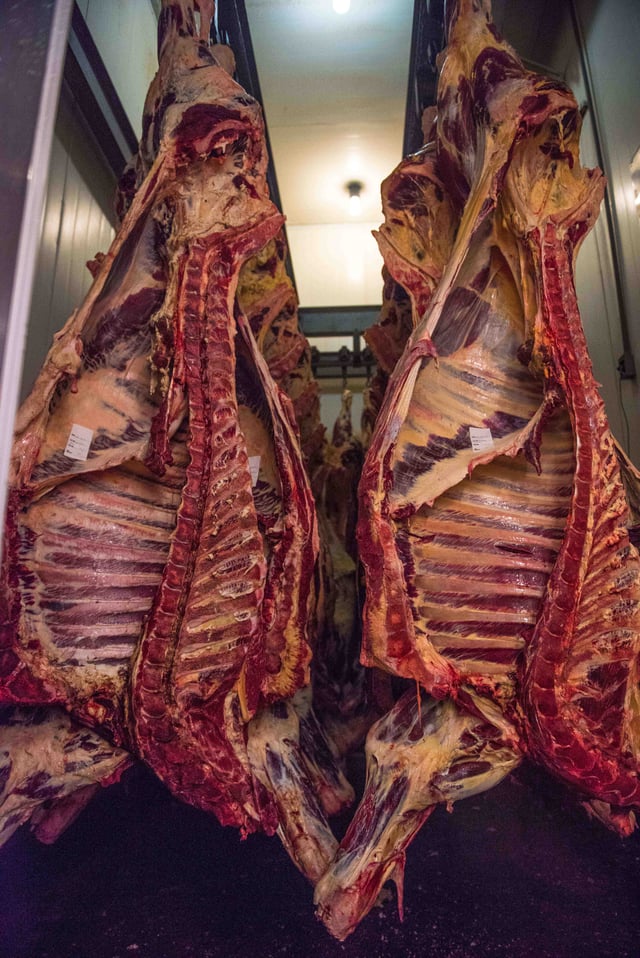 What is your favorite meal to cook at home (with White Oak Pastures products)?
Bone in pork chops grilled medium with salted greens and red potatoes with plenty of butter.
What's your favorite hobby outside of work?
In his free time, Brian likes to hunt and fish, and spend time with his wife and one year old baby girl. He also still welds and fabricates at a small shop he built for himself at his home. Despite all the growth he's seen White Oak Pastures through, some things never change!