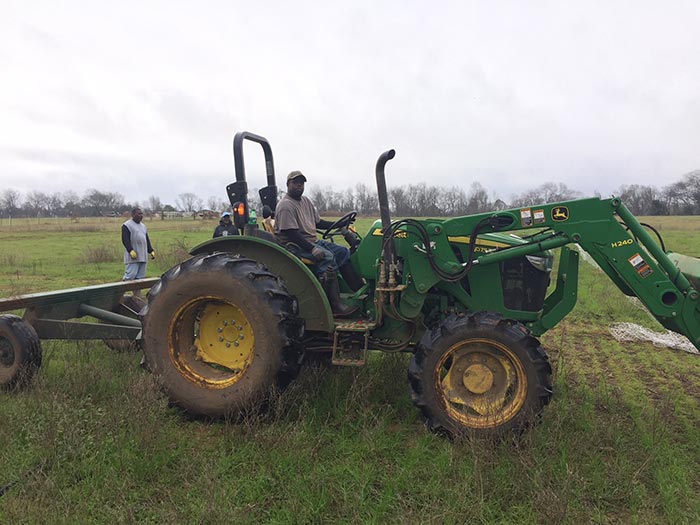 Employment opportunities in South Georgia can be challenging, but when Bobbie Lee Williams rode by White Oak Pastures, he was intrigued by the men and women driving tractors and by all of the animals. This was enough to entice him to seek employment on the farm. "The people here are friendly and everybody has made me feel welcomed. Everybody gets along with one another and helps each other out."
Bobby Lee works in White Oak Pastures' poultry production department under the supervision of Mark Harrison and claims, "If I could trade places with anyone on the farm, it would be Mark because I want to learn more about poultry. My favorite task is feeding the chickens, ducks, geese, and turkeys." Not an easy daily task considering there are approximately 30,000 birds! However, Bobby Lee states his biggest challenge was learning to drive a tractor.
Surprisingly, after tending to all those birds, at the end of the day, chicken and greens are Bobby Lee's favorite food to cook at home. Cubed steak and mashed potatoes are his favorite foods to eat at the Dining Pavilion on the farm. Fortunately for him, our organic garden is currently harvesting fresh Collards, Turnips, Baby Mustards, Spicy Mustards, Spinach, Kale, Asian Greens, Fresh Herbs, and Salad Blends. These will be sold so quickly, but being on the farm is advantageous when it comes to having easy access to our products!
Bobby Lee says, "I like living in South Georgia because it's laid-back and everyone minds their own business. I love spending time with my family: my mom, sisters, nieces, and nephews." Fishing is a close second! Bobby Lee's recent behavior was a prime example of his statement "Everybody gets along with one another and helps each other out." Jenni Harris shared, "We were lucky enough to have the help of Bobby Lee during our Inventory Count and Relabeling project. Bobby was one of the hardest working people in the building and did it all with a smile. His great attitude was contagious and made the onerous task much more pleasant."