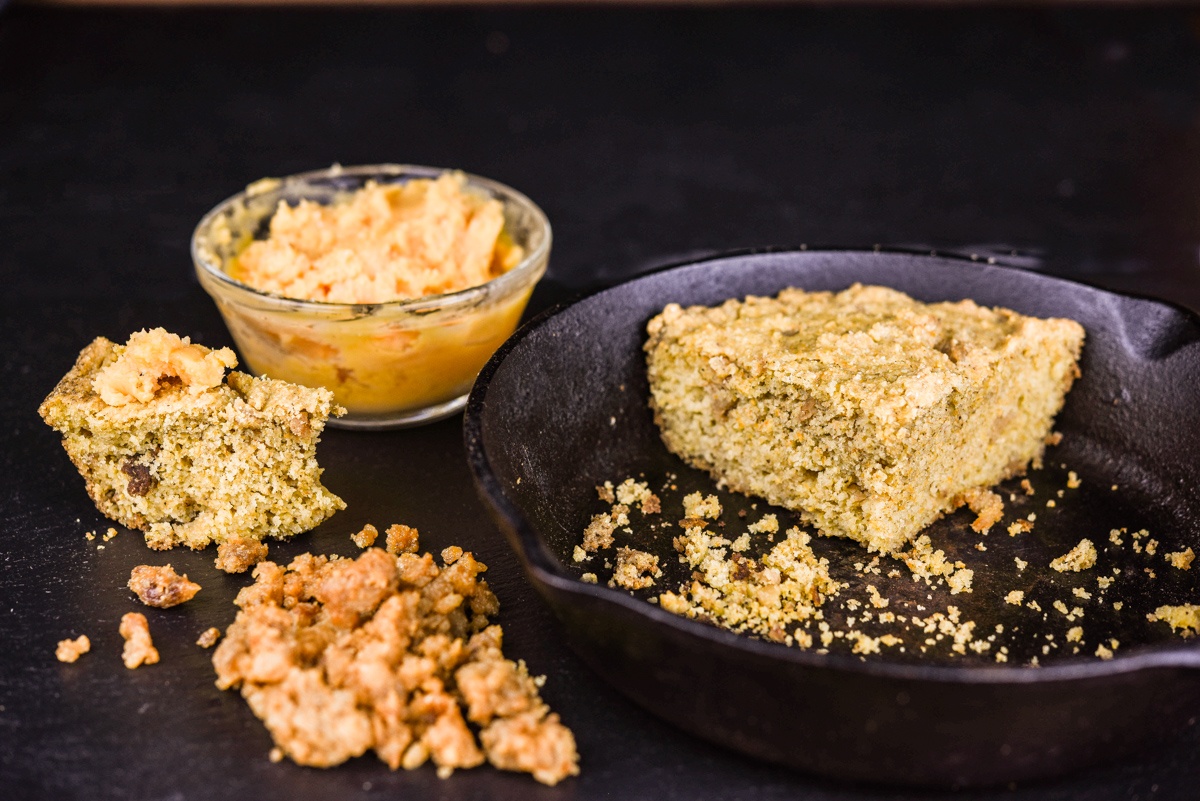 Our prized 100% Iberico product line introduces a new item- CRACKLIN'S. A southern favorite, cracklings are the crispy trimmings that rise to the top of rendered pork lard. This delicious garnish is a southern tradition that brings rich flavor to any dish. We are proud to bring our complex, sweet, nutty Iberico flavor to the southern cracklin' scene. Below, Chef Ban Stewart shares his favorite Crackling Cornbread Recipe with a Honey Hot Sauce Butter.
White Oak Pastures Iberico Pork Cracklin' Cornbread Recipe
INGREDIENTS
12" cast iron skillet
350° oven
1 ½ cups yellow cornmeal
1 cup all-purpose flour
1 ½ teaspoons baking soda
½ teaspoon kosher salt
1 cup sour cream
¾ cup buttermilk
2 whole White Oak Pastures, Pastured Chicken Eggs
6 tablespoons melted unsalted butter
½ pound Iberico Pork Cracklins'
2 tablespoons unsalted butter- for cast iron skillet
DIRECTIONS
-Add 2 tablespoons of butter to skillet, place in 350 degree oven until butter is melted.
-In a bowl, combine cornmeal, flour, baking soda, and salt.
-In a separate bowl, whip egg yolks and whites, add sour cream and buttermilk, stir until everything is incorporated.
-Combine egg/buttermilk mixture and dry cornmeal/flour and add Iberico Cracklin's.
-Add 6 tablespoons melted butter.
-Fold or stir until all ingredients are mixed together. Do Not Over Mix.
-Remove skillet from oven, distribute butter evenly in the pan.
-Add batter to the skillet, spread evenly.
-Bake at 350° for 25-30 minutes, or until a toothpick comes out clean.
-Let cool for 10 minutes, slice and serve.
For a Healthier Gluten Free Option
Replace the:
1 Cup All-Purpose Flour with 1 Cup Oat Flour
1 Cup Sour Cream with 1 Cup Greek Yogurt
¾ Cup Buttermilk with ¾ Cup with Almond Milk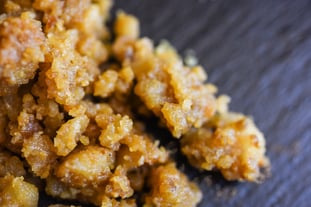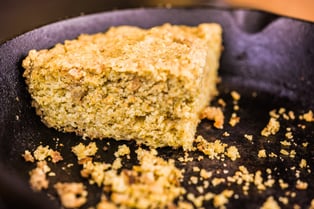 Honey-Hot Sauce Butter
INGREDIENTS
2 sticks ( ½ lb.) butter – Room Temperature
1 Tablespoon White Oak Pastures Honey
1 Tablespoon Louisiana Hot Sauce (or your hot sauce of choice)
1 teaspoon kosher salt
DIRECTIONS
-Use a stand mixer with the paddle attachment or a heavy bowl with a handheld mixer
-Combine all the ingredients
-Whip it real good until all of the ingredients are incorporated and the butter mixture is light and fluffy.