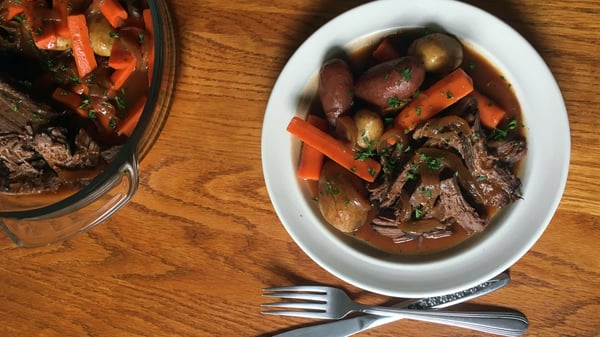 Cold winter, and not enough daylight hours? Warm up in no time with our take on a classic pot roast, now made faster with a modern pressure cooker: a White Oak Pastures Pot Roast, Instant Pot edition.
Ingredients:
This recipe is for a 3lb cut of grassfed beef, adjust accordingly.
3 lb. White Oak Pastures grassfed beef rump roast or any

grassfed beef roast

Salt and pepper, to taste
1 1/2 tablespoons oil
1 yellow onion, chopped
3 cloves garlic, minced
2 tablespoons tomato paste
1/4 cup red wine (don't forget some for the cook, if you'd like!)
1/4 cup flour
3 cups stock
2 teaspoons Worcestershire sauce
4 sprigs fresh thyme
1 sprig fresh rosemary
2 bay leaves
1 1/2 pounds baby potatoes
4 large carrots, cut length-wise and into 2-inch pieces
chopped parsley for garnish
Method:
Set a 6-qt Instant Pot (or equivalent) to the high saute setting.
Season beef with 1 tablespoon salt and 1 teaspoon black pepper.
Add oil; add beef and brown each side evenly (about 2-3 minutes per side); set aside.
Add onion, and cook until translucent (about 2-3 minutes). Stir in garlic and tomato paste until fragrant, about 1 minute.
Stir in red wine; scrape any browned bits from the bottom of the pot.
Stir in stock, Worcestershire. Gradually whisk in flour.
Add in thyme, rosemary, bay leaves, potatoes and carrots. Top with beef. Select manual setting; adjust pressure to high, and set time for 60 minutes. When finished, quick-release pressure according to manufacturer's directions.
Remove beef, potatoes and carrots from the Instant Pot; shred beef, using two forks. Taste for salt and pepper.
Serve beef, potatoes and carrots with juices immediately.
Serves 6-8