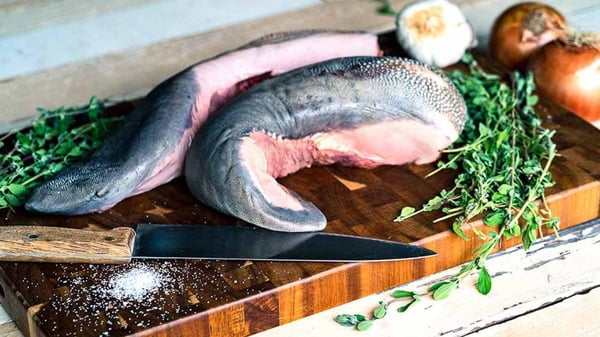 We'll go ahead and say it: Tacos de Lengua is the best way to eat beef tongue. Soft, pillowy tortillas filled with flavorful, delicious chopped meat, topped with tangy salsa verde and onions. If you've been stuck in a same-old, same-old taco rut, Tacos de Lengua will give you fresh taco inspiration.
If you've never cooked tongue before, or you've been avoiding it because you've had a bad experience, we encourage you to give Tacos de Lengua a try. Our recipe uses slow braising to make the tongue tender. It's already incredibly flavorful meat because the muscle was very active. With a tender texture and small chopped pieces, these grassfed beef tongues tacos are a game-changer.
To make tongue tender and to unlock its deep flavor, it needs to be thoroughly cooked with herbs and aromatics. You can adapt our recipe to cooking tongue on the stovetop, in a crock pot, or with an Instant Pot or pressure cooker.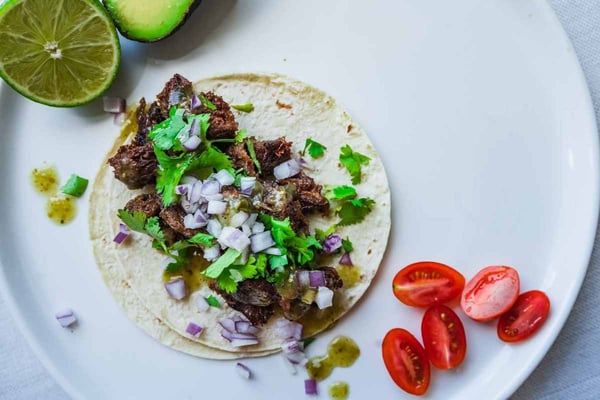 Ingredients:
2 White Oak Pastures grassfed beef tongues (about 2 lbs)
2 large onions, peeled and chopped
Cloves from 1 head of garlic, peeled and crushed
1 bunch thyme fresh
6-7 bay leaves
1 tablespoon peppercorns
2 tablespoon salt
Vegetable oil
20 corn tortillas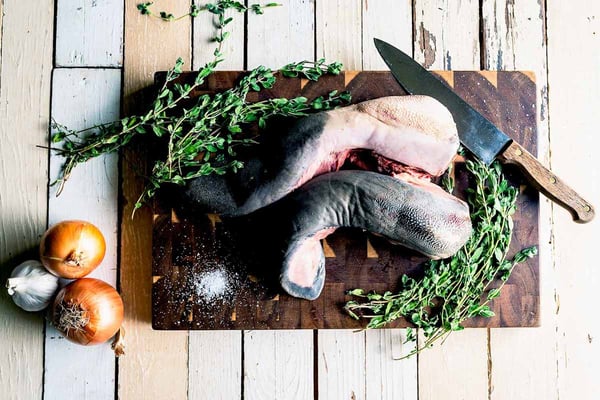 Suggested Toppings:
Limes, sliced into wedges
1 bunch cilantro, rough chop
Salsa verde
Chopped red onion
Avocado
Radish

Method:
Fill a large stock pot (around 12 quarts) 2/3 full with water. Add tongue, onion, garlic, thyme, bay leaves, peppercorns, and salt.

Alternative: use your Instant Pot (about 45 minutes in pressure setting) or slow cooker (5-6 hours)

Bring stock pot to a boil, reduce to a simmer, and cook covered for around 1-2 hours, or until tongue is tender to the touch and you can easily insert a fork.
Remove tongue from water and let cool until you can handle it easily. There is a skin-like layer that covers most of the tongue. Remove this outer layer by peeling it off with your fingers and a sharp knife if needed. Discard membrane. If there is excess fatty tissue, you can discard this as well (but we recommend keeping it and just chopped it up fine. It will add even more flavor and texture!)
Cut the beef tongue into very small pieces (1/2-1/4 inch cubes).

If you underestimated the cook time and the beef tongue needs to cook longer to become tender, add some of the water you boiled it in and simmer in the pan. When it is fully tender, drain water and proceed.

Heat oil in a frying pan on medium high heat. Saute beef tongue until lightly browned (2-3 minutes). If your frying pan is small, cook in batches to avoid overcrowding the pan (which would prevent browning and the delicious caramelization).
Soften your tortillas by lightly frying in a pan, charring over the stovetop flame (if you have a gas stove), or heating up in the microwave (about 10 seconds each). Keep tortillas warm for serving by wrapping in foil or cloth and storing in oven or container.
Add a spoonful of tongue to the center of each tortilla, and garnish with your preferred toppings. Classics include chopped red onion, chopped cilantro, lime, salt, and salsa verde, but you can experiment with avocado, radish slices, and any other topping you find in your fridge!
Makes about 20 tacos