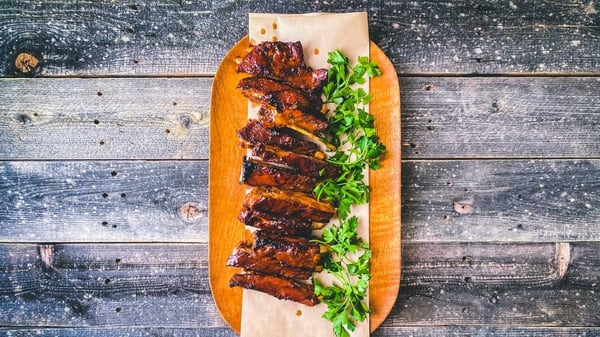 If you don't have a smoker, you can still make tender, falling-off-the-bone, finger-licking-good ribs with a few quality ingredients, using one of our favorite new appliances: a pressure cooker, commonly called an Instant Pot.

Ingredients:
White Oak Pastures Pastured Pork Baby Back Ribs (two 2-lb ribs)
2 tablespoons salt
1 teaspoon ground black pepper
2 tablespoons smoked paprika
3 tablespoons mustard
3 tablespoons brown sugar
1/2 cups chicken stock
1/4 cup apple cider vinegar
Method:
Mix together salt, pepper, paprika, 2 tablespoons mustard, and 2 tablespoons brown sugar in small bowl.
If desired, remove membrane from underside of ribs, pulling it down entire length. Pat dry.
Rub seasoning mixture thoroughly on both sides of ribs.
Marinate ribs overnight.
Place wire rack in the bottom of the instant pot. Add ribs, stock, and apple cider vinegar to pot.
Cook at high pressure for 20-25 minutes. When finished, quick-release pressure according to the manufacturer's directions.
Remove ribs, save liquid. Strain out fat. Reserve 1/2 cup liquid, whisking in 1/2 tablespoon mustard and 1 tablespoon brown sugar (to taste).
Preheat broiler. Line baking sheet with foil.
Place ribs on baking sheet, meat side up. Paint reserved stock mixture on top.
Place into oven and broil until caramelized and browned as desired, about 4-5 minutes.
Serve immediately with remaining sauce.
Serves 4-6