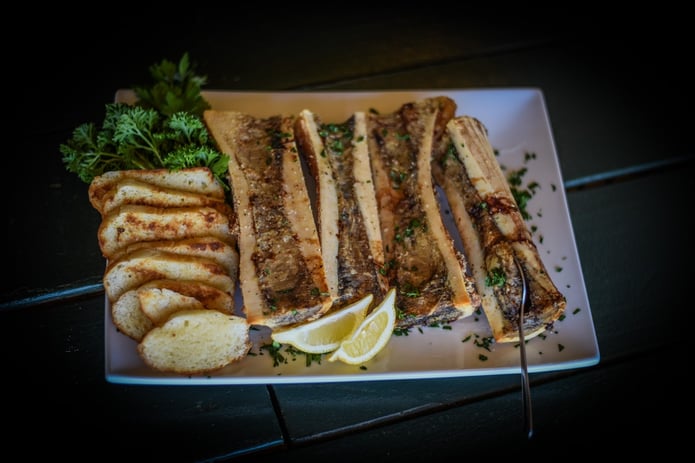 Roasted canoe marrow bones are a supple and deliciously elegant treat. Grassfed beef marrow has an amazing umami flavor that is both rich and delicate. We love roasted marrow spread on toasted baguette or grilled crusty bread, especially with a happy hour glass of... whatever makes you happy.
We love to eat marrow, but selling these bones also keeps in line with our mission as a zero-waste farm. We use all parts of the animal, especially those parts rich in flavor and nutrition, like marrow bones.
Marrow is known as a decadent food, but eating marrow can actually good for you (like all things: everything in moderation – even moderation!) While bones may seem intimidating to cook at first, the recipe is quite simple, and the results: delicious.
Ingredients:
1 pack White Oak Pastures Grassfed Beef Marrow Bones - Canoe Cut
1 tablespoon olive oil
Salt & pepper to taste
1 tablespoon fresh chopped parsley
½ lemon, cut in half for juice (optional: save lemon zest)
Toast points or grilled, crusty Italian bread
Directions:
Preheat your oven to 475 degrees F. Place the bones with the marrow side up. Lightly drizzle with oil and season with salt and pepper. Roast in the oven for 45-60 minutes or until bones are well browned and marrow is slightly bubbling.
Remove bones from the oven, allow to cool slightly. Sprinkle with chopped parsley, squeeze of lemon juice, and additional salt and pepper as needed. Scrape out the marrow with a small spoon or knife and enjoy on some crusty Italian bread (if you're feeling fancy, rub some garlic on the grilled bread and finish with some parsley and lemon zest the marrow will sing even more!).