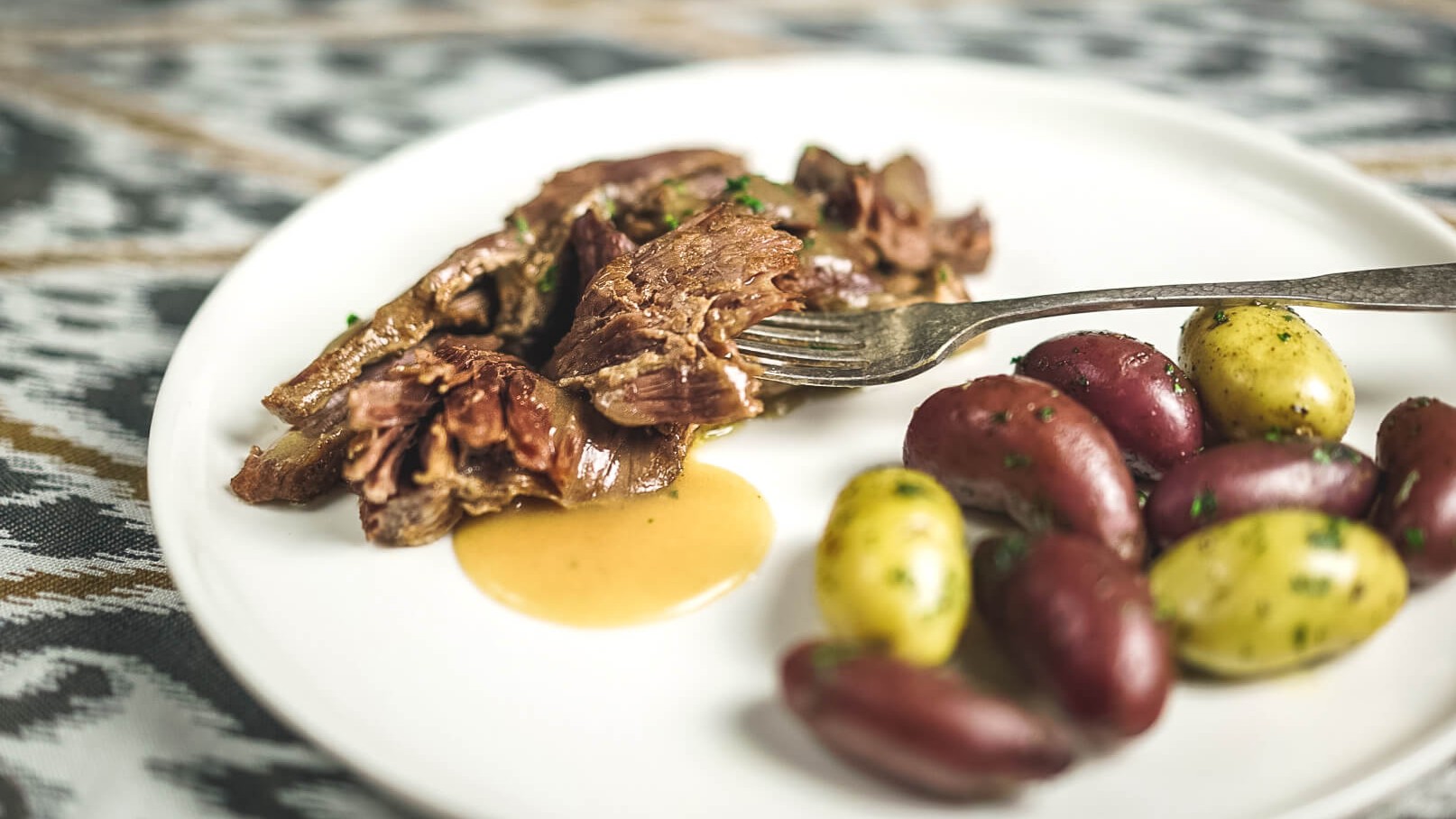 We prefer to braise grassfed beef short ribs in a flavorful stock and aromatics. By slow cooking them while they're almost submerged, these short ribs end up so tender, you could eat them with a spoon. Try grassfed beef short ribs with a rich, comforting side, like creamy polenta, greens, a slice of fresh bread, mashed potatoes, or risotto!

Braised Grassfed Beef Short Ribs
Ingredients:
White Oak Pastures grassfed beef short ribs (2.5 pounds)
1/4 cup flour
3 cups root vegetables, chopped (like carrots, parsnips, or potatoes)
2-4 cups vegetable, beef, or chicken stock

The exact amount will vary depending on what size pot you use, but you need enough liquid to cover 3/4 of the short ribs
If you need more liquid, throwing in some wine will make the sauce even more complex!

1 tablespoon garlic, minced
1 medium onion, diced
2 teaspoons smoked paprika
2 teaspoons dried oregano
1 teaspoon ground cumin
Cooking oil
Salt and pepper to taste

Method:
Take short ribs out an hour before cooking and let come to room temperature.
Cut root vegetables into bite-sized pieces.
Preheat oven to 275 degrees F.
Add oil to a Dutch oven or large, heavy-bottomed roasting pan, and place on stovetop.
If you don't have a roasting pan designed for stovetop use, you can complete the saute part of this recipe in a pan on the stovetop, and then transfer all contents to a baking dish.
Season the short ribs heavily with salt and pepper. Lightly dredge short ribs with flour and dust off any excess.
Heat the pan on high heat. Sear the short ribs on all sides until nice and caramelized (a few minutes each side). Remove from pot, set aside.
Add onions until soft and fragrant, about 4 minutes. Add root vegetables, stir well, and cook until vegetables start to caramelize, 4-6 minutes.
Make some space on the bottom of pot; add garlic and spices and cook until fragrant, about 1 minute.
Carefully return the short ribs back to the pot. Add stock and/or wine, until short ribs and vegetables are covered covering 3/4 deep.
Heat pot until stock starts to simmer.
Cover pot with foil or oven-safe lid; carefully place into the oven.
Cook for about 3 hours, check ribs. Continue cooking another hour or 2, until the meat is soft and tender enough that it is almost ready to fall off the bone.
Remove from oven and allow to sit for at least 20 minutes, still covered, before serving.
Remove short ribs from liquid and set aside. Skim excess fat from cooking liquid.
For a sauce to spoon over the short ribs, choose one of the following:
Option 1: Puree the liquid and root vegetables in a blender, which will make a thick sauce
Option 2: Strain liquid through colander, serving the root vegetables and the thin cooking liquid over the short ribs separately
Serve short ribs with cooking sauce and any number or rich, comforting sides: creamy polenta, greens, a slice of fresh bread, mashed potatoes, or risotto!
Serves 4-6