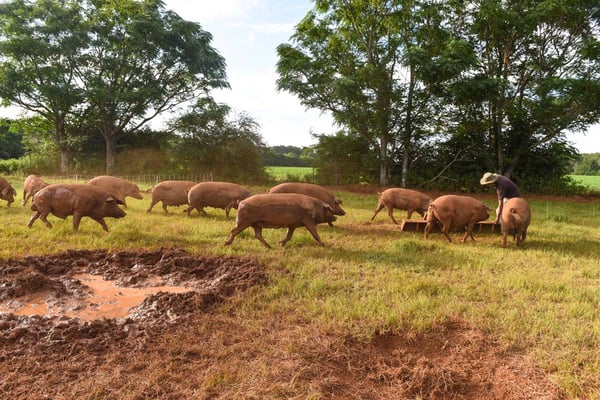 Here in North America, we celebrate the rise of the New Year by staying up til midnight in our respective time zones to watch a lit shiny ball or, in one case, a Moon Pie drop from the sky. As the crowds' countdown to "1", projectiles are shot in the air with the spectacle of colorful booming fireworks bursting against the black canvas of the midnight sky. The much-celebrated fireworks were first developed in Medieval China, which leads us to the topic of the Chinese New Year. February 4th sparks the celebration with reunion dinners with emphasis on creating thoughtful dishes to celebrate ancestors, much akin to how Southern families gather. 2019 celebrates the Year of the Pig with the distinction of the Earthly branch.
It is noted in some myths that the Jade Emperor held a race to an event in which only 12 animals would be allowed to attend. The Pig was last but not least because it is thought that the Wolf destroyed it's home and the pig had to rebuild or in some cases, the Pig overslept. In Chinese culture, Pigs are graced with a beautiful personality and blessed with good fortune emblemizing them as symbols of wealth.
Pigs and the Earth are some things all of us here at White Oak Pastures can get behind. With our rigorous animal welfare practices and diligent land regeneration management, we happen to celebrate pigs and the Earth every single day.
Kylan Hoover, the Hog Production Manager, is not a newcomer of this celebration. Kylan is a transplant of California whose expertise is not only in Pig Production but also in Systems Theory and Ecological Design with a previous career path in green building.
Since Kylan's emergence onto our Southwest Georgia farm, his focus is to raise healthy and energetic heritage breed hogs that will benefit our land management program. Customers can attest to the benefits of our practices resulting in a flavor and texture of our pork that is second to none.
Our heritage pigs are a cross of Old Spots and Tamworths with a Berkshire base. These three breeds combined, utilize traits to provide our hogs with a docile and intelligent nature coupled with great foraging instincts and prolific maternal instincts.
If pigs are truly symbols of good fortune and wealth, then all of the staff at White Oak Pastures are richly blessed in our minds, spirits, and bellies.
This recipe is a wonderful way to celebrate The Year of the Pig with the prized cut of pork ribs.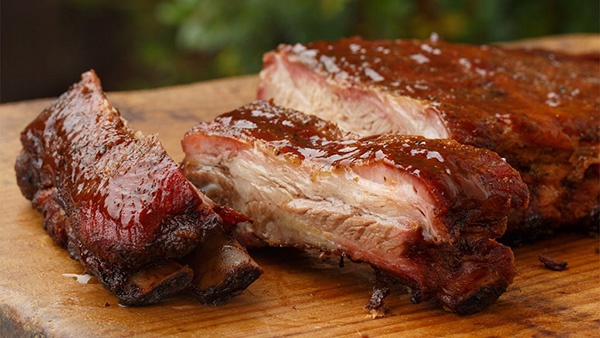 Year Of The Pig Oven-Braised Ribs Recipe
By
Banjo Stewart
This recipe provides a unique flavor unmatched to others found in BBQ cookbooks and on the Interweb. I've found this to be a wonderful product you can do on the grill over indirect heat or during the winter time, as it can be cooked in the oven and does not require you to be exposed to the harsh elements standing over a grill. No other accompanying sauce is required if you use this recipe.
Ingredients
2 Racks Pastured Pork Baby Back Ribs

1 Cup White Wine (nothing Sweet), or a Pilsner-style Beer

2 Tablespoons White Wine Vinegar

2 Tablespoons Worcestershire Sauce

1 Tablespoon Sriracha

1 Tablespoon Local Honey

2 Cloves Garlic (rough chopped)
Remove ribs from package and pat dry.

Lay out 2 pieces of aluminum foil, longer than the ribs (exceed 2 inches on both sides). Place ribs on foil and generously season both sides with Banjo's Butt Rub (attached recipe), fold up foil around ribs, leave an end easy to open to pour braising liquid in foil. Refrigerate and let sit for at least 1 hour - 24 hours is best.

When ready to cook, preheat oven to 250 degrees Fahrenheit. Bring ribs out of fridge and place on a sheet pan to allow to come to room temp.

In a microwave-safe bowl or container, heat braising liquid for 1 minute or until honey is able to mix thoroughly.

Pour liquid evenly into both foil packages, may double wrap ribs with foil to prevent spillage from small nicks and tears.

Wrap up tight and place in preheated oven, cook for 2 ½ hours.

Pull ribs out of oven and let cool for handling. Once cool to touch, carefully pour liquid into saucepot, reduce liquid by half on low-medium heat.

Set oven to Broil, unwrap the foil where the top of ribs is exposed, brush reduced liquid onto the ribs, set on top rack of oven to broil for 5 minutes, you will see caramelization take place.

Remove from oven, cool slightly, cut into 1 or 2 bone sections. Place ribs in large bowl and pour remaining reduced liquid over ribs and toss gently to completely coat. You are now ready to serve
Prep time:
Cook time:
Total time:
Yield:
2 Racks of Ribs (6-8 servings)
---
Banjo's Butt Rub
By
Banjo Stewart
Use this on any pork product that you will roast in the oven, braise, smoke or cook on a grill with indirect heat. I've found this Rub to be equally as delicious on Beef Short Ribs and Chickens ready for the smoker.
Ingredients
8 Tablespoons Light Brown Sugar

3 Tablespoons Kosher Salt

1 Tablespoon Dark Chili Powder

½ teaspoon Ground Black Pepper

½ teaspoon Cayenne Pepper

½ teaspoon Chipotle Powder

½ teaspoon Ancho Powder

½ teaspoon Old Bay Seasoning

½ teaspoon Ground Thyme

½ teaspoon Onion Powder

½ teaspoon Garlic Powder
Combine all ingredients and store in an airtight container until used.
Prep time:
Cook time:
Total time:
Yield:
12 fl. oz. (14 servings)