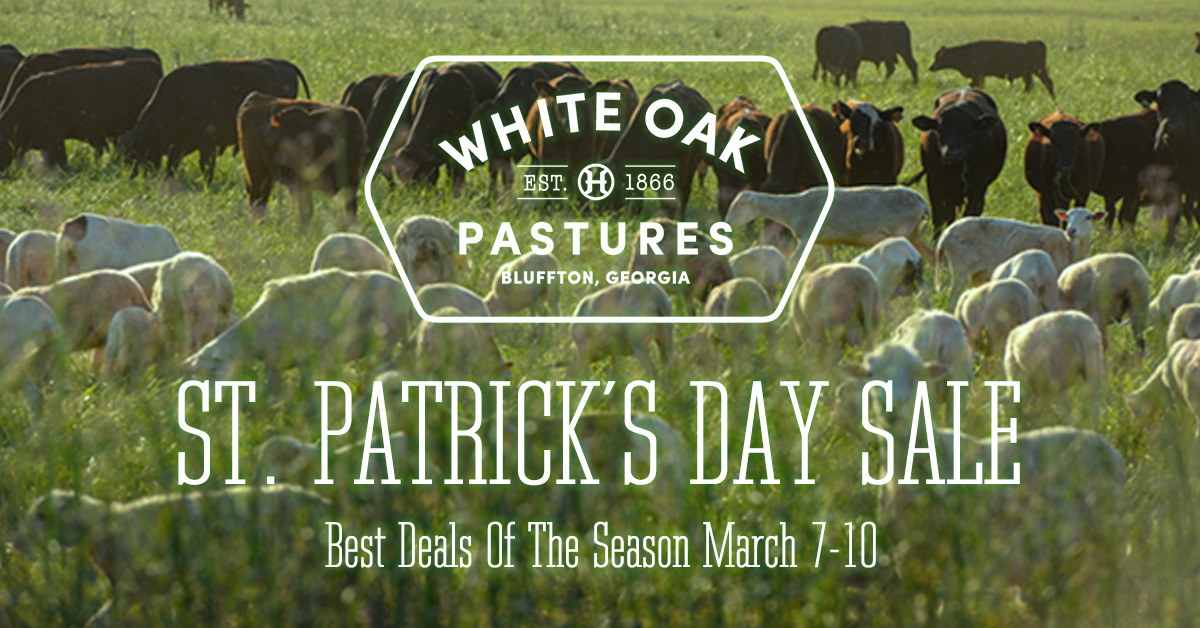 St. Patricks Day. As a young child, the only thing I knew about St. Patrick's Day was that if I didn't wear green to school, I was going to get the fire pinched out of me. All. Day. Long. Lesson learned. As I got older, I learned that green was and still is, NOT my color. I can put on a green shirt and my skin will respond in such a way that I could pass as a leprechaun myself. In college, I learned the celebratory act of drinking green beer, and lots of it. Never during these times in my life was food a part of the recognition and celebration of St. Patrick's Day, nor was St. Patrick himself for that matter. As an adult, I have learned that food is, in fact, a fundamental part of the celebration. While corned beef and cabbage are thought to be an Irish tradition on St. Patrick's Day celebration, it is actually more of an Irish American tradition rather than just an Irish feast.
St. Patrick's Day, or The Feast of Saint Patrick, is a cultural and religious celebration held on March 17, which is the death date of Saint Patrick, the foremost patron saint of Ireland. Historically, beef was considered an indulgence for the affluent for many years and wasn't readily available to the general population. Also, the Irish typically made the dish with ham while exporting tons of corned beef to the rest of Europe. Immigrating to the United States changed everything because corned beef was actually the most affordable meat they could find. So corned beef and cabbage became the common Irish American meal. We at White Oak Pastures aren't Irish, but we want to celebrate alongside our Irish friends. White Oak Pastures IS all about the beef, the BEST beef available and we want to share!
There is speculation that Irish Americans preferred corned beef because its texture is similar to bacon and ham and they could get plenty of it from an immigrant community nearby. We have both if that's the way you want to celebrate. We aim to please. It is also said that bars in New York offered complimentary meals of corned beef and cabbage to Irish construction workers who swarmed the bars after a hard day at work. You are more than welcome to join us at the West Wing of our General Store for food and drink after our hard day at work.
The first St. Patrick's Day parade in New York City in 1762 is when the Irish Americans transformed St. Patricks Day from a religious feast day to a celebration of their heritage and homeland; of course, including a celebratory meal. To honor their culture, immigrants splurged on their favored corned beef, beloved potatoes, and the most affordable vegetable, cabbage. Our gardener, Sarah, and her crew have been working extremely hard, so we have organic cabbage to ship out with our Irish Sausage and Chorizo.
If you are partial to slow cookers, the following Corned Beef and Cabbage Recipe will suit your needs while the second recipe is for those who want to speed things up with their Instant Pot.
Slow Cooker Corned Beef and Cabbage
By
White Oak Pastures
White Oak Pastures is glad to hook up those of you who can't join us on the farm for your St. Patrick's day celebration. Although we can't offer you the green beer, we can ship you the brisket butchered from our grassfed, grass-finished cattle. The "low and slow" cooking process will turn what is typically a tough cut of meat into one that is exceptionally tender. We can even throw in the cabbage and, as the song says, "parsley, sage, rosemary, and thyme" that is meticulously grown in our Certified Organic Garden. For those of you who aren't "seasoned" cooks, don't fret. The following recipe will bring together everything you need for your St. Patrick's Day celebration. It doesn't matter if you are Irish American or not; our meal will be pleasing to any palate!
Ingredients
1 White Oak Pastures beef brisket (3-5 lbs)

1 onion

3 cloves garlic

2 bay leaves

3 cups water

2 lbs potatoes, peeled and quartered

2 large carrots, chopped

1 small head of cabbage, cut into wedges
Chop onion into large chunks and place in the bottom of a 6 qt slow cooker.
Top with corned beef and seasoning.
Pour water into slow cooker until it almost covers the corned beef.
Add garlic and bay leaves.
Cook on low 8-10 hours.
After the initial 3 hours, add potatoes and carrots to the slow cooker.
Two hours before serving, add cabbage wedges to the slow cooker.
Remove corned beef from slow cooker and let rest 15 minutes before slicing.
Serve with potatoes, carrots, and cabbage.
It is essential to cut your corned beef ACROSS the grain. Once cooked, your corned beef should be tender. If it is not, it more than likely needs to cook longer, Let your meat rest before slicing.
Prep time:
Cook time:
Total time:
Yield:
6 servings
---
Instant Pot Corned Beef and Cabbage
By
White Oak Pastures
This recipe is for those who want to speed things up with their Instant Pot.
Ingredients
1 White Oak Pastures beef brisket (3-5 lbs)

1 large onion, cut into ½-inch wedges

3 sprigs fresh thyme

3 cloves garlic

3 Tbsp pickling spice

3 Tbsp unsalted butter

1 rutabaga, peeled and cut into 1-inch chunks

2 leeks, white and light green parts only, split lengthwise, cut into 1-inch lengths

4 carrots, cut into 2-inch pieces

1 small head cabbage, core intact, cut into thick wedges

¼ cup parsley, freshly chopped, loosely packed

Sour cream, horseradish, and whole-grain mustard
Put onion, thyme, garlic, pickling spice, brisket, and 6 cups of water into an Instant Pot. Follow instructions for locking lid and preparing to cook.
Seal and cook on high pressure for 85 minutes.
Follow the guide for quick release, remove heat, set aside.
Strain the liquid through a fine mesh strainer into a bowl and return 2 cups back to pot.
Add butter, rutabaga, leeks, carrots, and cabbage to pot.
Seal and cook on high for 4 minutes.
Quick-release the steam.
Thinly slice brisket across the grain and transfer to serving platter.
Arrange vegetables around meat.
Sprinkle parsley and serve with sour cream, horseradish, and mustard on the side.

Prep time:
Cook time:
Total time:
Yield:
6 servings