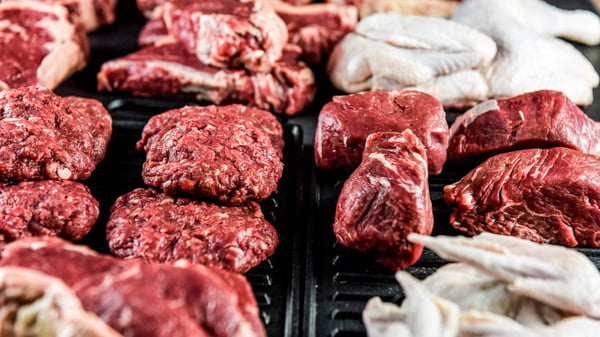 Looking for eco-friendly, regenerative, carbon-negative business gifts?
The public is increasingly concerned about corporate responsibility for the effects of climate change. Agriculture is one of the industries most vulnerable to climate change, but farmers are also some of the best positioned to mitigate its effects. This year, plan to share the gift of good food and fellowship with all those you respect and appreciate by having White Oak Pastures' Holiday, Business, and Corporate Gift Packages shipped to their doorstep. Your customers, clients, and employees will appreciate a gift that is aligned with their values. By supporting White Oak Pastures, your contributing to a system that sequesters carbon, creates jobs, and provides year-round pasture for 10 species of animals.
White Oak Pastures' regenerative, holistic agriculture methods have been shown to sequester more carbon in our soil than our pasture-raised cows emit during their lifetime. We are deeply committed to holistic land stewardship and the health of our animals, and the impacts of our land management go beyond the boundaries of our pastures.
As Will Harris recently wrote, consumers and companies can choose to mitigate climate change, or they can chose not to. Show what good your Corporate Giving can do this holiday season by choosing regenerative agriculture business gifts.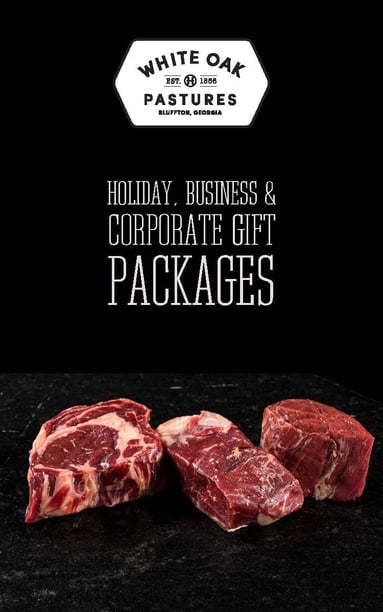 Corporate Gifts Made Easy!
Our Holiday, Business, and Corporate Gift Packages come in a variety of sizes and different options. With mixed offerings of pasture-raised proteins, processed ready-to-eat items, and zero-waste, handmade leather and tallow products, we offer business gifts to fit every company.
All orders will ship, vacuum sealed, from our farm in Bluffton, Georgia in an insulated cooler with dry ice. The process is easy:
Start by downloading or requesting a printed copy of your Business Gift Catalog here.
Call us at (229) 641-2081 or email info@whiteoakpastures.com to answer any questions.
Fill out your gift package order form and list of recipients.
That's it! Relax and wait for their Thank You cards to arrive.
Interested in gifts for neighbors, friends, and family? Check out the slideshow below to see gift packs and samplers available for purchase year-round.