If you've seen any of the totes, wallets, bags, or other leather items in our general store lately, you've seen the result of our partnership with Pergamena, a family-owned tannery based in southern New York. Recently, the two brothers, Jesse and Stephen Meyer, came and visited White Oak Pastures.
Finding a tannery can be difficult, because most tanneries have moved overseas, and the remaining tanneries have become swamped with business. However, finding the right partner for our hides was important to us - one of the biggest factors in a finished leather product is the tanning process, and we want to know who we are working with.
We started working with Pergamena in 2018, and we haven't looked back since.
"Pergamena is teeny," Jesse Meyer told us recently. "But when you're small enough, you can do things differently - like dedicate the production pipeline to one customer for a certain amount of time."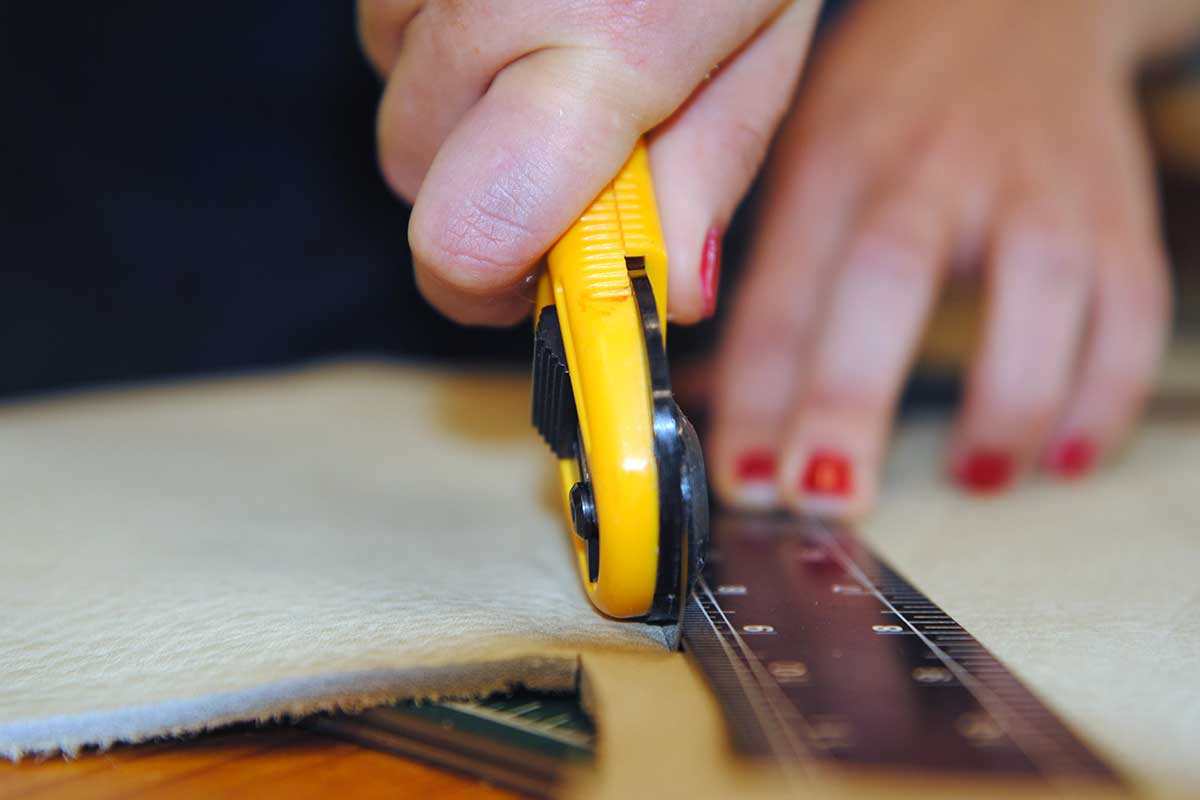 Full Traceability
This detail is important. Big tanneries, the kinds that do thousands of hides a day, do not track what hides return to your farm. Pergamena, on the other hand, tracks hides throughout the tanning process, making full traceability a central component to their business.
At White Oak Pastures, we spend a lot of time speaking about our holistic pasture practices and zero waste model. But if we aren't getting back our own pasture-raised, grassfed hides from a tanner, we're not giving our customers a product consistent with our values. In developing our relationship with Pergamena, we can tell our customers that this leather tote that you are purchasing starts on this farm, is sent to a tannery that we know and trust, and is then returned to the farm. That's full traceability.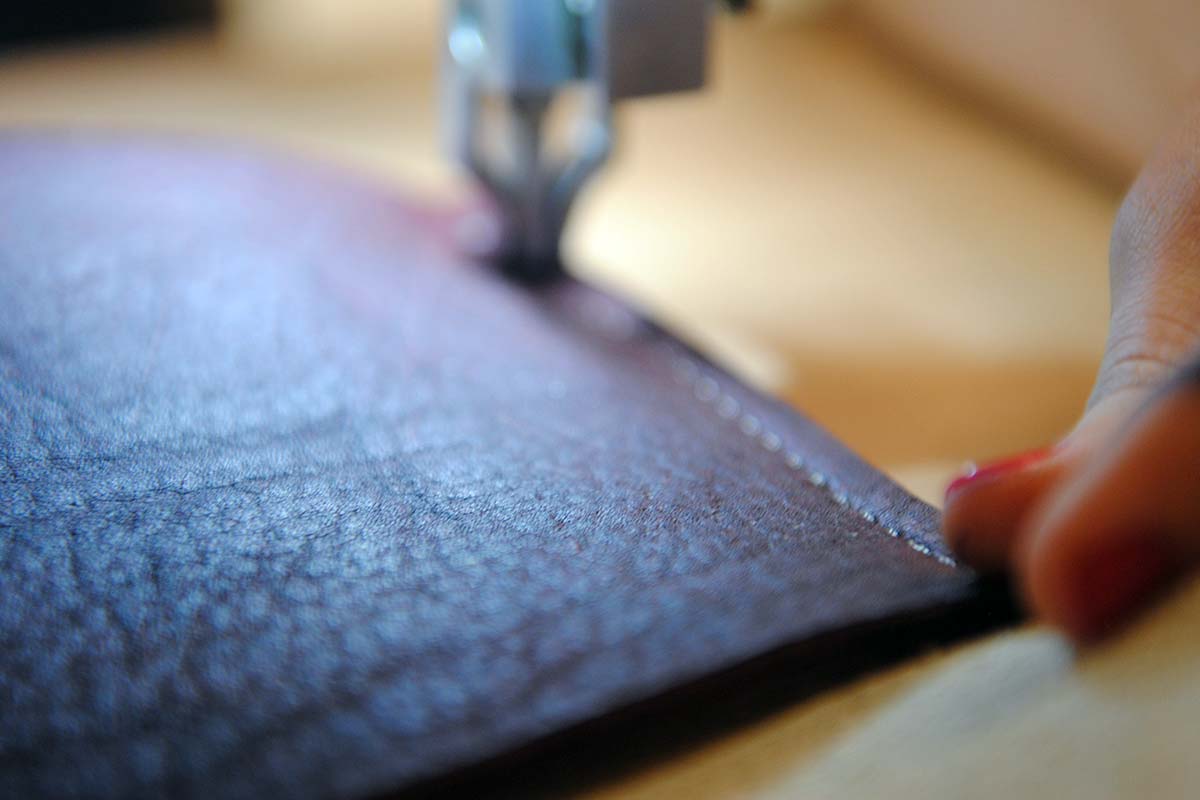 We've had the opportunity to visit Pergamena up in New York, arriving when our hides arrived. We watched them punch "WOP" into the hides, toured the facility, and observed parts of the tanning process. In exchange, Pergamena has visited us down in Bluffton, touring our farm and learning more about why our partnership with them is so important to us and our customers.
These visits have been invaluable, allowing us to not only grow our trust, but refine our processes. The tannery world is infinitely complicated, and mistakes are expensive. Stephen and Jesse have a wealth of knowledge about the tanning process, and their advice on everything from on-farm treatment of the hides to the shipping process has improved the final quality of our hides.
Most months, White Oak Pastures sends a small batch of 40 hides to Pergamena. Because we remove the hide from our carcasses by hand, we choose the best hides based on the quality of the cuts, and which hides have no or very few holes.
Once the hides arrive at Pergamena, they are cut down the spine (the size that fits through their fleshing machine) and undergo the tanning process. With each order, we list what colors we want (oxblood, black, dark brown, tan, etc) and the weights (the leather thickness).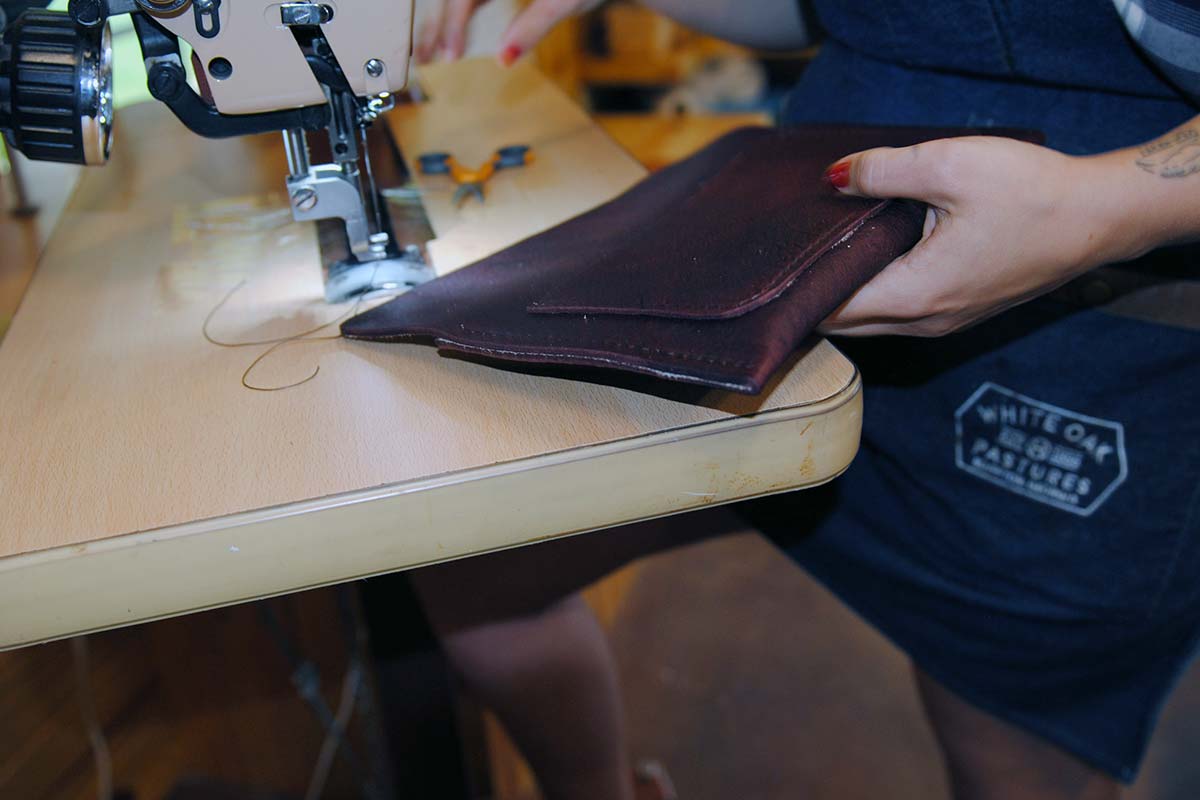 Recently, Pergamena has also added a few steps to the finishing process. Their techniques for milling and waxing the leather are making the grain and character of our hides shine through more than ever! We use our leather to make totes, wallets, earrings, bracelets, clutches, and more to sell to our customers. We care deeply about the quality of our craftsmanship - and with the help of Pergamena, these leather products last a lifetime.
Besides the beautiful quality of our finished hides, there's another bright side to partnering with Pergamena - as a multi-generational family business, we're proud and happy to support another multi-generational family business.
We must admit, Pergamena's got us beat. Their story starts in 1550 in Germany, when the Meyer family first started tanning and leatherwork. The family business has been passed down ever since.
"In a family-owned business, when you get three generations away from the founder, the percentage of businesses still operating goes to the single digits," says Jesse. "How lucky we are to have this opportunity - I want to figure out how to protect that and keep it going."
Working with Pergamena, as a family-run business, has been like recognizing yourself in someone else. At White Oak, we know the (occasional) struggles and (mostly) joys of working with family, and it's a common topic of conversation with Jesse and Stephen.
"That's the thing about family businesses - we can look at each other and know that they are running into the same issues that we are," Jesse says. "But even when there are problems, we also both know that there is this level of dedication that is unlike any other business."
We couldn't agree more. At White Oak Pastures, we feel lucky to have the opportunity to work with businesses like Pergamena - especially when it means that our customers also get an amazing product.
If you want to see some of Pergamena's work, check out our online store with products like the Grassfed Handmade Leather Tote, Leather Journal Cover, Grassfed Leather Clutch, Leather Earrings, or Leather Potholder. With these products, you're guaranteed to know where the leather comes from - and, now, a little bit more about the brothers who made it look so beautiful.