Olivier Deslandes has been interested in holistic farming practices for many years, following the work of the Savory Institute since 2015. In fact, it was on the Savory Insitute's social media that Olivier first saw information about White Oak Pastures (we work with the Savory Institute in our Land to Market Ecological Outcome Verification program). When he saw that White Oak Pastures had an internship program, he signed up in May of 2017.
Since then, Olivier has worked in multiple departments at White Oak Pastures, spending two years as the hog program assistant manager. He currently works with the cattle department and pasture management. "Working with animals while having a positive impact on the environment in general to me is exciting," says Olivier, "the sheer variety in tasks keeps me entertained."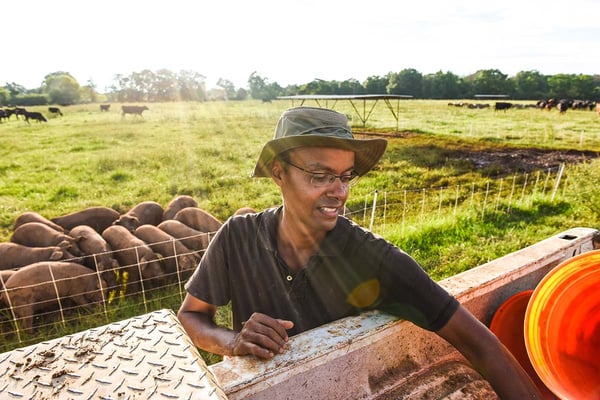 His typical day starts at 7:30am, with the crew performing routine checks on the animals and dividing up chores for the day. Olivier also works on other maintenance tasks, like fencing, water, and various ongoing projects. This doesn't come without difficulties - Olivier says that the biggest challenge of his job is "keeping up with the infrastructure to contain, feed, and water rambunctious animals." Still, "knowing that I helped keep animals healthy & happy with proper management is key," he continues.
His sharp interest is most clear when asked who he would like to switch places with on the farm, if only for a day. "I would probably switch places with myself in 10 years so that I could benefit from all the experience which only time can provide in a way that is personally customized," says Olivier. (When he figures out that time travel technology, we'll let you know!)
When he's not at work, Olivier still likes to stay immersed in the holistic agriculture world, spending his spare time learning about "regenerative agriculture, ancestral health, and sustainable technologies". He also enjoys shopping for products at the General Store in Bluffton, and although "it's hard to choose", the White Oak Pastures beef products are his favorite.
Living in Bluffton, for Olivier, also has other perks. "The natural scenery is definitely the best. Close second is the small town friendliness of folks down here," says Olivier. Although he could do without the cold spells, the bugs, and the reptiles, he adds that "even the bugs and reptiles mean that all lifeforms are attracted to our little sanctuary/farm."
Olivier, originally from Haiti, thinks that he'll be doing similar kinds of work when he returns home someday. "I think the world needs more examples such as White Oak Pastures all working within their own context to produce healthier food while leaving the environment better than we found it," he says.
We couldn't agree more. We appreciate all the hard work that Olivier Deslandes does at White Oak Pastures - and we're happy to work with somebody who is as passionate as we are about our kind of agriculture!
---