We are fiercely proud of our zero-waste production system at White Oak Pastures, using every part of the animals that we raise and butcher on our farm. We are even more proud when this zero-waste production system can produce something beautiful - like our leather products.
Our leather products are handmade in our workshop in Bluffton, Georgia, transforming the hides of our grassfed cattle. With our new partnership with Pergamena Tannery, our fully-traceable leather now has a different look and feel. And with our new craftswoman in the leather department, Chandler Rogers, creating new designs by hand, we have some exciting leather items headed to our store.
Chandler Rogers has previously worked in our tallow department at White Oak Pastures, producing handmade products like our tallow candles or tallow soap. But with a family connection to leather working - her stepdad makes customer leather cowboy boots in his leather workshop - she has always been interested in leather crafting.
"I'm crafty anyway, and I like hands-on work," she says. "I wanted to get creative with nice leather." Now, as the lead in our leather department, she has the chance to use that creativity, with what we certainly believe is "nice leather"!
White Oak Pastures has been working with the Meyer brothers of Pergamena Tannery, in southern New York, since 2018. Not only does our partnership ensure full traceability in our leather, but the techniques used by the Meyer brothers have changed the quality of our product. Pergamena uses a vegetable tanning process, in contrast to the industry's typical chrome tanning, using chestnut to bring out the best in our hides. Pergamena is also coloring the leather for us (as opposed to us doing it at the farm), which ensures a consistent dye. With Pergamena's vegetable tanning, even coloring, and new waxing process, our leather looks better than ever.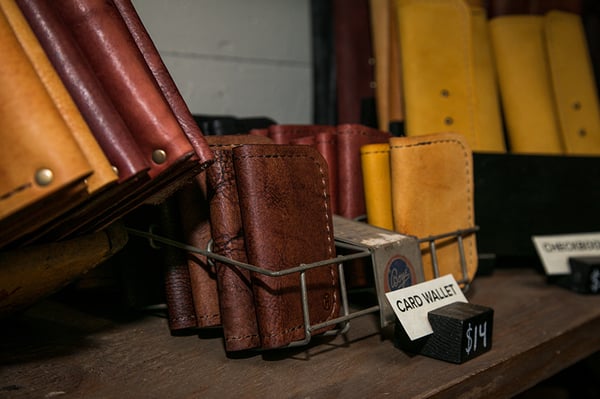 These changes mean that when Chandler makes some of our classic leather products - like crossbody bags, totes, and wallets, the grain of the leather shines through. But Chandler hasn't stopped there.
"I wanted to keep the traditional color options, but go outside the box," she says. So while she still uses our usual leather colors - oxblood, tan, brown and bloack - Chandler is experimenting with "unique color ways", incorporating two-tone leather products and different color stitching.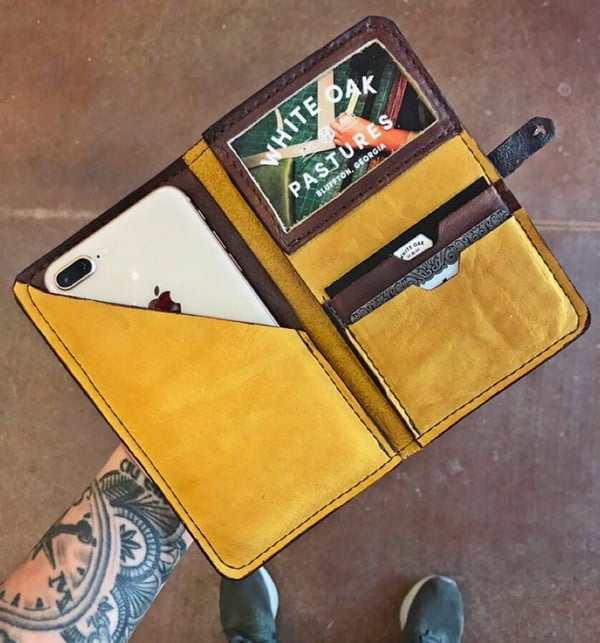 All of the products from our leather department are handmade, which allows us to experiment and bring forth different designs. Chandler has recently designed a cell phone case (holding your cell phone, cards, and money) and laptop case, which are making their way into the General Store and online Farm Store. A new dog collar and leash design - inspired by the latest farm pup - is also currently in the works. And when the next batch of thick leather comes in (Pergamena processes different hide thicknesses for our different products), keep your eyes open for belts.
The leather department is staying busy, stocking inventory and also completing some custom orders (ranging from custom pillow covers to customized journal covers), but Chandler has big plans for the future. Among her working ideas: a knife holder, flip flops, zipper patterns, and duffle bags, eventually.
Our leather department is part of our zero-waste approach on our farm, allowing us to use every part of the animal. So in addition to purchasing a delicious steak, or a pet chew for your pup, you can support our zero-waste regenerative agriculture by purchasing one of our handmade leather items.
"I look forward to staying here for a while, helping build the leather department even more," says Chandler. We're happy to hear that, because we're looking forward to having her creative craftswoman hands here - transforming our hides into beautiful, colorful leather products.