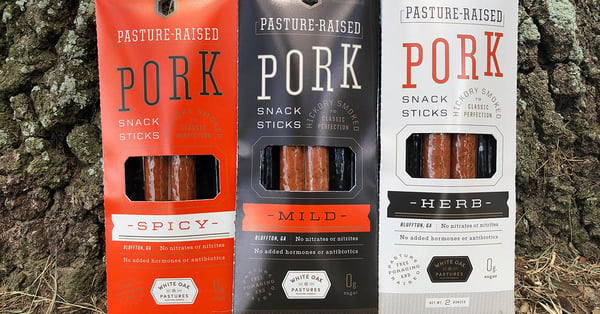 While we love a slow beef roast as much as the next person, sometimes, convenient, on-the-go snacks keep us from getting a little… "hangry."
Introducing White Oak Pastures Meat Sticks: protein from your favorite farm, packed in a shelf-stable stick! Also called a snack stick, these portable snacks are good for on-the-go eating, whether that's on the trail, on the road, or on the farm.
White Oak Pastures Pasture-Raised Pork Sticks have just arrived to our online store, and we are currently developing a grassfed beef stick for later this fall.
What is a snack stick?
White Oak Pastures' snack sticks are shelf-stable, individually packaged meat snacks.
What is the difference between beef sticks and beef jerky?
Beef jerky, like White Oak Pastures' Grassfed Beef Jerky, is typically made up of dehydrated lean meat. Meat sticks, on the other hand, are encased meat products, typically including some additional flavors and fat.
What snack stick seasoning do you use?
For our pork sticks, we take a page out of the jerky playbook - we hickory-smoke the pasture-raised pork sticks to perfection. Currently, our pork sticks come in Herb, Spicy, and Mild flavors. Our meat sticks are gluten free, Keto-friendly, and full of flavor.
What meat is in the snack sticks?
100% of the meat in our snack sticks comes from our farm. Our hogs, on the front line of land regeneration, are Certified Non-GMO, Rated a Step 4 in the Global Animal Partnership, Certified Humane and EOV (Ecological Outcome Verified) in the Land2Market Program. Our cattle, also essential to our regenerative grazing practices, are a Step 4 in the Global Animal Partnership, Certified Grassfed by the American Grassfed Association, Certified Humane and Ecological Outcome Verified.
Why pastured-raised pork and grassfed beef meat sticks?
As a Savory Institute Hub, White Oak Pastures focuses on using humane animal impact to benefit our soil. We are home to a diverse ecosystem of livestock that we use to holistically manage our land and sequester carbon in our soil.
So we are excited to announce this latest product developed for our customers - snack sticks that are as full of flavor as they are intention and purpose.
Check out our pastured pork meat sticks on our online store today!
---
If you have ordered any of our products in the past, will you consider leaving us a review on our online store? Your feedback helps all of our customers decide what they should order next, and helps us understand which products you enjoy and why. If you have particular comments about a recent purchase, please leave us a review on that product page.
How To Leave A Product Review:
'SIGN IN' from the main menu at whiteoakpastures.com. If you don't have an account with us, simply start shopping to create your account during checkout. That's it! You can now 'Add a Review' to all your favorite White Oak Pastures products.